The Role of an Occupational Therapist in Hand Therapy
Wednesday, October 14, 2020
We use our hands for almost everything. From cooking and cleaning to typing and washing our faces, our hands are some of our greatest tools and it's often not until they become injured or otherwise incapacitated that we really notice how much we use them.
Our hands and wrists are full of tiny bones, ligaments, and tendons. That means there's plenty of opportunities for our hands and wrists to become injured or overused causing pain and poor functionality.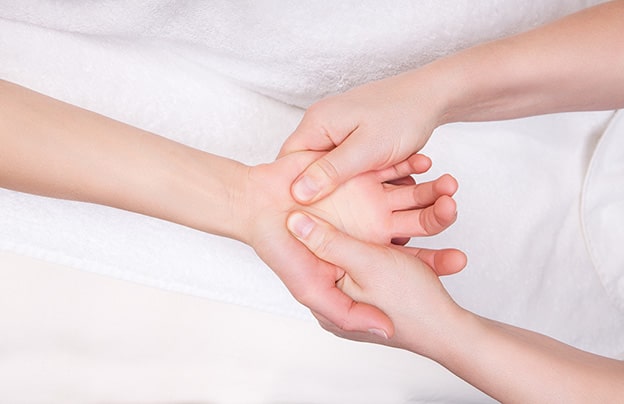 That's where hand therapy comes in. Here, we're talking all about hand therapy and how occupational therapy is used in hand therapy.
What is Hand Therapy Occupational Therapy?
Hand therapy is a form of occupational therapy that provides rehabilitation of the hands, wrists, and upper limbs after an injury or due to a chronic condition.
In general, occupational therapy refers to therapy that aims to improve everyday tasks you might need to do at home, work, or school. Examples of occupational therapy in relation to hand therapy include:
Tying shoes
Brushing teeth
Writing and typing
Eating and cooking
Holding and lifting objects
Occupational therapy plays a pivotal role in hand therapy since the main goal of occupational therapy is to improve and maintain functionality. Since, as we've seen, so much of our lives are spent using our hands, it makes sense that the approaches used in occupational therapy would prove beneficial in hand therapy treatment.
Common Injuries That May Require Hand Therapy
There are many reasons why one could benefit from hand therapy with an occupational therapist. Injuries to the hand, wrist, or upper limbs can include chronic conditions or acute issues. Common injuries that may require hand therapy include:
Sprains
Tendonopathy
Tendinitis
Fractures
Overuse and injuries due to repetitive movement such as carpal tunnel syndrome
Lacerations/Lesions or tears of the skin, nerves, tendons, muscles, or ligaments of the hand or wrist
Wounds
Hyposensitivity or hypersensitivity
Complex regional pain syndrome (CRPS)
Amputation
Arthrosis/Arthritis
Sprains and fractures of the hands, wrists, and upper limbs are common since it's a natural tendency to use our hands to break a fall or protect ourselves when we trip or slip.
Tendonopathy and overuse injuries are also incredibly common in the hands since, again, we use our hands for practically everything from typing to cooking to arts and crafts.
What Happens During a Hand Therapy Assessment?
The first thing an occupational therapist will do during a hand therapy session is to conduct an assessment of your condition or injury affecting the hand including the following measures:
Swelling
Deformity
Differences in colour
Sensitivity
Change in overall function
Range of motion
Dexterity
Strength
Your occupational therapist will take you through a series of simple exercises while completing a visual and tactile assessment of your hand and wrist to gain a better understanding of your current limitations and severity of the injury or condition.
Hand Therapy Treatment
Once an assessment has been made, your occupational therapist will create a personalised hand therapy treatment plan to help you manage or recover from the issues with your hand or wrist.
A few examples of hand therapy options include:
Orthosis manufacturing
Education about your treatment options and the condition itself
Pain management
Edema/muscle massage
Sensitisation or desensitisation
Adaptation advice
Motor imagery rehabilitation
Occupational therapy to manage everyday tasks at home, work, and school
As you can see, there are many ways to engage in hand therapy but, here, we're talking specifically about occupational therapy as hand therapy. So, let's dive a little deeper.
While, yes, the first step of any occupational therapy treatment plan is to perform exercises that may seem more clinical and less like your everyday activities, your occupational therapist will soon adapt the exercises that have been deemed necessary into your daily routine.
For example, you might start out with a series of exercises for your range of motion and muscle strengthening. But, you'll soon move onto activities such as performing self-care tasks like brushing your hair or occupational tasks like typing.
Your occupational therapist, therefore, works with you on safer and more effective approaches to your everyday roles and habits to make sure your injury not only improves but also so that it doesn't return.
Benefits of Hand Therapy Using Occupational Therapy
Hand injuries and other conditions affecting the hands will surely start to affect ones daily life and occupation. The roles, habits, and activity patterns are the focus of any occupational therapy for the hands.
By incorporating these everyday and customary occupational activities into the treatment plan itself, your hand therapy takes on a personalised, focused, and effective approach. Some of the benefits of occupational therapy in terms of hand therapy include:
Preserving roles, habits, and psychological wellbeing by paying attention to the details of required day-to-day functions early on in the treatment and rehabilitation process
Increasing motivation for therapy when the patients see the real life-application
More cost-effective rehabilitation by using everyday items versus fancy equipment
Freedom to complete occupational therapy session outside of a clinical setting
The patient feels like a true partner in the occupational hand therapy process since they can be given "homework exercises" to complete that are intrinsic to their everyday routine.
Since our hands are one of our most functional tools -- ones we often take for granted -- it makes sense that occupational therapy can play a key role in effective hand therapy.
By helping patients feel connected to their therapy and helping them complete their everyday tasks at home, school, or work, occupational therapy as hand therapy is not to be overlooked.
So, whether you've injured your hand, suffer from carpal tunnel syndrome, or you're dealing with age-related arthritis, don't hesitate to contact us and meet with one of our occupational therapists. Please be mindful that not all occupational therapists have the skillset and experience to specialise in hand therapy. This is largely dependent on each occupational therapists skillset.
Caring for our hands under the supervision of a professional and making sure we're not exacerbating any unhelpful habits with our hands, an occupational therapist can be just what you need to help your hands become the tools they were made to be.
Call Physio Inq today and let us come to you with our reliable mobile Occupational Therapy services. We're here to provide a helping hand.
This article was originally written by Jonathan Moody from Physio Inq
Share the article