What is adaptive equipment for Occupational Therapy?
Originally Published Nov 16, 2020
Occupational therapy is essential for those dealing with a chronic condition, an injury that leaves them disabled, and especially for the ageing population that's beginning to lose a bit of their autonomy and independence around the house and at work.
The good news is there are many aids and adaptive equipment that work in tandem with an occupational therapist to ensure a higher quality of life for these individuals.
So, what is adaptive equipment for occupational therapy?
Here, we're reviewing what occupational therapy is in the first place, what's considered adaptive equipment for occupational therapy, and the differences between adaptive equipment and assistive technology.
What is occupational therapy?
Occupational therapy helps people perform everyday tasks and routines. An occupational therapist is a health professional who works with people on "occupations" or activities that they'd otherwise find challenging in their everyday lives for one reason or another.
Occupational therapy can help someone who is either injured or suffering from long-term chronic conditions with the skills they'll need to complete activities at home, work, or school.
Occupational therapy assists with activities such as:
Getting dressed
Grooming and self-care
Bathing and using the toilet
Eating and cooking
Writing and typing
Mobility and transport
Everyday communication and social events
Participating in sport or volunteering
In short, occupational therapy helps to improve overall quality of life, especially for those living with disabilities or anyone recovering from a severe injury.
During an occupational therapy appointment, you'll learn to use what's known as adaptive equipment to help you remain independent -- an extremely important aspect of the occupational therapy process.
The point of occupational therapy, in part, is to help people feel more in control of their lives versus eeling powerless of their circumstances.
What is adaptive equipment?
Adaptive equipment is any device, tool, or machine that is used to assist with any daily task. Adaptive equipment in occupational therapy helps those with short-term or long-term disabilities where they may be having trouble performing their normal routines.
Quite literally, any piece of equipment that's been adapted to make life easier could be considered adaptive equipment.
Adaptive equipment is important in occupational therapy because in order to truly improve the quality of one's life, giving them as much independence as they're capable is key.
So, if a tool or device can help them with chores, grooming, and getting on with life, occupational therapy has done its job.
Occupational therapists often use adaptive equipment for common household activities such as:
Using the toilet
Getting dressed
Bathing
Eating
Grooming
These pieces of equipment don't need to be super sophisticated either. Simply adding some rope to the hatch of a car boot or installing a step-stool in the bathroom could be considered adaptive equipment.
Essentially, any tool that is modified in some way to help with "occupational" activities could be considered adaptive equipment.
For this reason, an all-inclusive list of every piece of adaptive equipment would be close to impossible to compile. Adaptive equipment is often incredibly personalised and unique to the individual.
Still, you'll almost always see adaptive equipment used in occupational therapy.
Adaptive Equipment vs. Assistive Technology
Adaptive equipment is not the same as assistive technology. Instead, you can think about assistive technology as the umbrella in which adaptive equipment falls underneath.
Assistive technology is any item, system, or product that can be bought, modified, or customised and used to improve the capabilities of someone with a disability.
These terms are sometimes used interchangeably and there aren't any hard and fast rules about which is which. However, if there's any confusion, remember that adaptive equipment falls under the category of assistive technology.
What is considered adaptive equipment?
It's part of an occupational therapist's role to suggest adaptive equipment that can be used to assist with everyday activities based on your injury or condition.
Examples of assistive technology in the form of adaptive equipment for occupational therapy include:
Railings
Reaching devices
Hearing aids and alerting devices
Mobility aids

Canes
Walkers
Wheelchairs

Visual aids

Screen readers
Braille displays

Feeding aids

Adaptive utensils such as those with thicker handles
Two-handled mugs
Modified chopping boards
Kettle tippers
Non-slip bowls and plates
Plate guards
Jar openers
Scoop dish
Long straws

Dressing aids

Dressing sticks
Sock aids
Shoe horns with long handles
Button hooks
Elastic shoelaces

Bathing/grooming aids

Tub or shower stool/chair
Handheld showerhead
Long-handled sponges
Adapted nail clippers
Shower rails
Mechanical lift for shower or bath

Aids for using the toilet

Commodes
Toilet rails
Toilets with customised heights
Toilet aids for cleaning
Leg straps to lift legs

Home modifications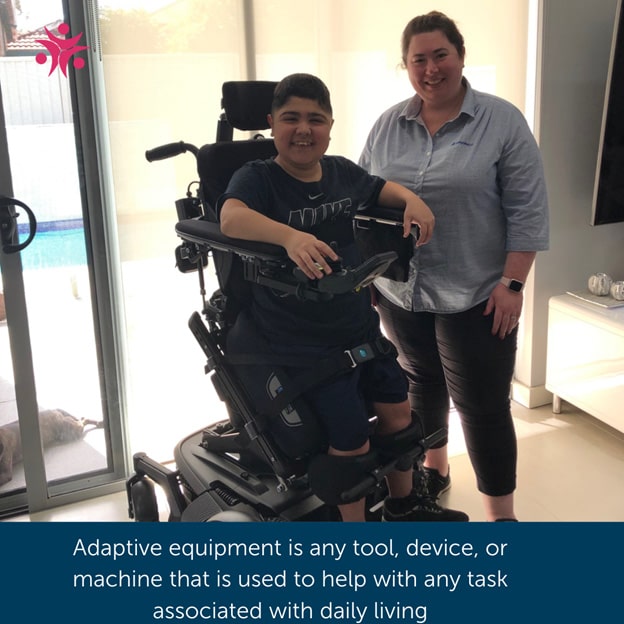 Occupational Therapy and Adaptive Equipment
Adaptive equipment is available at many pharmacies and healthcare establishments. That means you can go out and buy a cane or adapted nail clippers if you'd like.
However, it's highly recommended that you work with an occupational therapist who can recommend or even help you customise adaptive equipment that you may not have even thought of.
Occupational therapists are experts at what they do. They're there to help you assess your situation and provide actionable solutions.
Not to mention, in addition to suggesting adaptive equipment, they'll also help you to use the equipment. In many cases, injuries and chronic conditions will require specific exercises and practise programs to get your motor skills back on track.
After all, it'll be pretty tough to use your adaptive equipment without also working on gripping, hand-eye coordination, and certain communication skills, for example.
During your occupational therapy appointment, your occupational therapist will:
Assess your injury, condition, or problem areas by conducting a series of simple initial tests and exercises.
Create a personalised program complete with exercises to do both with your occupational therapist and on your own after your sessions.
Suggest quality adaptive equipment to use in your everyday life that will assist with your treatment.
Re-assess your progress after a few weeks or months to gauge your status, updating your program.
Occupational therapy can be absolutely life-changing for those who are struggling to perform the activities that help them feel whole. If you're recently injured, suffering from a debilitating chronic condition, or you've noticed some worrying signs of ageing, contact Physio Inq today.
We'll pair you with one of our qualified occupational therapists to work with you either at our clinic or from the comfort of your own home with our mobile occupational therapy services.
Take your life back with occupational therapy and adaptive equipment.
Other useful resources
The role of an Occupational Therapist in hand therapy
7 key benefits of Occupational Therapy for the elderly
How can Occupational Therapy be used to treat dementia?
How can Occupational Therapy help a child with autism?
Fine motor activities for adults with Occupational Therapy
Occupational Therapy home assessments. What does it entail?
The role of Occupational Therapy in stroke rehabilitation
Occupational Therapy role in physical disabilities & in the NDIS
This article was originally written by Jonathan Moody from Physio Inq
Disclaimer
The information provided on this blog is intended for educational and informational purposes only. It is not intended to be a substitute for professional advice or treatment. Always seek the advice of a qualified professional with any questions you may have regarding a medical condition. Never disregard professional medical advice or delay in seeking it because of something you have read on this blog.