Want Physiotherapy in the convenience & comfort of your own home?
Move better, live better - free from pain and constraint with Physio Inq Mobile & Home Physiotherapy services.
Did you know our Physio Inq mobile team is on a mission to bring every Australian full range of physiotherapy services in the comfort of their own home or any location that is convenient - saving time and the added distress.
Our on-the-go Physiotherapists will treat your pain and address the root cause of your condition to avoid it reoccurring.
Physio Inq is pushing Physiotherapy in a new exciting and accessible direction for Australians;
We provide in-home or in-clinic visits, whichever is the most comfortable and suitable for you and your family
Almost all new bookings are seen within 24-48 hours of receiving the booking
Instant private health claims
NDIS registered
We are already trusted by over 30,000 clients across Australia
Why you might need a Home Visiting Physiotherapist?
Your condition is acute or severe and leaving the home presents a health risk
Your functional mobility is limited and you cannot travel to a clinic
You lack adequate transportation or access to transportation to get to your local physiotherapy clinic
You simply desire a private physiotherapy session in your home
You might be time poor or can't leave the house due to other commitments
Having a Mobile Physio attend to your needs at a location that is convenient to you can save you time, a lot of pain, and unnecessary discomforts. Our Mobile Physiotherapists will never give up, and will always come to you.
Our Mobile Physiotherapists have all the equipment they need to carry out in home treatments of any type. Whether it be:
NDIS, Aged care and disability services
Sporting Injuries
Acute painful episodes of spinal, shoulder neck and back
Severe migraines or headaches
Fracture and Splinting management
General sprains, strains and dysfunctions
Motor vehicle injuries
Post-surgical rehabilitation
Womens health
Paediatric & children based physiotherapy services
And so much more
Why worry about the stresses of parking and traffic when you simply don't have too anymore. Our Physio Inq Mobile Paediatric Physiotherapists are currently serving the following states in Australia;
Support when you need it. We've got your back with live social help with one of our Physio Inq support team members ready to chat to you now about our NDIS Services. Just click on the Messenger button.
Alternatively contact us by phone on 1300 731 733
Disability & NDIS Mobile Physiotherapy Providers
Received your NDIS plan? Let's get you started today.
Physiotherapy services to participants in the NDIS is an area very dear to Physio Inq's hearts. Assisting those most in need is what makes that our dedicated team of NDIS Physiotherapists get out of bed every day with a spring in their step.
NDIS has changed the game, and will continue to evolve, and we will evolve with it. Currently we have an agile group of therapists who respond to the ever changing demands of the system and guide their clients through each step of the way.
From a therapeutic standpoint, our Mobile Physiotherapists who have interests in disability, currently treat a wide variety of conditions including:
Cerebral Palsy
Motor Neuron Disease
Chromosomal Disorders
Spinal Disorders
Genetic Conditions
Plus many more - just ask.
We treat all participants in a place most convenient to you, whether it is in the comfort of your own home, in one of our clinics, or in some other more convenient setting.
Our NDIS intake team and therapists work closely with patients, families, support coordinators, disability advocates to provide the best outcomes and exceptional patient care.
Avoid long wait times, remove the overwhelm and make complex simple.
Don't wait days or weeks for your appointment. Access our local personalised NDIS Physiotherapy services in the comfort & convenience of your own home today.
Meet Michelle and her Mobile Physiotherapist Kiera
Meet Michelle, she is one of the 40,000 people in Australia with Cerebral Palsy. This is her story... One of tenacity and perseverance.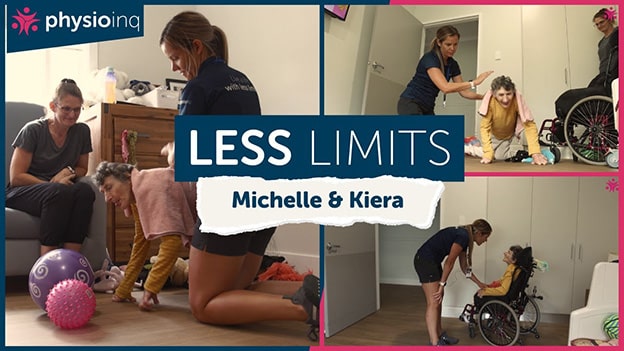 Feel stronger.
Move better.
Think clearer.
Live a life with less limits
Live a life
with less limits.
At Physio Inq, we improve your quality of life by looking at all the details. Our philosophy is to enable freedom of mind and movement through physical therapies. Your body is your best asset, and a healthy body requires all the parts to work. We need to understand where you are, before we can get you to where you want to go.
Each part of the movement system impacts the rest of your body. By examining the entire system, and measuring its changes, we can offer preventative therapies helping you respond to injuries you may be facing. We will help you change the way you move so you can stand taller, jump higher, stretch deeper, and have the energy to lead the life you want.
The mobile services we offer is such a wonderful and rewarding experience. Physio Inq health care professionals are people you can trust and rely upon. Our local mobile services include:
NDIS Registered Providers
Frequently Asked Questions
How does mobile physio work?
Mobile Physio is as simple as it sounds- we come to you! Whether it's your workplace, home, nursing home, local gym or pool, we will meet you there. We come equipped with all the tools needed to perform a "private practice" type experience and treatment in the comfort of your track pants.
What does a physiotherapy session consist of ?
Our physiotherapist will come to you and start with listening to your story, while taking notes and asking you further questions about your condition and general health. They will review any reports, plans or relevant medical information also.
You will then be guided through a physical examination to determine where the issues lie. We cover a heap in this assessment, from looking at how the body moves to what is tight and stiff, weak or overactive. This helps us determine a diagnosis and plan for treatment specific to your body.
Hands on treatment is usually commenced in the first visit to reduce pain and improve movement and function. We generally suggest an hour session is most valuable the first time you see us, so we don't have to rush you and you can be completely up to speed with what is happening with your body.
How soon can I get an appointment?
We can generally get an appointment within 24-48hours in most cases, for NDIS the wait might be 1-2 weeks at the latest as the appointments go for a little longer and so need to be coordinated to give you this time.
What do I need to bring along to my first appointment?
Most importantly yourself, and any information from your doctor or other medical professionals that may assist us in understanding what your needs are. If you are an NDIS participant, a copy of your NDIS Plan Goals is also helpful to guide our assessment and identify what areas you may require our assistance.
What should I wear for my first consultation?
Something comfortable, that is easy to move around in.
Our prices vary dependent upon service type and if you are the NDIS, private or using an health fund. NDIS rates are subject to change, and generally base upon NDIS price guide gazetted rates. It is best to check with our intake team before booking your initial and on-going appointments.
How do I pay for my treatment?
Our therapists carry around a payment square with them at all times allowing them to process payment from your credit or Visa Debit card on the spot.
You will be issued with an invoice straight away that you can use to claim back from your Health fund or Medicare online.
Does Medicare cover my treatment?
Medicare has a scheme available to those with chronic and complex conditions (EPC) with allocates up to 5 allied health services per calendar year. Your GP must determine eligibility for the scheme and provide you with the associated paperwork.
You can use this EPC to offset some of the cost of your mobile sessions by claiming the rebate via your medicare online portal after paying for your treatment session with us.
How much do I get back from my health fund?
Rebate from your health fund is completely dependent on your level of cover. You will need to call your personal health fund to ask what your package rebate amount is. It varies from package to package, with some clients earning up to an 80% rebate on the cost of their sessions.
Contact your health fund for specific details.
How long are the consultations?
Consultation length varies dependent on your individual needs. Our initial consultations may take up to 1 hour, and follow up sessions may vary but most commonly are an hour in duration.
You can apply for a home physiotherapy session without a referral as a private client.
If you would like to claim costs of sessions from a third party (like NDIS, CTP, TAC WC etc), we suggest you have all the necessary paperwork involved in claims ready before commencing treatment.
DVA (Department of Veteran Affairs) clients do require a doctor's referral.
I am a Support Coordinator, where can I refer Physio Inq my clients?
What states in Australia do you cover?
We are currently covering New South Wales, Victoria, South Australia, Queensland & Western Australia.
We are indeed one of the first NDIS Allied Health providers in Australia, being involved with the first rollout in NSW. We know NDIS very well and our therapists are highly trained in the scheme.
Do you see clients under My Aged Care?
Yes, we do see clients under My Aged Care who have their packages managed by a Provider. If you would like to see us, we will organise a Service Agreement with your plan manager and bill them directly under your My Aged Care Package.
What do our Mobile Physiotherapists specialize in?
All our therapists are highly skilled, generally having at least 2 years previous experience before joining our team. We specialise in musculoskeletal therapy, as well as a broad range of disability conditions, aged care management and NDIS. We have paediatric therapists in our crew also.
What conditions can our Mobile Physiotherapists treat?
We treat all sorts of things!! From sudden back and neck pains, to post operative management, elderly clients who need assistance to stay mobile and independent at home, work injuries, TAC or CTP clients post car accident, NDIS and all the disabilities that fall under it, and more!! If it involves the Physical Body and it's function in any way, that is our specialty.
My relative cannot speak English, I would like to attend the treatment session with them in order to translate, is this ok?
Under the NDIS scheme we have access to interpreters who can be arranged free of charge to come to the initial assessment to assist with the appointment.
Simply let us know if you need this and we will arrange this for you.
Otherwise, we try to organise sessions when family members might be present to assist with communication, or match the client with a therapist who speaks the same language if that is available.
Meet some of our dedicated Mobile + Community Staff across Australia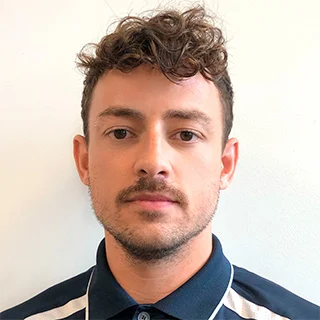 Chris Anderson
Mobile Physiotherapis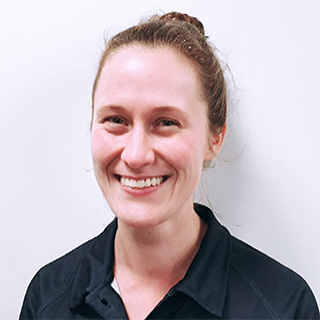 Jessica Marte
Mobile Physiotherapist
Popular Searches
Physio Inq Community Partners
Mobile & In-Home
Allied Health Services
Physiotherapy
Occupational Therapy
Exercise Physiology
Speech Pathology