Telehealth Physiotherapy
Physio Inq Online Therapy (Telehealth) Physiotherapy is a fantastic option if you need an appointment with an expert physiotherapist. Whether you prefer to receive services online, are in a remote location with limited access to services or are experiencing a lockdown of any sort of.
Physio Inq Online Physio consultations will deliver the same exceptional level of care as our in-clinic and in-home service offerings. Telehealth has many of the same benefits as a face to face therapy sessions. You will work directly with your therapist to discuss, assess, and diagnose problems just as if you were with them in a face-to-face setting.
Your Physio Inq therapist will help via our easy-to-use online platform for your online physiotherapy appointment. Our qualified therapists work with you, listen to your concerns, and establish your needs to help achieve your goals. They do this by providing assessments via a video call using observation, provisional diagnosis, giving comprehensive advice, supervising therapy, showing treatment techniques and teaching in-home self management.
During a Telehealth & online physiotherapy consultation your therapist will:
Listen, assess, and treat your concerns
Demonstrate and explain treatment techniques in easy-to-understand language
Provide education and management techniques
Create and develop a unique exercise program and plan
Work with you to set a plan on how best to manage your concerns
Advise on appropriate follow-up and book in ongoing sessions when works for you
Propose any relevant equipment or treatment aids that may be required
Directly refer on to other allied health services if appropriate
And much more, just ask.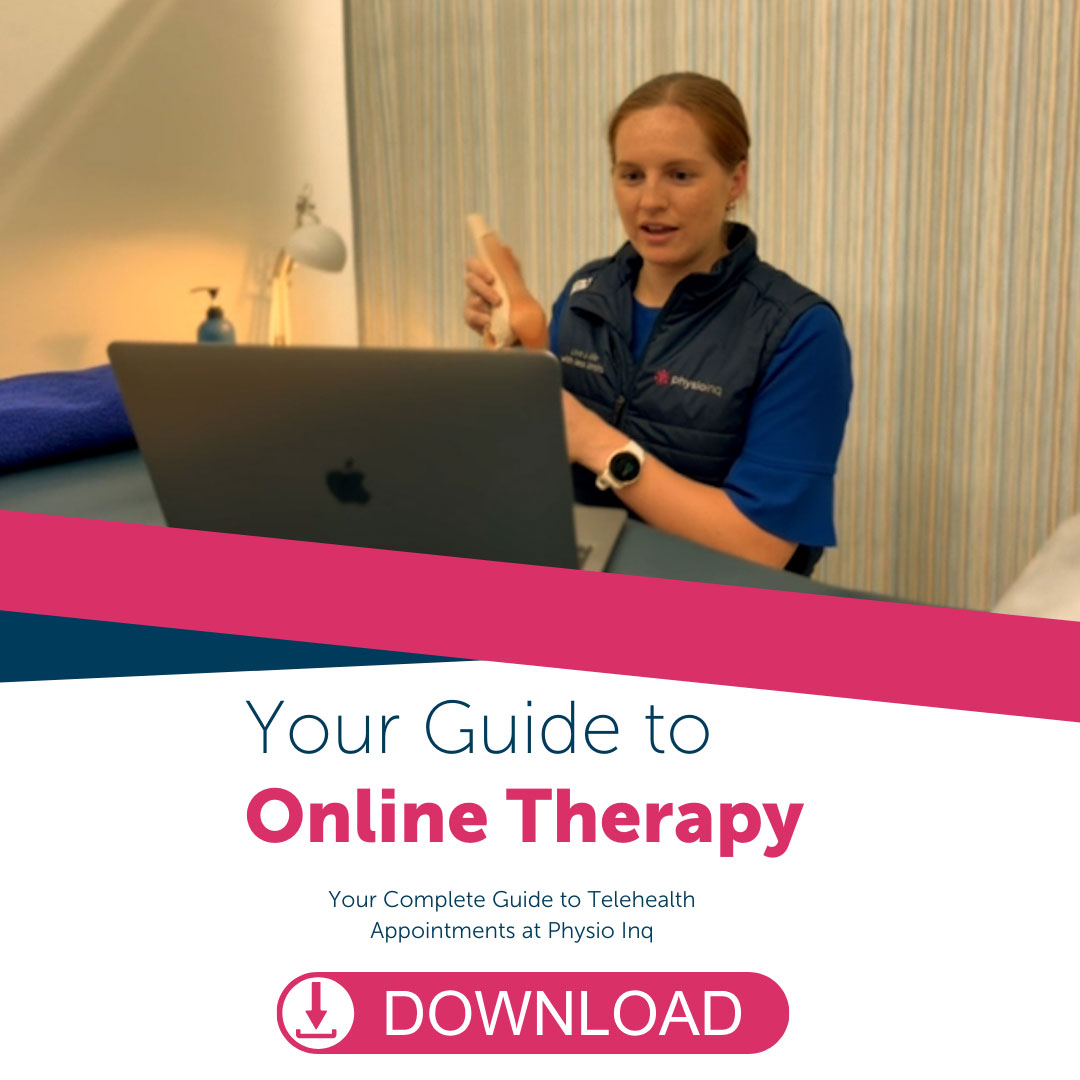 About Physio Inq's Care
Strong history in telehealth physio
Over 20 clinical experts in services for telehealth & online therapy across Australia
A commitment to expediting referrals based on clinical needs
Dedicated contact person for your business
Access to multiple disciplines and services under one roof
Large geographical coverage
High quality reporting
Experienced clinical staff

Today Physio Inq is pushing allied health in a new exciting and accessible direction for all Australians through it's telehealth services.
Access our Physio Inq Physiotherapy Telehealth services from home today.
Contact the team at Physio Inq to organise a remote Telehealth consult. You can do this by calling or booking a Telehealth Physiotherapy Appointment.
Why worry about the stresses of parking and traffic when you simply don't have too anymore. Our Allied Health Team are currently serving the following states in Australia;
South Australia
Alternatively contact us by phone on
1300 731 733
Live a life with less limits
Frequently Asked Questions
What is 'mobile' physiotherapy?
Mobile Physiotherapy is the term we use to describe physiotherapy that comes to you. We are able to deliver the service in your home, or anywhere you prefer in your community. This could be your workplace, home, nursing home, local gym or pool, we will you there.
What does a physiotherapy session consist of ?
Our physiotherapists provide a person centred, and goal orientated service. We work with you as a team to provide best in market care. At your first session, the physiotherapist will be sure to introduce themselves, and listen to your concerns, history and why your are engaging in physiotherapy. They will review any reports, plans or relevant medical information also.
After listening to your concerns and goals - your physiotherapist may review how you move. This may involve hands on assessment of joints, muscles, movement and more. This allows our expert physiotherapists to establish what may be contributing to your concerns.
After a comprehensive assessment, the physiotherapist will discuss with you outcomes, and propose an agreed treatment plan to help you achieve your desired goals from treatment.
How soon can I get an appointment?
We have a dedicated customer service team to assist you in booking an appointment. This team will discuss with your needs, any treatment preferences and where you would like to be seen (in your home, community etc).
At Physio Inq we aim to see all new clients as soon as possible - to meet your needs. In many areas we have immediate availability, meaning you can be seen inside 48 hours. In areas of longer wait times, we of course communicate this with you and book a time suitable in the future.
What do I need to bring along to my first appointment?
It is helpful if you have any information or reports from your General Practitioner (GP) that may be appropriate and may assist us in understanding what your needs are. If you are an NDIS participant, a copy of your NDIS plan Goals is also helpful to guide our assessment and identify what areas you may require our assistance.
What should I wear for my first consultation?
We encourage you to be comfortable at your appointments - so clothing that you are comfortable in is best.
Our prices vary dependent upon services required and your geographic location. A Copy of our price guide can be found here. Our customer service team will provide you with your pricing based on your individual circumstances in your initial contact with them.,
How do I pay for my treatment?.
Our therapists carry around a payment square with them at all times allowing them to process payment from your credit or Visa Debit card on the spot.
You will be issued with an invoice straight away that you can use to claim back from your Health fund or Medicare online.
How much do I get back from my health fund?
Rebate from your health fund is completely dependent on your level of insurance cover..We encourage you to call your personal health fund to ask what your package rebate amount is. It varies from package to package, with some clients ear You will need to call your personal health fund to ask what your package rebate amount is. It varies from package to package, with some clients earning up to an 80% rebate on the cost of their sessions.
How long are the consultations?
Consultation length varies dependent on your individual needs. Our initial consultations may take up to 1 hour, and follow up sessions may vary but most commonly are an hour in duration.
Our services are available with a referral.
Certain funding types require appropriate referral, these will be discussed with you at the time of booking your appointment with our customer service team.
I am a Support Coordinator, where can I refer Physio Inq my clients?
What states in Australia do you cover?
We are currently covering New South Wales, Victoria, South Australia, Queensland, Tasmania & Western Australia.
We are indeed one of the first NDIS Allied Health providers in Australia, being involved with the first rollout in NSW. We know NDIS very well and our therapists are highly trained in the scheme.
Does the NDIS cover physiotherapy assessment?
Yes, the NDIS does cover physiotherapy assessment when deemed reasonable and necessary.
Allied health services such as physiotherapy are funded under the 'Improved Health and Wellbeing' and/or 'Improved Daily Living' categories of your NDIS Capacity Building Supports budget.
Which NDIS budget is physiotherapy claimed from?
The NDIS is responsible for funding allied health and other therapy services related to a person's disability. These therapies fall under the NDIS 'Capacity Building' support budget. Allied health services such as physiotherapy are funded under the 'Improved Health and Wellbeing' and/or 'Improved Daily Living' categories of your NDIS Capacity Building Supports budget.
Do you see clients under My Aged Care?
Yes, we do see clients under My Aged Care who have their packages managed by a Provider. If you would like to see us, we will organise a Service Agreement with your plan manager and bill them directly under your My Aged Care Package.
What is paediatric physiotherapy?
Paediatric physiotherapy is treatment of children from birth to 18 years of age.
Paediatric physiotherapists have expert skills in the assessment, identification, diagnosis of, and treatment of child development and movement difficulties as well as injuries.
How does a paediatric physiotherapy examination differ to adult?
A paediatric examination differs to an adult in many ways. These range from different communication methods with the child that allow improved engagement and quality to different assessments used to reflect the differing nature of a child's body and its movements in comparison to an adult.
What can physios help people with autism?
Physiotherapists can help both children and adults who have autism to help develop physical and motor skills. By working on basic skills such as sitting, standing, playing, kicking and more physiotherapists asst with improved balance, strength, and motor skills.
What are the benefits of physiotherapy for intellectually disabled clients?
Physiotherapy for people with learning disabilities can involve assistance with postural care, management of long-term conditions and recommendation of specific treatments.
Physiotherapy has been shown to improve gross motor skills in people with intellectual disability when tailored programs are used as well as reduce the risk of falls.
How physiotherapy helps stroke patients?
Physiotherapy can enable people to relearn lost abilities, regain independence and reduce the risk of further strokes. Physiotherapy is key to recovery of function and mobility after stroke which helps with return to previous levels of function and reintegration into the community after stroke. Specific and tailored exercise programs are used to achieve client goals.
My relative cannot speak English, I would like to attend the treatment session with them in order to translate, is this ok?
Under the NDIS scheme we have access to interpreters who can be arranged free of charge to come to the initial assessment to assist with the appointment.
Simply let us know if you need this and we will arrange this for you.
Otherwise, we are able to organise sessions when family members might be present to assist with communication, or match the client with a therapist who speaks the same language if that is available.