Choosing The Right School Bag | A Physiotherapists Guide
Friday, February 1, 2019
School's back! It is time for the little ones to return to their buildings of learning and get going on growing up...
They grow up so fast each year, that we tend to forget how far they have come. It is the time when pencil cases are new, pencils are sharp, haircuts and clean and uniforms are pristine
It is also the time when school bags are at their heaviest. It is also the time when new shoes can cause a lot of trouble.
School Bag Fitting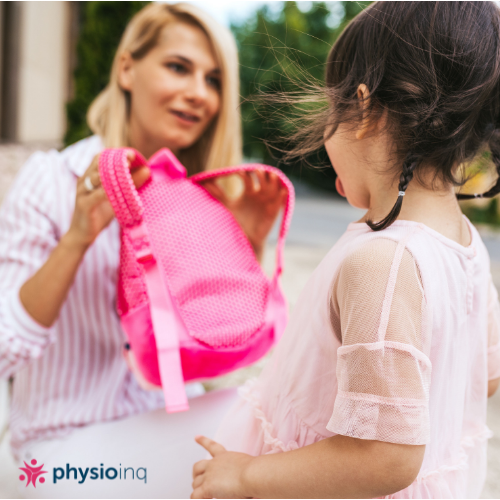 School bags need to fit well. Most school bags have got two straps and are ergonomically designed to sit squarely on their back. Of course, this is only the case when your child actually uses it as intended! Most of the time, when they are getting a little older... like 9, they want to have just one strap on and hang it to the side. This can create issues with spinal alignment as they compensate for the weight by leaning the other way.
**Spine health deteriorates as you age so it is important to implement proper postural habits in your children when they are young.
How to Fit A School Bag
It should sit quite high on the pelvis, with the straps evenly pulled.
There shouldn't be a space between their upper back and the bag
Heavy items should be secured to the front of the bag. Often bags have a pocket for books to sit tightly to the child's back.
Hear Are Some Tips On School Bag Management
Get them to ride a bike to school. They have to have their school bag square when riding a bike for balance!
Keep unnecessary things out of the bag to keep the weight down. If they are hell bent on having it on one shoulder when you're not around, at least they'll minimise issues!
Keep the straps the right size by tying a knot below the adjustment band. This is a cool tip, as kids are inherently lazy. Hanging the bag on one shoulder is easy when the strap is loose, but much harder when it is fitted well. They won't bother to undo the know and just stick it on their backs instead.
Make sure that school shoes are good quality. Quality footwear doesn't have to mean expensive footwear, it just means well-made. Here are some tips on what to look out for;
A strong rear casing of the shoe. The rear of the shoe holds the heel in place and prevents unwanted movement.
A solid last and sole. Ensure the sole looks solid and is made from a good, thick rubber. This will provide for good cushioning support
Quality inner sole. When it comes to inner sole, they are generally quite flat. You might consider getting an insert to place in your child's shoe to improve support. Speak to your Physio to turbo charge your child's school shoes!
Laces should be uniform and not too tight. Tight laces and a tight toe box prevents the foot from properly yielding on impact. The foot is designed to splay, and should be allowed to let the toes spread out to some degree. If the laces and toe box is too tight, you can get issues with foot biomechanics
Common Spinal Complaints In Children
Scoliosis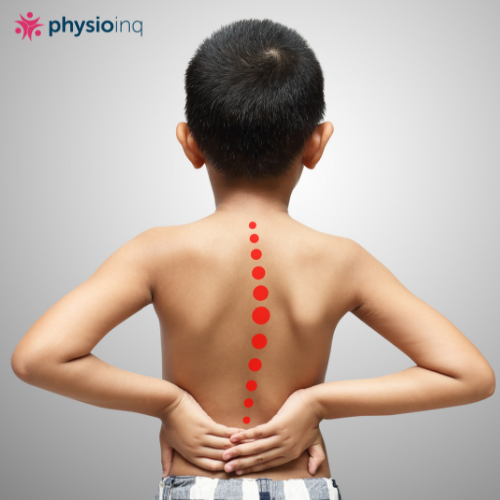 What is it?
To put simply, scoliosis is a sideways curvature of the spine. The vertebrae usually form and grown straight up, but in about 30%, they grow to the side, then compensate and return to the midline. It is quite common to varying degrees.
Causes
Genetics, environment, habits and sports all play a part in causing and assisting scoliosis.
Symptoms
Symptoms of scoliosis are rare. Usually the child will not even know they have one until they are shown or told. It is usually picked up by accident. Increasingly, parents are becoming aware of the importance to have their child assessed for muscular issues, so they are being picked up earlier.
If they do have symptoms, they can include:
Pain in the lower, mid or upper back
Weakness relative to the other side on one leg or arm
Altered shoulder and chest development, including rib changes
Aching at night tim
Treatment
Treating scoliosis is difficult as the exact cause for it may be unknown. There are a variety of things that we can safely ELIMINATE from being a cause which is important to do. These include:
Making sure they sleep in a variety of positions and not just facing the

one direction. This may involve moving the bed to the centre of the

room.

Prevent them from habit a favourite seat when they watch tv.
Encourage them to use both shoulder straps on school bags.
Get them to play sports that are symmetrical in nature.
Have them play a variety of different sports. Physiotherapists are able to guide you on the process to eliminate some of these issues. They are also trained in giving exercises to assist in correcting the imbalances that occur due to asymmetry. Specialist treatment is required when the scoliosis is really bad. Bracing of the child's back is sometimes indicated in severe cases when the curve is past 20 degrees.
You physio or GP will be able to assist in the decision making process here, and a specialist scoliosis medical clinic will fit the brace. An X-Ray is the best diagnostic tool for measuring the degree of curve.
In really severe cases, surgery is used to straighten the curve.
Prognosis
Functionally, prognosis is good in just about all cases. In mild scoliosis there are no complications. In moderate cases, they may have some issues in later life with pain or unilateral dysfunctions like headaches and shoulder pain. In severe cases it depends on the intervention
Hyperkyphosis/Scheuermann's Disease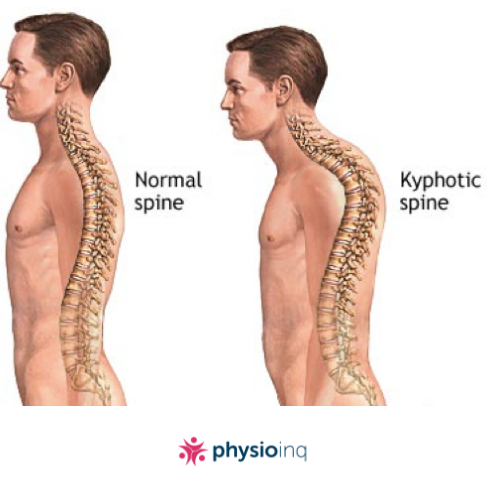 What Is It?
Hyperkyphosis or Scheuermann's Disease is a genetic or acquired disorder of the thoracic spine. This portion of the spine is the one where your ribs attach, or the mid back. It occurs when the curve increases as the child grows older, resulting in abnormal bone and ligament formation
Causes
It is mostly genetic in nature, but is worsened by poor posture and weak trunk muscles.
Symptoms
Symptoms include:
Pain in the thoracic region of the back
Slouched posture
Chin poke
Headaches
Neck pain
Sunken or pigeon chest
Treatment
Mostly treatment consists of posture correction. Tall individuals with hyperkyphosis are the hardest to treat as the generally try to 'come down to our level'. They should be encouraged to enjoy their height!
Posture correction exercises include:
Stretching of the chest and lats
Rotation and extension exercises of the thoracic spine
Chin tucks
Lower back stability exercises
Shoulder retractions
**Regular stretching and prehabilitation exercises are an important aspect of injury prevention, especially for tall individuals.
Prognosis
In most cases pain is able to be controlled. In severe cases, pain may be constant in nature and difficult to resolve. There is usually no functional deficits, apart from shoulder and neck complaints that arise from poor posture and rounded shoulders
Stress Fractures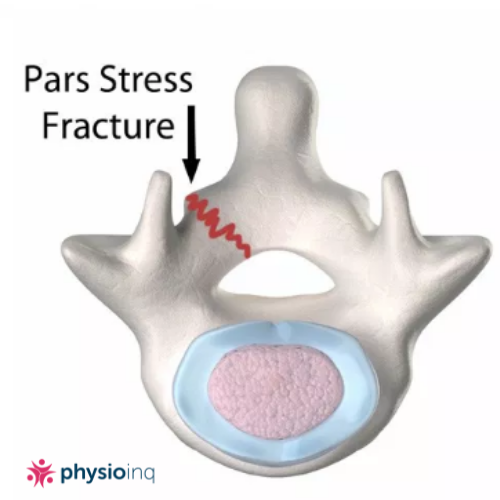 What Is It?
Stress fractures are small fractures that occur in the boney areas of the vertebrae. Most commonly, they occur in the PARS area of the vertebral body, and these are called PARS DEFECTS.
Causes
These fractures are mainly caused by repetitive loading of the lumbar spine into extension. This is exacerbated by landing and impact with the spine in extension. This causes a type of spondylosis, which is where the vertebrae shifts anteriorly on the one below, placing increasing pressure on the vertebral body. Over time, this leads to stress fractures.
Cricketers who bowl fast or for long spells are at risk of this type of injury, as are AFL players who are active or on ball. The landing in the delivery stride in cricket places immense pressure on the spine, and should be closely monitored.
Symptoms
Symptoms include:
Pain on landing
Pain into back extension
Reduction in extension range of movement
Dull aching pain after exercise
Pain at night
Tightness in the lumbar spine or hips
Radiological features suggestive of stress fractures: Bone scans, CT or MRI may pick them up. X-Rays rarely show stress fractures of the spine.
Treatment
Treatment initially involves rest from the contributing factors. This rest can last from 4 weeks up to months, depending on the severity of the stress fracture. Once symptoms free, the athlete is then gradually returned to sport with close monitoring. In addition, the following is necessary:
Core stability program (strengthen your core with these 3 must do core exercises).
Footwear and lower limb assessment
Muscle release to improve muscle imbalances
Technique changes to limit extension in sport
In severe cases, the back may be braced, or even have surgical fixation if the defect is large.
Prognosis
Prognosis is good if treated early and completely. Refracture rate is highest in athletes who have poor compliance with rehab and altering their contributing factors.
Severs Disease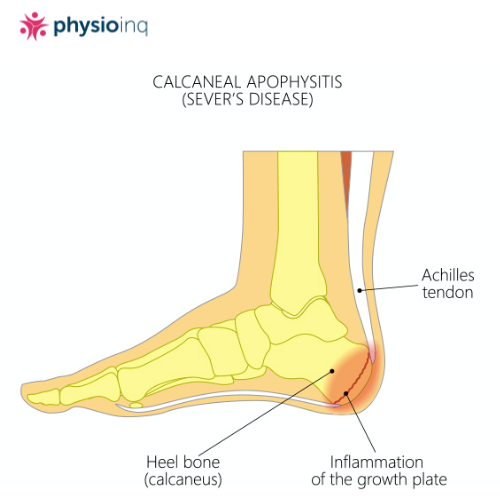 What Is It?
In a similar fashion, severs disease is not actually a disease. It has a very similar appearance to Osgood schlatters, but in the heel of the child. In the same way, severs is usually found more often in boys than girls, and in young adolescence.
The pain is due to a growth abnormality at the insertion point of the Achilles tendon onto the calcaneous or the heel bone. It has a similar presentation to Achilles tendonitis in many cases.
Causes
It is caused firstly by rapid growth in the growth plates of the heel bone. This combined with excessive loading of the Achilles tendon via exercise, poor biomechanics, impact or tension or a combination of all, leads to stress on the insertion point.
Symptoms
Symptoms include pain at the boney insertion of the Achilles tendon. It can be painful to tough and in more severe cases, it can hurt when wearingshoes. The child may experience pain whilst:
Walking after rest
Running
Jumping
Jogging
Landing or impact
The symptoms may improve at times when the child has warmed up for their sport and return when they have finished. This is due to the swelling and inflammation being somewhat hidden when they are warm.
Treatment
RICE regime
Reduction in frequency of training.
Strengthening of the gluteal region.
Stretching of the ITB, Quads and hamstrings.
Eccentric Exercises
Alignment exercises
Massage and frictions to the ITB and tendon
Orthotic prescription.
Knee braces and straps
Prognosis
Severs disease is also mostly self-limiting and will clear up on its own. It is more about management of the symptoms to allow the child to be relatively pain free to continue to participate in sport. See your physio if you need assistance.
Stress Fractures Of The Foot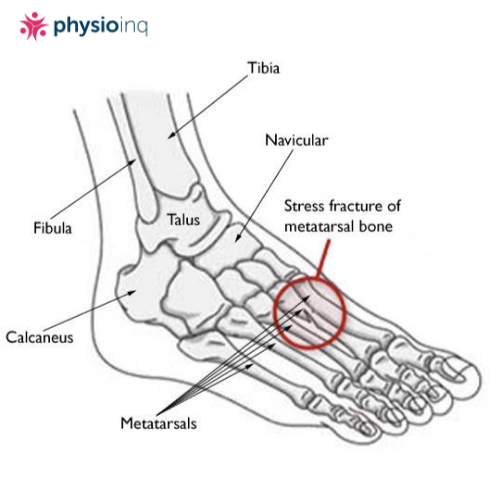 What Is It?
A stress fracture is a fracture that has come on due to repeated impact or trauma over time that causes micro damage to a small bone in the foot, ending up in it having a small break. They can often come on so slowly that the child may have had the issue for some months prior to seeking professional help.
Causes
Stress fractures are becoming increasingly common in children due to a variety of reasons. The harder grounds our kids are playing on causes more impact through the foot; Footwear and fashionable sneakers such as Nike Free may not provide enough support for the growing foot. Proper fitting running shoes are not always the most fashionable, but are essential in reducing the occurrence of stress fractures. Overtraining and poor biomechanics most commonly lead to this condition.
Symptoms
Symptoms include:
Aching of the foot after exercise and at night
Sharp pain on certain activities, including push off in running,
stopping quickly, jumping and landing
Painful to press in certain spots of the foot
Swelling intermittently
Treatment
Depending on the level of fracture, which is usually diagnosed by a bone scan, the child's foot may be needed to be braced in something like an aircast boot to keep it from moving. This may be needed for 4-6 weeks. In less severe cases, rest from the sport and activity may be enough to let the bone heal.
Complete removal from sport is generally advised during the treatment and healing process.
An assessment of the biomechanics is essential to figure out why the fracture happened in the first place. This is obviously best done post healing. In addition, addressing the quantity and type of training the child is doing will aid in reducing the likelihood of it occurring in the future.
Prognosis
Prognosis is good when treated early and effectively. If the biomechanics are not sorted out post healing, reoccurrence rate is high.
In closing
Bad postural habits start young and are exacerbated by daily activities such as sports, heavy school bags, improper footwear and lack of stretching. As your child ages, this can result in serious issues such as Severs disease, stress fractures, scoliosis, hyperkyphosis and Scheunemann's disease if not properly monitored and managed. Although you cannot control every aspect of your child's school life, preventative measures can be taken to prevent such injuries and diseases from developing. Proper postural practices, injury specific prevention exercises and sports therapy can all be implemented into your child's day-to-day life, to improve their quality of life and ensure they grow up strong and healthy.
Luckily, as easy as it is for improper habits and spinal imbalances to form in young children, it's just as easy to correct them if treated early. If your child is experiencing any of the symptoms discussed in this article, it may be time to see a professional. Genetics play a large part in how your child will be affected by the issues listed above as well, so a preventative consultation with a professional is always smart, just to be safe.
We can help!
We have a team of Physiotherapists, Exercise Physiologists all across Australia ready to assess your child's posture & school bag fitting. If you can't get to one of our Physio Inq clinic's, we also offer Physiotherapy home visits where we can have one of our Physiotherapists attend your house or the most convenient location for you and your child. Contact us by phone at 1300 731 733 or find a location nearest to you to get started!
Share the article