What a Pain in the Neck! | Home Office Ergonomics
Originally Published May 1, 2020
With many people now finding themselves working from home, home office set-ups are becoming a priority. Transitioning from a well-planned office-space to working from home can be a little uncomfortable or even painful if your workspace isn't well designed for your needs: are you getting recurring headaches? Sore neck? Wrist pain? Pain in the back?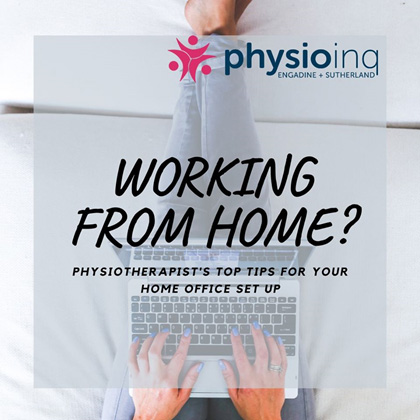 Different chairs, desks, monitors and keyboards might be part of the new norm for many people. While our bodies are great at adapting to different positions, and no position is inherently bad, long periods of time in uncomfortable office set-ups can lead to pain in the neck, shoulder, wrists and back.
While we may not be able to access all the high-tech furniture and equipment that our usual work-place has, there are still some simple and cost-effective ways to maximise your comfort at home and decrease your risk of developing these working-from-home aches and injuries.
Our top home office tips:
Your elbows should comfortably rest at desk height when you sit with your feet flat on the floor, your knees bent at a 90-degree angle and your back straight or slightly leaning back. Try a phonebook as a footrest if you find yourself reaching for the floor.
Use monitors, a keyboard and mouse rather than a laptop where possible. The top of your screen should sit at eye-level and be roughly an out-stretched arms length away.
Take regular movement breaks! Every 30-40 minutes take a quick stand up, walk and stretch as needed. Set a reminder so that the hours don't get away on you when you're in the zone!
Adjust your positions regularly; try to alternate between sitting and standing where possible.
TELEHEALTH! If you would like some help setting up your home space, our physiotherapists can complete an ergonomic assessment online to ensure your set-up is right for you. We can also provide in person or Telehealth treatments to help out those experiencing those working-from-home aches and pains! Please look after yourself!
Disclaimer
The information provided on this blog is intended for educational and informational purposes only. It is not intended to be a substitute for professional advice or treatment. Always seek the advice of a qualified professional with any questions you may have regarding a medical condition. Never disregard professional medical advice or delay in seeking it because of something you have read on this blog.