The Greater Good | My Best Worst
Originally Published Sep 3, 2021
Irene Georgakopoulos was diagnosed with relapsing-remitting multiple sclerosis in 2019.

Each week, we ask someone to tell us about the upside of a bad experience or rough patch.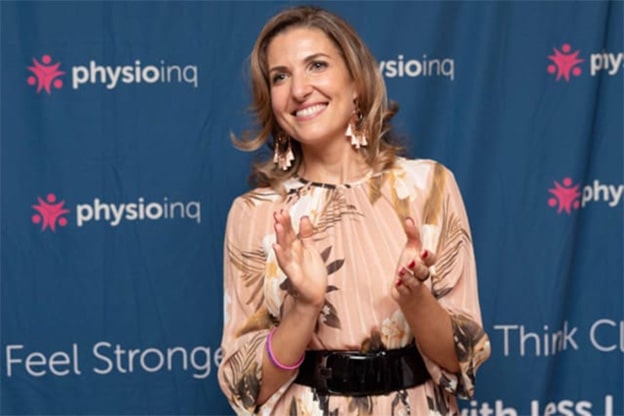 Irene Georgakopoulos was diagnosed with relapsing-remitting multiple sclerosis in 2019.
"That basically means it's going to come and go, and you don't really know when your next flare-up will be," she says. "It's like: get ready for uncertainty, basically; strap yourself in because you don't know how this is going to go."
The diagnosis hit her "like a ton of bricks".
Irene, who is the co-founder of Physio Inq, a business that provides allied health services in clinics as well as in people's homes, describes herself as a "very action oriented person … I definitely put 110 per cent into things". She brought the same approach to her MS diagnosis that she brought to her business.
"I was like okay, what am I going to do about this? Let's do the research … let's deconstruct this. I tried about a thousand different things, cut out gluten, cut out dairy, did all the naturopath stuff, took a thousand vitamins …
"But then I also started to think what can I learn from this? It took me time to work it out but [I started thinking] ironically, you've got this autoimmune disease, this immune system in hyperdrive, it's working so much that it's attacking you. And that's the story of my life. It's like my life had manifested itself in a physical condition because I don't stop, I don't stop in so many ways.
"So I guess I started to look at it as a sign to just calm the farm. It's okay to slow down, Irene, you don't have to do everything all the time. I love being busy, but I guess it can become a bit of an addiction.
"I'm not going to say I've cracked [taking it easy]. It's not in my constitution to be honest, but it's all relative to the pace you were running at to start with. But I am aware, and I think that's the first step in making progress."
Irene says she has also found a new level of understanding when confronted with distressed and sometimes angry clients, many of whom have a disability themselves or are primary carers for people with a disability.
"Many of our clients have struck such difficult circumstances. I am much better now at thinking 'these people's lives are really complicated and every day is hard'. Every day they are having to hoist their kid up out of their wheelchair and bathe them manually, and that kind of thing spills over into them being cranky or stressed out, and you can't take it personally.
"I think to myself and I try to communicate to our staff: please approach this with empathy and love and kindness, knowing that there is something going on in this person's life.
"Just be kind, and maybe especially if people aren't kind to you."
This article was originally published via The Sydney Morning Herald and The Age | Greater Good newsletter
Want to read more about Physio Inq? Check out our other pieces:
Spotlight on Wellness | Physio Inq & Inside Franchise Business
Interview: Celebrating Female Success: Irene Georgakopoulos | MS
You Don't Need to Be a Physio to Own a Physio Inq Business!
Three Simple Strategies That Can Help Achieve Work/Life Balance
Disclaimer
The information provided on this blog is intended for educational and informational purposes only. It is not intended to be a substitute for professional advice or treatment. Always seek the advice of a qualified professional with any questions you may have regarding a medical condition. Never disregard professional medical advice or delay in seeking it because of something you have read on this blog.