How To Hire: 6 Tips to Successful Healthcare Recruitment
Monday, January 31, 2022
Every single healthcare provider in Australia struggles with healthcare recruitment. Anyone who has attempted to recruit healthcare workers can attest that not only is it difficult to find skilled, high-quality staff within the healthcare field, but Australia is notorious for it's small healthcare worker numbers.
That means, to find talented employees in a scarce marketplace, it's vital to use recruitment tactics that work.
In our latest business guide, we're sharing Physio Inq's secrets to Healthcare recruitment.
If you want to:
Learn industry tips from one of Australia's largest healthcare companies

Physio Inq uses these strategies to attract the best healthcare workers in the industry

Discover 6 healthcare recruitment tips and tricks to help you staff your healthcare clinic

How, where and when to start finding new staff.

Read about Australia's healthcare recruitment landscape

How to navigate Australia's recruitment challenges

The ultimate question: When do I need to recruit?

Learn how to identify your ideal client load for your healthcare business

A great work culture… how to create it, how to manage it… and what happens when you loose it!
Owners & Managers Guide to: Conducting a job interview

How to cut through the good and the great candidates! (…and the not so good!)
If you want to read the full guide, click here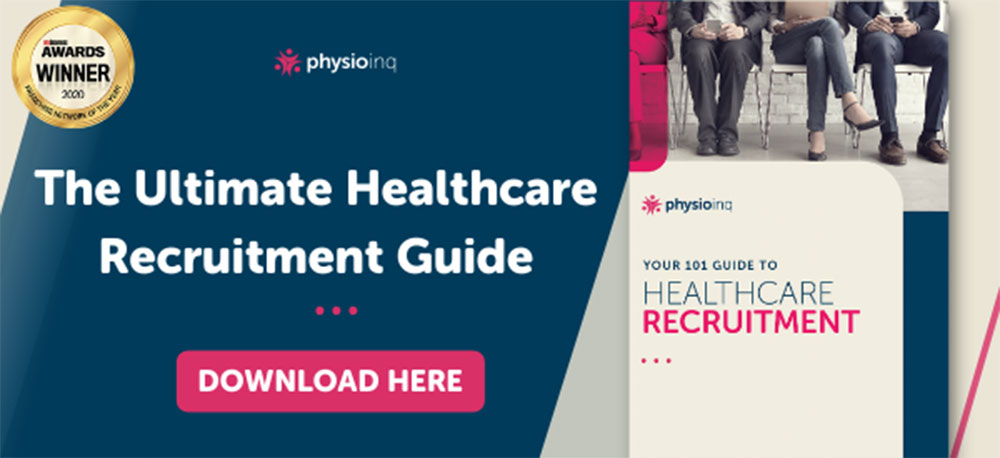 Otherwise, scroll down to keep reading top recruitment channels to help you find quality healthcare therapists for your small healthcare business. Let's get started!
How do you source a physician?
When trying to find and recruit new healthcare workers, start in the following places:
Discipline specific websites
Online job boards
Seek.com
Facebook
Facebook Groups and Forums
LinkedIn Job Ads
Your own LinkedIn Network
Internal recruitment
Email Clients For Referrals
Hire a professional recruitment agency
Below, we will break these down and guide you through the steps for recruiting through different sources.
Channel 1: Do your research and find the key websites for your discipline.
Whether you are hiring an Occupational Therapist, Speech Pathologist, Exercise Physiologist, Physiotherapist, Personal Trainer, or any other healthcare specialist, do your research and find a range of websites that operate as job boards.
Every discipline will have their own niche websites you can look through. And although it might take a bit of time to find the best ones, it's often worth it.
Professional organisations and industry groups often offer their members job opportunities through job boards open to the community. You may have to be a member to post a job, but not always.
Most industry leaders know how to hire staff effectively and they use these organisations to offer recruitment opportunities for businesses like yours.
Post on these job boards to find quality candidates. Chances are, if an applicant is a member of one of these organisations, you can trust that they're serious about their careers and are interested in being a strong part of the community.
You may even be able to reach out to potential employees directly through these niche websites as they also occasionally have directories with contact information.
Even if you reach out to the organisational leaders, you might find some solid recommendations and make a new connection yourself. The point is, these niche websites based on specialties within the healthcare field is a great place to start.
Channel 2: Seek.com
Seek is another platform Physio Inq has had success using, however, it is a form of paid recruitment.
One of the main drawcards is that One of which is it is often the first place many job seekers check for new job listings.
However, while Seek listings may get a lot of response, they won't always get the highest quality responses.
Still, it's worth a go if you have a bit of a recruitment budget but not necessarily one big enough to hire a professional recruiter or recruitment agency.
Recruitment Tip:
We recommend trying the Seek.com feature called 'Seek: Guarantee Hire'.
This feature will:
Target your job ad to the right people
Maximise the return on your hiring investment
Build real value through the right people
Get local, hands-on customer support
And when you're a small business, that is desperate for that new staff hire, it can really help you out of a tricky spot!
Channel 3: Facebook & Instagram Organic Posts
Social media is another way to start finding new staff in healthcare.
At Physio Inq, we've found that Facebook especially gets a lot of traction on the business side and users now come to expect messages from business pages.
While Facebook takes the cake for better results, it is also important to transfer the information onto your Instagram accounts too!
So, make sure you have a Facebook Business page, your Instagram business page and post your job listings there.
Facebook Pages even have an option that allows you to post your job and receive applications through Facebook itself. It's a great way to drum up interest in your open position*
Plus, you can also promote your Facebook job listings in the same way you'd promote an ad to reach users beyond your current audience. At such a low cost, it's definitely worth doing a little of your recruiting on Facebook.
*Editors Note:
As of February 2022 this feature will no longer be available for companies outside of the United States of America & Canada. You can read the official announcement and learn more information here.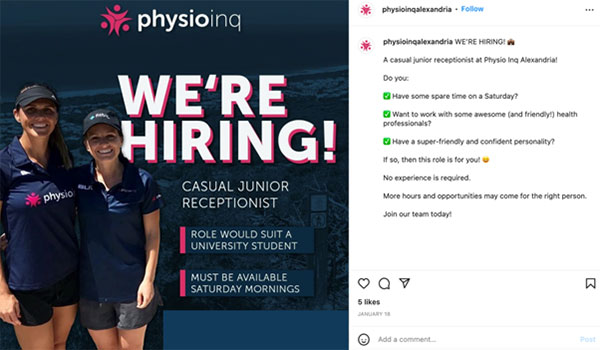 Image source: Physio Inq Alexandria
Channel 3.2: Pay for A Boosted Post on Facebook & Instagram
More eyes, more potential to snag that new recruit!
If you're unsure how to boost a post, you can read step-by-step instructions here.
Channel 4: Facebook Groups and Forums
Potentially even more effective than posts on Facebook, Facebook groups and forums are alive and well on the platform. Many users join Facebook groups to find a like-minded community to have discussions, share events, and yes - post job listings.
Acting as a sort of interactive job board, Facebook Groups should not be overlooked in your recruitment strategy.
Look for Facebook groups centred around the healthcare industry and ask to join. These groups might be generalised or super-specific. Join groups that your ideal employee might be a part of.
You might also join and post in Facebook groups that are parallel to your industry to find new recruits. For example, if you're a Physiotherapy practice like us, you might join groups for personal trainers, gym owners, or nutritionists.
Not to mention, joining these groups and adding to the conversation will help solidify your voice as a leader in the industry and build your network organically.
Both benefits can help you with recruitment later as well with more brand recognition and interest in your company.
But first, make sure that job postings are allowed in the Facebook group you join since they're not always welcome.
Channel 5: LinkedIn Job Ads
As far as social media platforms go, LinkedIn dominates the B2B scene. They also provide a robust job board that applicants scour to find suitable work and it's a great place to put any and all of your open job listings.
In particular, LinkedIn Job Ads are even more beneficial as your posting will be moved to the top of the search. It's also worth it to consider LinkedIn Premium if you haven't invested in the upgrade already.
Not only is LinkedIn great for posting jobs but those you connect with on the platform can be truly meaningful connections. It's no wonder LinkedIn has become such a powerful tool beyond its job board functionality.
In any case, be sure any open positions make their way to the LinkedIn job board.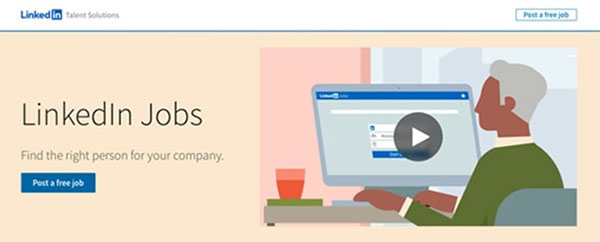 Image source: LinkedIn Jobs.com
Channel 6: YOUR LinkedIn Network
One of the absolute best ways to recruit qualified candidates for your healthcare staff is by building your LinkedIn network.
As previously mentioned, LinkedIn is so much more than its job board. It helps us all create meaningful connections and a strong professional network.
As the saying goes, it's not what you know but who you know. And while there's some wiggle room there, it's a cliche for a reason.
So often, the best talent is recruited by people in your own network. For example, you post about an open position and someone in your LinkedIn network sees the post, shares it with someone in their network, and bam -- the rest is history.
By building your own LinkedIn networking, you're strengthening those bonds and giving your connections a chance to work their magic.
You can build your LinkedIn network through your company and personal pages. So, if you are a physiotherapy clinic owner, you should have your own LinkedIn professional page to build a network plus your business should have a LinkedIn page to share social media updates and more.
Both are key to not only establishing yourself as an industry leader on your own page but also solidifies your company as a brand to be trusted in the healthcare industry.
Your LinkedIn posts are both helping with your image and can also help when it comes to recruitment. It's the idea of playing the long game -- posting consistently, interacting with your peers -- that lead to good PR and more interest from potential employees.
Some Tips on How to Build Your LinkedIn Profile
Share key events and relevant information that your audience will like
Post often and engage on the platform
Reach out and follow people associated with healthcare
Share Key Events and Relevant Information
On your actual LinkedIn profile, you have the opportunity to share what you're all about. From past experiences to current updates, it's a great way to offer a snapshot of your expertise and interests. But, it's crucial to make sure that you're sharing only the information that's relevant.
And that goes for what you post on the newsfeed as well.
As with any social media platform, LinkedIn is full of news, events, and lots of information. So, it's important that the posts you share art relevant to your audience and only add to the value of the information versus adding to the clutter.
Sharing other users' content is also a great way to make connections and build your network in an organic way. If you notice that you tend to share the same kinds of content or content by the same users, it also helps to narrow down your niche and connect with those that matter.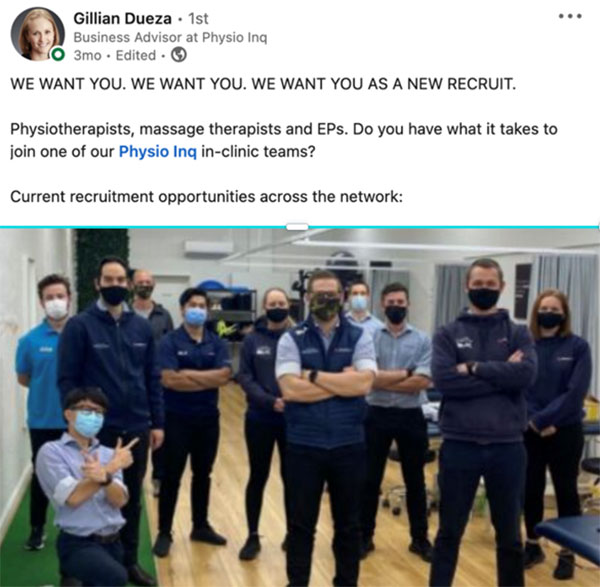 Post Often and Engage on the Platform
Another key way to build your network on LinkedIn is simply to be active on the platform. Post often and engage with other people's posts to really make the most of everything LinkedIn has to offer.
LinkedIn Premium is also something to look into for even more capabilities for sharing and connecting with prominent people in any industry.
Still, simply posting consistently in a manner that's relevant to your audience makes it possible to build a strong following and make solid connections with your community.
It's smart to think of LinkedIn (and all social media for that matter) as a process versus an outcome. Sure, you have an aim and a reason for being there, but it's far more about what you give than what you get.
So, focus on your message and your values and have the courage to post and engage on LinkedIn regularly.
Reach Out and Follow People Associated with Healthcare
The last piece of the puzzle of building your LinkedIn network is actually making the connection. You might be getting a lot of engagement on what you post and share, but be sure you're also taking that next step and connecting with other users.
Most people are glad when others reach out to make a connection, so long as it makes sense and isn't asking for anything too much in return. Again, focus on what you can give versus what you can get.
In short, don't connect with anyone and everyone on LinkedIn but do reach out to those who feel like might be a good fit. Send them a message introducing yourself, check out their profile, and interact with their content.
Stick with the healthcare industry and build your LinkedIn network in a way that makes sense for your business. Then, as we've mentioned, you'll have a much easier time with recruitment later on.
After all, with a strong digital presence on LinkedIn, you might already be connected to your future employees.
Channel 7: Hire a professional recruiter or recruitment agency
When it comes to recruitment in healthcare, you may need to outsource some of the legwork. Please be aware that this tactic is certainly not free and at Physio Inq, we spend a lot of money going through recruiters.
Still, it can be worth it since professional recruiters have strong networks and the special skills to find top talent. Especially as a healthcare business, you'll want to consider investing in a recruiter to save money in the long-run.
After all, onboarding costs for employees that are turning over like crazy might end up costing you more in the end. So, hiring professional assistance can sometimes be worth it.
Want to read more?
Download our free guide below!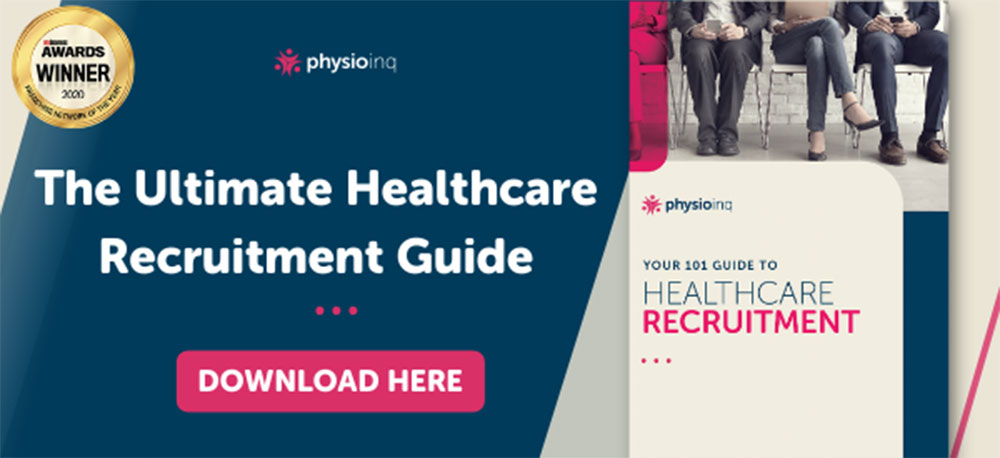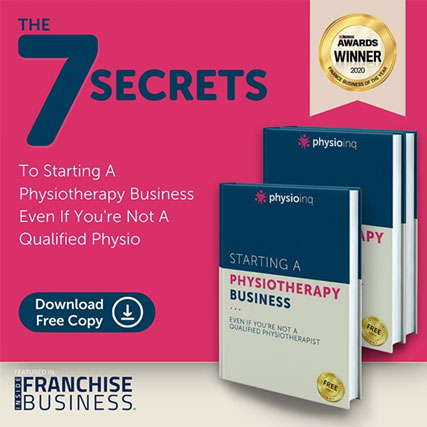 The 7 Secrets to Starting A Physiotherapy Business

Even If You're Not A Qualified Physiotherapist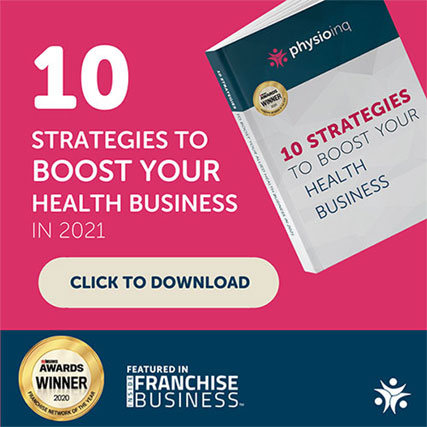 10 Strategies to Boost Your Business

Increase business profits with our handy guide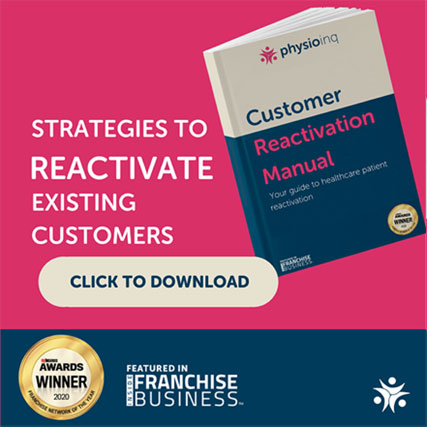 Your Complete Guide to: Customer Reactivation

Increase patient numbers and client visit average with our strategies
Are you interested in owning a health care business, or do you require help running yours?
Share the article