All You Need To Know About The Role Of An Exercise Physiologist
Wednesday, December 23, 2020
You may have worked with a Physiotherapist before or perhaps you've booked in with a Physio already. Therefore, you might be either confused about what an Exercise Therapist does or why you might need one in addition to the treatment you already received.
Here, we're giving you an insight into Exercise Physiology and the role our Exercise Physiologists play at Physio Inq.
What is Exercise Physiology?
Simply put, Exercise Physiology is the study of the physiological effects of exercise on the human body. It's a highly-specialised field and it's the best way to incorporate exercise into a therapeutic routine for your medical issues.
The key word in Exercise Physiotherapy is "exercise" and by focusing on fitness and health through working out and exercising, Exercise Physiotherapist are able to make real differences in the lives of their clients.
So, what is an Exercise Physiologist?
An Exercise Physiologist or EP is someone who is qualified in the field of Exercise Physiology.
An EP or Accredited EP holds a four-year equivalent university degree and is equipped to design, deliver, and evaluate safe and effective exercise interventions for people who have acute, sub-acute or chronic medical conditions, injuries, and disabilities.
These interventions include health and physical activity education, advice and support, and lifestyle modification with a strong focus on achieving behavioural change.
AEPs provide support for people with:
Obesity
Cardiovascular and pulmonary disease
Diabetes
Osteoporosis and arthritis
Disabilities
Mental health conditions
Cancer and cancer treatment recovery
Chronic pain and fatigue
Musculoskeletal rehabilitation – ie. soft tissue injuries, post-surgical rehab
Neuromuscular exercise therapy – ie. patients who suffer from MS, CP, Parkinson's disease
In addition to working with those who are struggling with some sort of pain, discomfort, or challenge, EPs are also trained to work with amateur and professional athletes on injury prevention and to boost their athletic performance.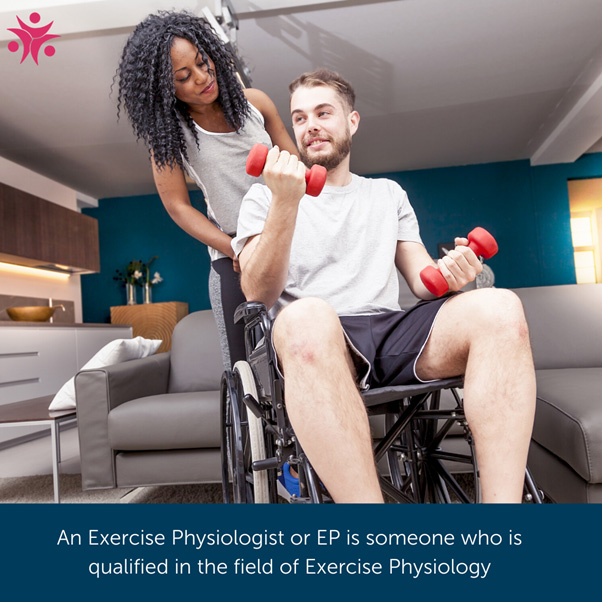 When you work with an EP for your unique condition, illness, or injury, they will first assess your current level of fitness. This tells your EP whether the focus will be on improving or maintaining your health and fitness.
This initial assessment uses stress tests and other evaluation tools to determine your cardiovascular function and metabolism. Then, your EP will develop a personalised fitness plan to meet your specific goals or needs, whether that's increasing strength, cardio fitness, flexibility, or some combination of these goals.
How do EPs differ from PTs?
You might be thinking, "If I see a physical therapist, why would I need to see an EP?" So, when trying to differentiate between an EP and a PT, you have to think in terms of specialisation. Comparing an EP to a PT is the same as comparing a Specialist to a GP.
In the same way that a medical specialist might already have their GP certification, an EP is likely also a PT with an added rigor for their particular specialty.
Each has their place, but one is more specialised when it comes to dealing with certain types of issues. Plus, EPs usually have more specific or higher-level qualifications than a PT.
Generally, EPs are:
University qualified
Registered with a governing body
They undertake strict accreditation requirements including up to 500 hours of practical experience
Are eligible to register with:

Medicare Australia
the Department of Veterans' Affairs
WorkCover
are recognised by most private health insurers
are Eligible to treat under the NDIS

Many EPs are also dual qualified as personal trainers, dietitians, physiotherapists, Pilates instructors etc., so they have the best knowledge to help you use exercise effectively.
How do EPs differ from Physiotherapists?
Now that we've gone over the difference between and EP and a PT, let's talk about an Exercise Physiotherapist vs Physiotherapist.
AEPs and Physiotherapists are both allied health professionals, however an AEP's primary focus is to use exercise to prevent, manage and treat complex medical conditions. Conversely, Physiotherapists use a wider range of approaches, not just exercise.
However, here at Physio Inq, we believe in a Total Care Philosophy Approach when treating our patients and you will find that our EPs and Physios work closely together. You can rest assured that you'll be received the best care possible when you work with an Exercise Physiotherapist at Physio Inq due to this Total Care Philosophy Approach.
Between Physical Training, Physiotherapy, and Exercise Physiotherapy, there is not one method that is better than another. They are all simply different approaches to help you solve whatever problems you're facing on the physiological level.
Who can benefit from an Exercise Physiotherapist?
As we've already mentioned, many different kinds of people can benefit from seeing an EP and working with Exercise Physiotherapy. Overall, the people who can probably benefit the most from Exercise Physiotherapy are those with:
An orthopaedic injury
A heart or lung condition
Diabetes
You might also be interested in Exercise Physiology if:
You're looking to achieve weight loss
You want to return to work or sport after an injury
You want to improve your workout skills and physical fitness as an athlete
With a more specialised approach than you'll get with a Physical Therapist or Physiotherapist and with a focus on exercise and physical fitness, working with an Exercise Physiologist could be the key to taking your life back.
Whether you're a professional athlete, recovering from a debilitating injury, or you're struggling with an illness, disability or disorder, talk to us today to discuss how an Exercise Physiologist can help you.
At Physio Inq, we give you the option to come in to one of our convenient Australian clinic locations or we can come to your home, school, or office as part of our mobile Exercise Physiotherapy services. There's no excuse not to take control of your health with so many options available throughout Physio Inq.
Make an online booking or give one our support team a call on 1300 731 733 to discuss your needs and goals.
Feel strong, move better, think clearer with Physio Inq.
Share the article