Swimming | 4 Tips To Improve Your Swimming
Originally Published Aug 12, 2016
Improving your speed for competitive swimming and triathlons requires a lot of intensity training, so a 20 – 30 minute swim several times a week isn't enough. You need to practise pacing your stroke for a fast tempo by swimming intense aerobic and anaerobic sessions.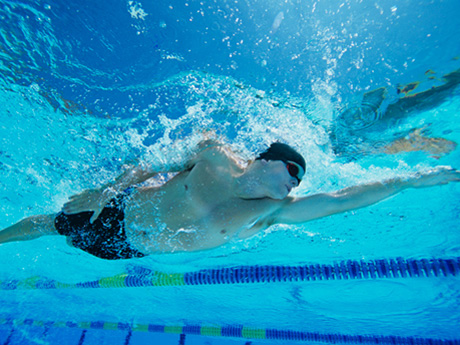 Speed training
Training should include sets aimed at reaching your pace for the race on every lap, or beating it. So, if you're doing a set of 10 x 100 metres, at the end of every 100 metres you should be breathing pretty hard, but not actually gasping. And the recovery time should just be about 10 – 20 seconds, depending on how fit you are.
Short recovery
For a set of 4 x 300 metres, you should find you're breathing at a moderate rate after a rest of up to 40 seconds. It's important to stick to these relatively short rest periods. Swimming uses less energy than running intervals and a short recovery time maintains a constant heart rate of about 80% - 85% of your maximum rate.
This is roughly the same as you'll use on race day, so short recovery periods making it hard to maintain good technique and pace will prepare you well for race conditions.
Technique
After speed-work, improving your technique is the best way to become a more efficient swimmer. Work on streamlining and developing your cadence so you can plan your own pace in a triathlon.
It's important that you have a swim coach or experienced swimmer to observe your technique, because you may not realise that you're doing anything wrong. If possible, get a film of your stroke so you can review it yourself.
Open water
Triathletes should train in open water in the same weather conditions as they expect to face in the triathlon. It's also a good idea to get used to swimming in a crowd and you can do this by joining a local swimming club or by rounding up a group of friends.
Disclaimer
The information provided on this blog is intended for educational and informational purposes only. It is not intended to be a substitute for professional advice or treatment. Always seek the advice of a qualified professional with any questions you may have regarding a medical condition. Never disregard professional medical advice or delay in seeking it because of something you have read on this blog.