Email Marketing Tips to Boost Your Small Business: Get Started in 5 Steps
Friday, June 11, 2021
Email marketing is a valuable marketing strategy that often doesn't require a lot of effort to set up. In fact, all you need is an email marketing software platform and a list of customer emails.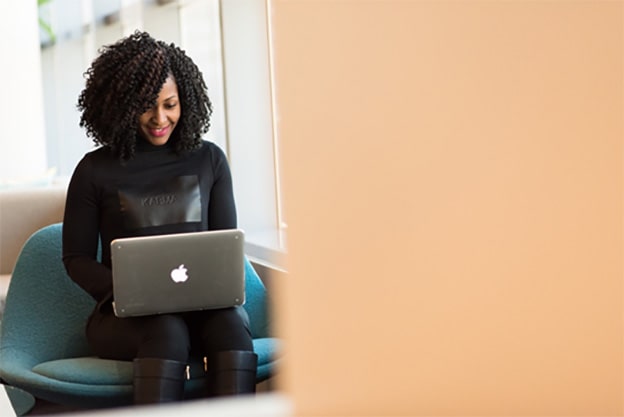 Email marketing is a valuable marketing strategy that often doesn't require a lot of effort to set up. In fact, all you need is an email marketing software platform and a list of customer emails. For small businesses, the low cost and time effort, coupled with highly engaged customers, makes email marketing a sure win when it comes to increasing customer engagement, retention and improving repeat purchases.
If you're a small business owner in the healthcare field, you're missing out on a huge opportunity by not taking advantage of email marketing. In fact, Australia businesses are earning a huge ROI by investing in these email strategies.
So, if you're not using email marketing, the time is now!
Here, we're going over the benefits of email marketing for small businesses, how to get started with an effective email marketing strategy, and a quick list of the best email marketing programs to check out.
Is email marketing effective for small business?
In short, yes, email marketing is incredibly effective for small businesses. Email marketing requires very small investments of money and energy with a high level of results. In particular, customer engagement, longevity and repeat purchases.
What is email marketing exactly?
Email marketing is a cost-effective marketing strategy that offers direct-to-customer communication via email. Simply put, it is the process of sending out emails, often by an email automation platform to potential and existing customers.
What are the benefits of email marketing?
The benefits of email marketing services for small businesses are countless including:
Increased ROI
Improved customer retention
Increased authority in your industry
Ability to promote products and services to a more captive audience
Opportunity to learn more about your customers wants, needs, likes, and dislikes
When customers subscribe to your email list, they're saying, "Yes, I want to hear from you!" Especially for small businesses, email marketing is an incredible way to build loyalty among your customers so that you're speaking to those that actually want what you offer.
And if that's not enough to convince you, a study by the Direct Marketing Association in the US found that email marketing can produce a 4300% ROI.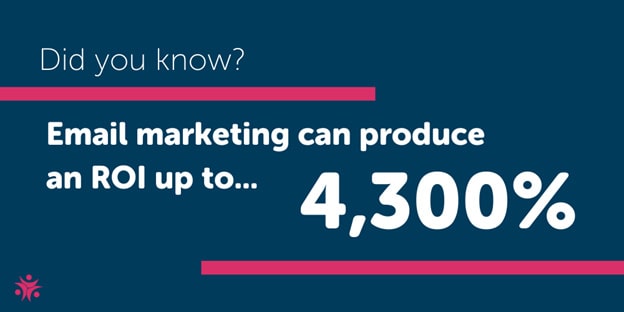 Information Source: Wpbeginner.com
So, once you decide that it's a good idea to set up some email marketing for your small business, here's where to start.
Get Started With Email Marketing: 5 Steps To Success:
Step 1: Create a sign-up form.
The first step towards a solid email marketing campaign is to build your subscriber list.
Build a landing page to capture email addresses, keep a sign-up form in the header or footer of your website, or incorporate a pop-up form on your home page. You can also promote your email list on social media, in your clinic, and throughout your other marketing materials.
Step 2: Offer a lead magnet.
Then, before you even launch your sign-up form, build a lead magnet or freebie that will entice your audience to sign up. For some small businesses, this might be something like a free workbook. For others, it might look like a discount code. It really depends on your business and your offering.
But for a business in the health industry, simply requiring an email to confirm an appointment is a solid lead magnet. Still, you'll want to ensure you're following legal guidelines by getting your patients to opt-in to receive promotional emails from you with a checkbox option.
Step 3: Start with what you can manage.
A big mistake that's easy to make as a small business owner is biting off more than you can chew. So, don't make promises in your email marketing strategy that you can't keep.
It might only be manageable to start with emails once a month. Then, once you get used to that, you might increase the rate to once per week.
The trick is to use email marketing tools and templates so to "set it and forget it". But, at the start, it's important to keep things simple and doable.
Step 4: Be consistent.
The key to successful email marketing is consistency. If you say you'll be sending out emails every Friday, but you start sending emails either randomly or not at all some weeks, your audience will begin to lose trust.
So, again, keep it manageable and keep it consistent.
Step 5: Track the data.
Email marketing is a great way to learn about your audience. By tracking data like opens and clicks, you'll get to know what your customers want (and what they don't).
The best part about it is you don't have to serve the same messages to all of your subscribers. Once you have enough data, you can keep sending friendly newsletters to those that love them and only send promotions to the ones who only open your emails when there's a sale.
You might also do some A/B testing to get a side by side comparison of two different ideas. Maybe you try one email packed with images and another that's a simple letter in plain text form. Both of these emails can do well when done right but with A/B testing, you'll see what your audience prefers. Or, you'll at least know which styles of email to send to whom.
The point is, email marketing allows you to see which messages in which style resonate most with your audience. And to do that, you need to be tracking data.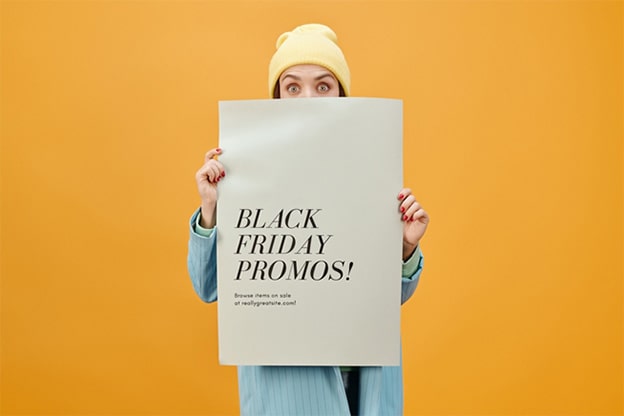 How do I promote my business through email marketing?
There are a few different types of emails you can use to promote your business through email marketing including:
Newsletters/Letters from the Founder
Promotional Emails
Seasonal Emails
Transactional Emails
In general, you'll want to create email marketing templates for more than one of these different types of emails, if not, all of them.
For example, you might send a monthly newsletter, weekly promotions, and transactional emails with customer receipts, appointment reminders, etc. when relevant.
That way you have a handful of opportunities to engage with your audience and get them more on board with your business and what you do.
But, if all of this still seems like too much to manage, you'd be right. It is a lot. That's where email marketing platforms come into play. And you can find a service that's perfect for the size and budget of your small business.
We'll go over the best email marketing software for small businesses down below.
What is the most effective email marketing strategy?
The most effective email marketing strategy involves using these tried and true tips:
Use automation
Build your follow-up campaigns
Promote your other content within your emails
Take advantage of email marketing software
Be consistent
Subject lines matter
Quality over quantity
Implement a double opt-in
Track each email's success (or failure)
Figure out the best times to send
Ensure it's mobile-friendly
Create relevant funnels
Rid your list of subscribers that don't engage
Never stop putting effort into growing your list
Overall, the best and most effective email marketing strategy for you will depend on the type of small business you're promoting. For example, an e-commerce brand might implement different strategies than a healthcare provider.
Still, the above tips are a surefire way to make sure your email marketing campaigns are as effective as possible.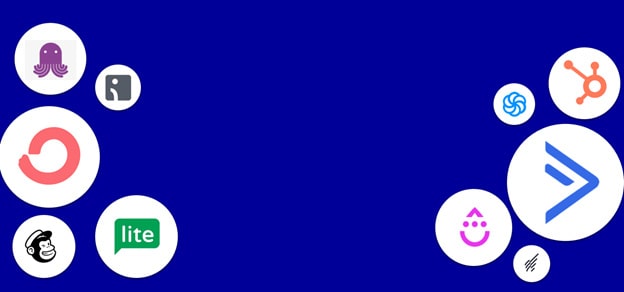 Image Source: Venture Harbour
What to look for when choosing an email automation platform
There is no 'one size fits all' approach when it comes to email marketing. In fact, variables including your business size, email list size, how many emails you send, will all determine which email platform is right for your business. But, to help out, we've jotted down the top things to look for when choosing your email service provider:
An easy-to-use interface
The ability to create highly engaging emails
Automation services to easily send emails in bulk while keeping them personalised
An easy-to-manage contact list
Segmentation of subscribers into specific groups
Performance tracking and analytics
What is the best email automation platforms for my business?
The best email marketing tools will always depend on the size and type of small business you own along with your marketing budget. But, to help start your search for the best email marketing service for your small business, here are a few email marketing services to check out:
Most, if not all of these email platforms offer premium subscriptions in addition to their free or "lite" services. It's important to look through these premium perks as they'll often save you a lot of time and effort, especially at the start.
After all, as a small business owner, you'll not only want to take the monetary price into consideration but also how much time these programs could save you. We're talking opportunity cost here! It's always something to keep in mind.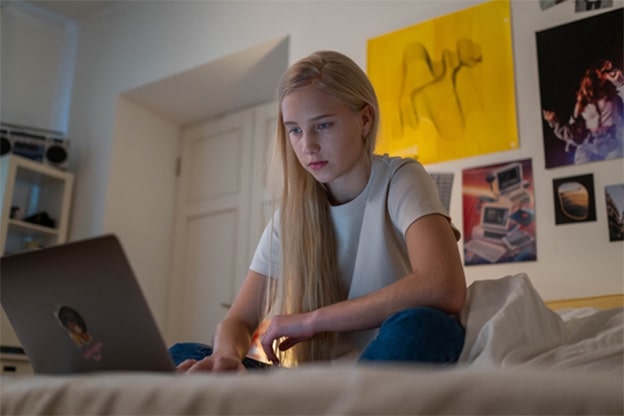 Can I send marketing emails to my customers?
Yes, every industry - even if you are in the health industry, has the opportunity to send marketing emails to your customers.
You'll need to stay within health industry regulations but you're probably already doing so in your other promotional materials. Just keep those regulations in mind with email marketing as well.
Most email marketing programs require that your subscribers have opted-in and will help you keep subscriber information secure. In short, these programs make sure all the necessary information is included in each email you send to meet the legal requirements.
Best practices for healthcare businesses to keep in mind when it comes to email marketing are as follows:
Don't use misleading subject lines
Identify when your email includes a promotion
Include your address
Include the option to unsubscribe
Don't share your subscribers' information with anyone
Require a double opt-in
Don't let email marketing remain a missed opportunity in your healthcare small business.
With all of the amazing benefits and countless email marketing tools available to you, it's a smart way to boost your business and promote your services to those who actually want to hear from you.
Whether you're an experienced business owner or brand new to the game, we're always here for you with more marketing tips and tricks like these.
For more handy business tips and tricks, check out our other trending blogs:
Are you interested in owning a health care business, or do you require help running yours?
Share the article