Healthcare Reviews: 101 Guide for Healthcare Businesses
Monday, April 4, 2022
Obtaining strong client reviews is a key factor when growing your clinic, establishing a strong clinic reputation, and engaging in word-of-mouth marketing. In our latest blog post, we are diving deep into the world of client reviews and how to leverage them to build a stronger business.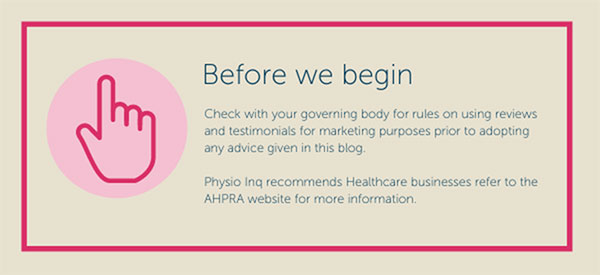 Check out our latest guide 'Google Reviews 101 [A Guide for Healthcare businesses] where we deep dive into Google Reviews and the ways this site can assist to skyrocket your business profitability.
Click here to download your copy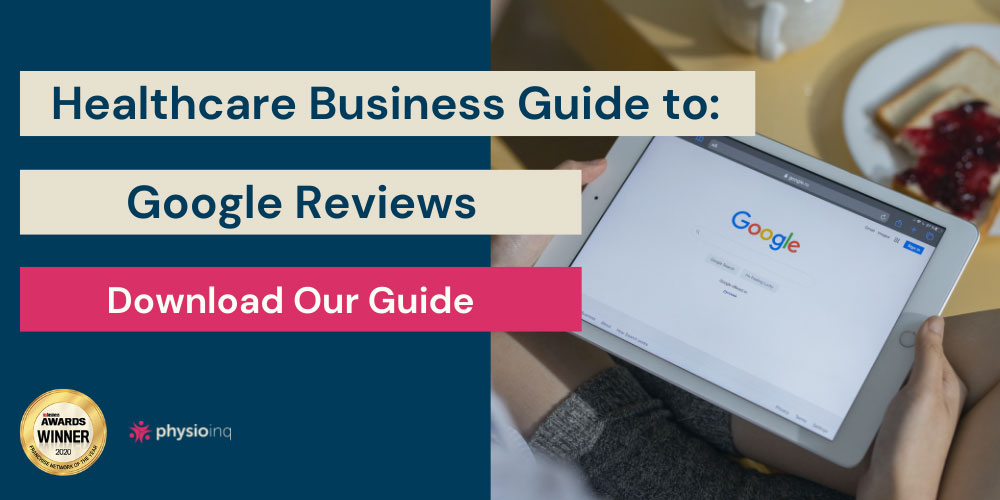 What are Google Reviews and Why Are They Important?
According to Podium.com, Google reviews are user-generated feedback and comments that current or past customers can post about a business on Google.
Why are patient reviews important?
Patient reviews help improve your business overall. You have the opportunity to connect with customers and receive honest feedback to improve the quality of your product or service. A review can help identify where the gaps are that may be invisible from the business side.
A study from Pew Research shows 8 out of 10 online searches for health start with a Google search. According to the official Google blog, of all searches on Google, 1 out of 20 is health-related.
This is another reason reviews, especially on Google are important. They give your clinic more authority and as new patients search for a physio clinic, they're more likely to trust the clinic with more reviews.
So, not only can reviews improve your business but can be an incredible marketing tool as well.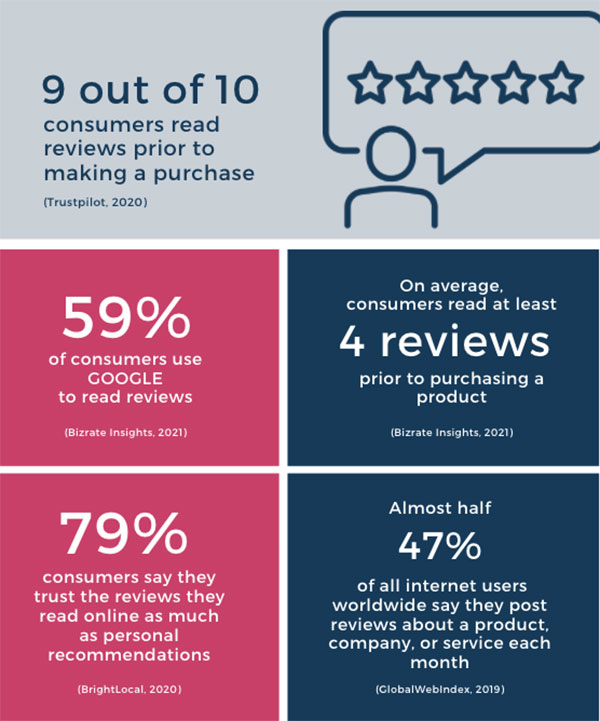 Sources: (Trustpilot, 2020), (Bizrate, 2021), (Brightlocal, 2020), (GlobalWebIndex, 2019)
4 Benefits of Google Reviews
Before we share our tips on how to get more reviews, first let's go over why it's beneficial to get more reviews in the first place.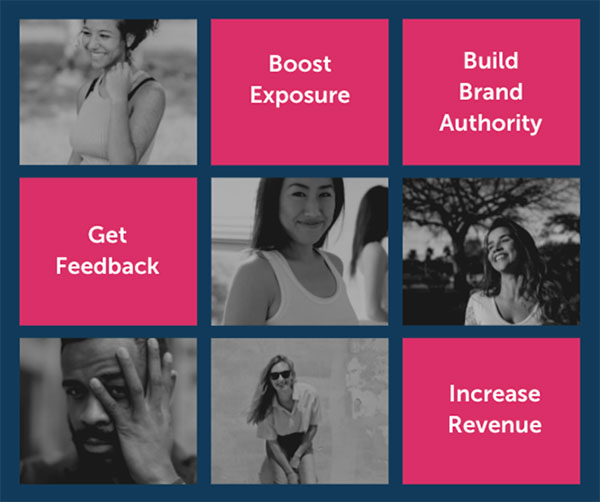 Boost Exposure
When looking for a new business or service, where do you go? Google.
Google has an algorithm that generates results unique to each individual. These results are based on many factors, one of them being Google Reviews.
It's important for your business to show up in the first few results in a search since those appear as the highest quality, most trustworthy and most reliable. When you receive a Google Review, it positively affects the search engine ranking system and improves your SEO efforts.
Build Brand Authority
When you have more reviews, people trust your brand more. When a customer reads about the quality and service you provide, it gives them security in their decision.
Get Feedback
Reviews can also help your clinic improve. Getting feedback from patients gives you a different perspective and can help identify gaps in your system.
Negative reviews can especially help improve your service – think of them as constructive criticism. While positive reviews are what you want, some negative reviews won't necessarily damage the brand. They're simply a learning opportunity.
Increase Revenue
More patient reviews can increase your revenue as well. It's like a domino effect.
The more reviews you get, the higher you'll rank on Google search engines.
The higher you rank, the more traffic will be directed to your business.
The more traffic you get, the more patients will walk through your doors.
The more patients that walk through your doors, the more reviews you'll likely receive, and the cycle starts over again.
Reviews are a great way to boost your SEO analytics and increase revenue. Since more traffic is coming to your website, you're bound to get more bookings at your clinic.
If you're interested in learning more about how to leverage your google reviews to build a more profitable clinic, check out our free guide 'Google Reviews 101 [A Guide for Healthcare businesses] where we deep dive into Google Reviews and the ways this site can assist to skyrocket your business profitability.
Click here to download your copy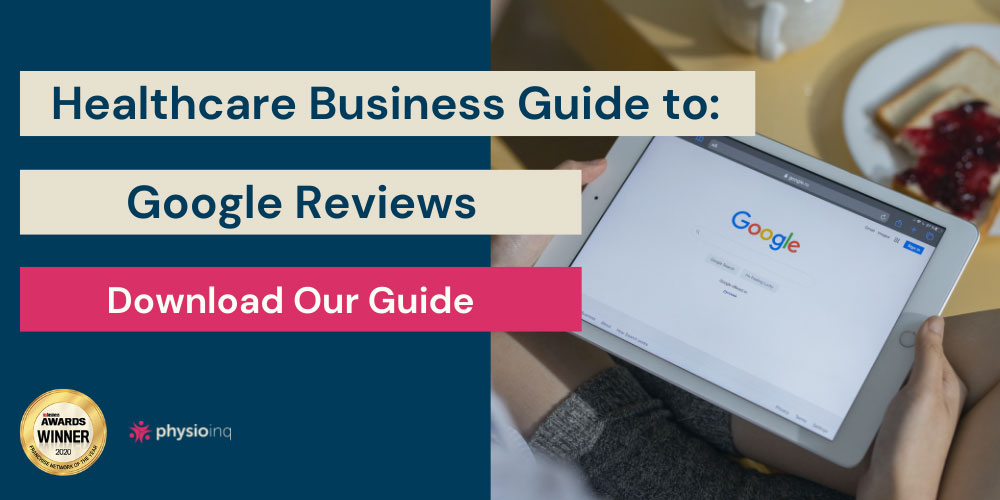 How do I get Google reviews for my small business?
Now it's time to learn about how to get more reviews as a marketing tool for your clinic.
There are several methods to get more Google reviews including:
Get verified on Google through Google Business
Make it easy with QR codes
Ask your customers for reviews [our top tips!]
Offer an incentive
Manage your reviews
Respond to reviews
Get verified on Google through Google Business
This one should be a no-brainer. Get your business on Google Business.
This is a fairly simple process and involves setting up a Google profile and 'claiming' your business.
Once your profile has been claimed, Google will review the information and push you through their Google business listing feature.
Make it easy with QR codes
Half of the challenge with getting reviews from customers are the steps involved. Make things easy for your customers by creating a QR code that links directly to your Google Reviews.
You can do this by generating a link to your Google Review page, then putting that link through a free online QR code generator.
What you do with your QR code depends on your business and your governing bodies, but some examples of it's use could include, placing a sign at front reception asking for people to leave a review, utilising it on your feedback forms or using it on your website.
Asking your customers for reviews
There are many ways you could go about asking for customers reviews. Be creative! Some of the most common ways to get customer reviews include:
Asking in-person directly after their appointment
Putting links on your website
Texting the patient after their visit
Sending out emails with a link
Feel free to send out email campaigns for holidays, special events or birthdays and include a link to leave a review. A friendly reminder could go far in the long run!
Offer an incentive.
It's rare for customers to go out of their way to leave a positive review. It's more common to see a negative review when the customer wants a part of their experience to change. If everything is fine, they feel there's no need to leave a review.
A great way to encourage positive reviews is to offer a discount or reward! This could be 5% off their next visit, rewards points or a gift in exchange for leaving a review.
Manage your reviews
You'll want to make sure your reviews are up to date and accurate. No one needs to see reviews from 5 years prior. If you're on a website that allows you to clean your page after a while, consider keeping reviews only for a certain time frame.
This ensures that online customers are seeing accurate reviews of the service you currently offer.
Respond to reviews
You'll want to make sure you're responding to the reviews that are left on your page. Show appreciation for the positive reviews and hint towards seeing the patient again. For negative reviews, offer solutions or give a full-picture perspective to make the patient feel important.
Don't let negative reviews affect your business too much. By showing that you're a caring business owner by responding and offering a solution, you can fix a situation that went south. It's also good for future patients to see how you handle negative feedback.
Ready to learn more patient reviews and improve your small business marketing? Download our free guide on Google reviews and how to get more patient reviews today!
Learn more about marketing your healthcare business with our Physio Inq small business tools.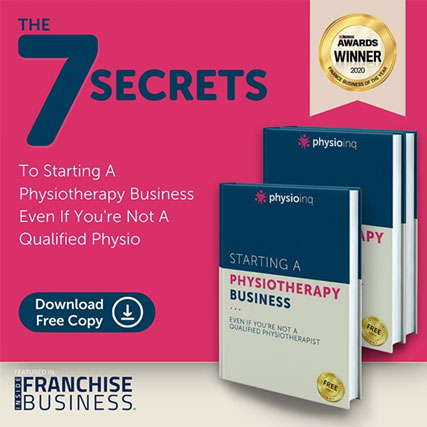 The 7 Secrets to Starting A Physiotherapy Business

Even If You're Not A Qualified Physiotherapist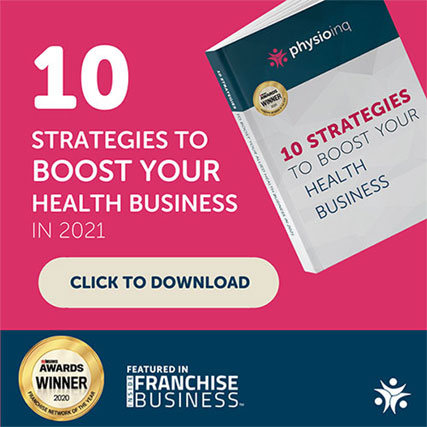 10 Strategies to Boost Your Business

Increase business profits with our handy guide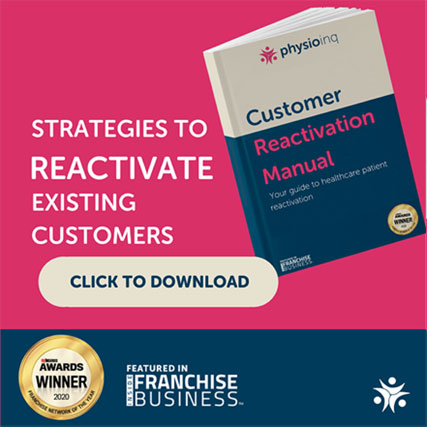 Your Complete Guide to: Customer Reactivation

Increase patient numbers and client visit average with our strategies
Are you interested in owning a health care business, or do you require help running yours?
Share the article