What is Remedial Massage Therapy
Thursday, January 6, 2022
Although you may have heard of a remedial massage or seen offerings for a remedial massage at your local physiotherapy clinic, you may have never had one before or never even thought to try it.
Plus, if you've had a Thai massage or Swedish massage, you're in for something quite different if you've booked a remedial massage for the first time.
So, to give you a better understanding of what remedial massages are, what to expect during your remedial massage appointment, whether remedial massage is covered by private health and overall, how they can help you, we're sharing everything you need to know about remedial massage.
What is Remedial Massage Therapy?
Remedial massage therapy uses specific soft tissue massage techniques in tandem with other forms of physiotherapy. Remedial massage aims to treat damaged, knotted, tense or immobile muscles using tactile, often concentrated, massage and other soft tissue techniques.
Remedial massage is different from many other types of massages that you may have had in the past. They're usually focused and specific versus full-body relaxation massages.
Additionally, knowledgeable allied health professionals usually perform them to sort out a wide range of injuries or pain.
What is remedial massage good for?
You're likely to benefit from regular remedial massages if you find yourself dealing with issues such as:
Pain or tightness somewhere in the body
Sore muscles
Injury management or prevention
Postural issues
Headaches
Joint pain
Flexibility issues
Anxiety and depression
Repetitive strain injury
Sports injuries
Chronic disease
Hypertension, or high blood pressure
Stress-related conditions
Additionally, your physiotherapist may recommend remedial massage as part of your wider physio treatment plan.
So, if you feel inclined to see a physio for any issues you may be having, you may also be a suitable candidate for remedial massage.
What are the benefits of remedial massage?
Remedial massages can be incredibly healing. Not only will remedial massage help to release tension in your physical body, but it can also help with emotional stress as well.
The main benefits of remedial massage include:
Increased blood flow
Joint mobilisation
Aids in the repair of damaged tissue
Helps to correct muscular imbalances
Speeds up recovery
Eases and stabilises muscles to reduce headaches, sciatic pain and more
Relieves stress
As you can see, it's more than only athletes with injuries who can benefit from remedial massage. They can be truly transformative for people with all kinds of ailments or for simply anyone looking to relieve everyday aches and pains. In short, remedial massage offer loads of benefits from top to bottom.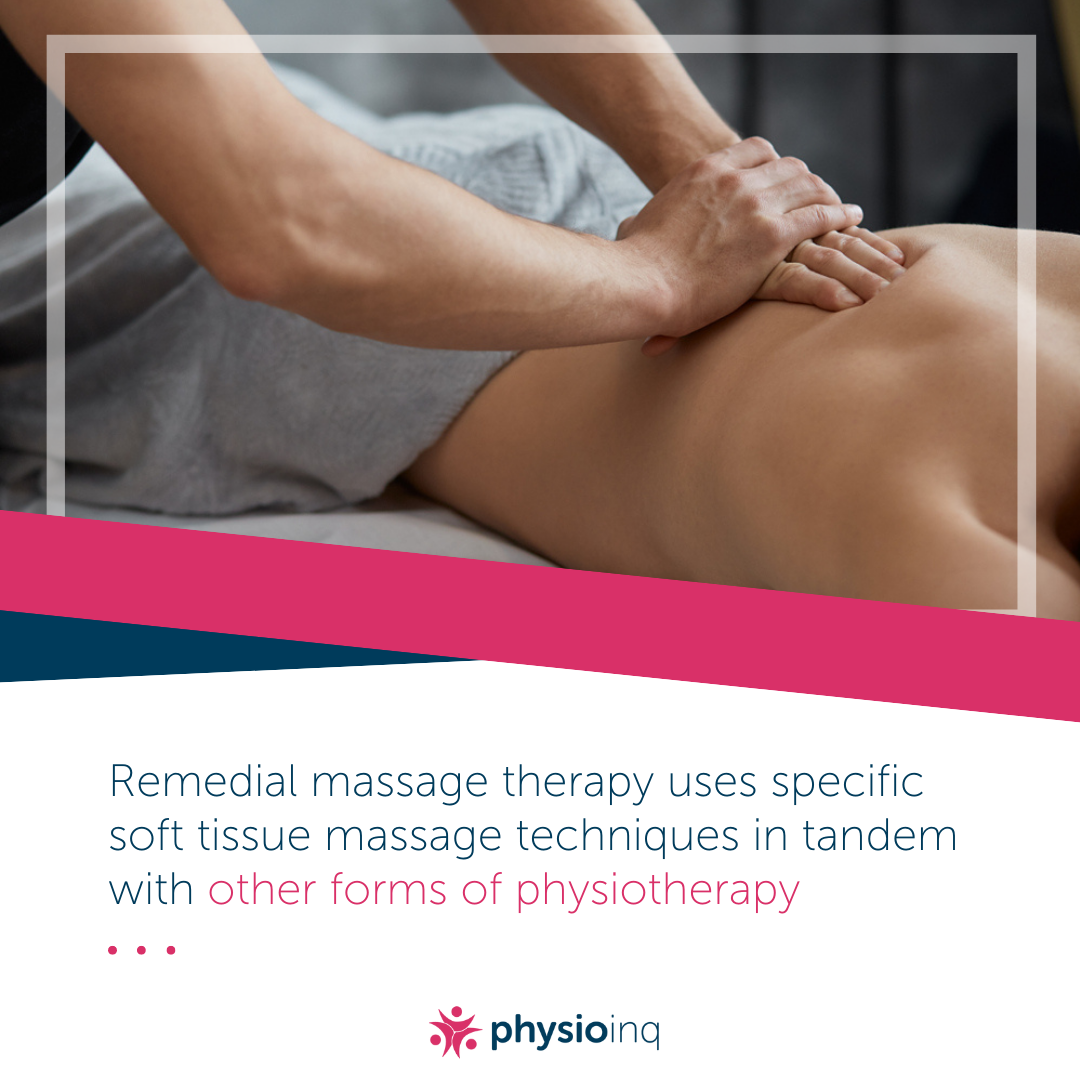 What do remedial massage therapists do?
Remedial massage therapists are usually either highly trained massage therapists or they're qualified physiotherapists. Remedial massage therapists, therefore, have a deep knowledge of the body and how soft tissue technique can complement your physiotherapy or other physical therapy treatments.
Usually more knowledgeable in anatomy and physiology than your average relaxation massage therapist, for example, remedial massage therapists generally have a wide range of skills. This means that they can likely offer a plethora of advice and provide various treatment methods in addition to remedial massage therapy.
What is the difference between remedial massage and massage therapy?
Remedial massage differs from other types of massage therapy in a few ways. Remedial massages are often performed by physiotherapists or someone who has a lot more training and experience than your average massage therapist. Remedial massage also usually takes a more targeted approach to treating physiological issues.
Massage techniques such as Swedish massages, deep tissue massages, sports massages and relaxation massages are different in that these are often full-body massages to offer more general relief and relaxation.
When you get a remedial massage, you can expect less of a relaxation experience and more of a therapeutic session. In some cases, remedial massages can even be painful. Still, remedial massage is a fundamental part of many physiotherapy treatment plans and offer many healing benefits.
What can I expect from a remedial massage?
During a remedial massage, you can expect your therapist to focus specifically on the area of the body you're having trouble with. Your therapist knows how your muscles, tendons, ligaments, and bones all connect and therefore, can offer massage techniques to release the proper muscles for more targeted relief.
You can also expect your massage therapist to assess, analyse and treat your body in addition to helping you with any stretches and exercises which may be part of your wider physiotherapy treatment.
In most cases, a remedial massage appointment will go as follows:
Health History – Your therapist will first ask about your health history and what brought you in to get a remedial massage. They'll also get a feel for your daily activities, symptoms you may be experiencing, other treatments you're doing and any allergies or issues they need to be aware of.
Observation – Next, your therapist might ask you to walk across the room, sit down and stand up, or do a few movements with the body part in question. From these movements, they can observe your posture, understand where your body is tight and gain other information that will help treat you.
Range of Motion and Joint Tests – Since you're likely in seeking treatment for a specific injury or pain, your therapist will walk you through some range of motion tests on your joints to understand your strength, flexibility or any other issues that may come up.
Orthopaedic and Neural Tests – A few more tests will be done to see if any more information can be gained about your symptoms. These initial checks won't take more than a few minutes in total.
Remedial Massage Treatment – The remedial massage itself will be the bulk of your appointment where your therapist will perform the actual treatment using the remedial massage techniques, they decide are right for you.
In short, you shouldn't expect a spa-like massage when you get a remedial massage. Often, you'll be fully or mostly clothed while receiving a remedial massage and it'll seem a lot more like some of your other physiotherapy treatments.
However, it's also normal if you get a remedial massage where you fully de-robe and cover yourself with a towel and receive a full-body massage.
At your remedial massage, the therapist may also use creams or oils to ensure that they can easily work your muscles. So, if you have any allergies or skin sensitivities, be sure to let your therapist know ahead of time.
What techniques are used during a remedial massage?
During your remedial massage, your therapist may use a wide range of techniques depending on the issues you're facing, and which part of the body requires attention. These techniques include:
Deep tissue massage
Trigger point therapy
Joint mobilisations
Myofascial release
Assisted stretching
Cupping
Dry needling
Hot and cold therapy
Lymphatic drainage
As you can see, a remedial massage is usually actually a lot more involved than massages you may have gotten in the past. Instead of the therapist using strictly massage techniques the entire time, your remedial massage appointment may involve a variety of techniques to offer you the best results possible.


What is the difference between remedial massage and physiotherapy?
Remedial massage falls under the umbrella of physiotherapy. In other words, remedial massage may be part of your physiotherapy treatment plan and is a type of physiotherapy.
Remedial massage uses soft tissue techniques to focus on a specific area of the body that requires attention. On the other hand, physiotherapy involves a wide range of treatments to promote your overall physical health, including remedial massage.
When you see a physiotherapist, you might spend the entire appointment doing Pilates or other functional movement exercises. Or you might get a remedial massage or go over some stretches to practice on your own at home.
Physiotherapy can help treat everything from back pain to sports injuries and can even help pregnant women and elderly people keep active and healthy through physical practices. Remedial massage is just one of the treatment offerings available when you work with a physiotherapist.
How often should you get a remedial massage?
The regularity with which you should get a remedial massage depends on your unique circumstances. Some issues require only a monthly remedial massage whereas others require much more regular sessions with weekly or even twice weekly remedial massages.
Generally, you won't want to get too many remedial massages in a row as your body will need time in between to rest and recover after a massage. So, twice per week is probably the most often you'd want to get a remedial massage.
However, keep in mind that if you see your physiotherapist more frequently, they're likely to switch up what you do at your sessions depending on the regularity. So, in other words, your physio will keep you on a schedule that doesn't push your body too far but also offers the best results in the least amount of time.
Is massage therapy allied health?
Not all massage therapy is considered allied health. However, remedial massage is considered allied health.
Allied health is any health care provider that falls outside the scope of the traditional health care modalities. Traditional healthcare might include medicine, nursing, pharmacy, dentistry, and optometry. Allied health falls outside these categories and includes physiotherapy.
So, since remedial massage is a subset of physiotherapy, it is considered allied health. However, keep in mind that the massages you might receive in a spa are not considered allied health as they're most often performed by massage therapists that aren't considered healthcare professionals.
Still, you can experience high-quality massage therapy that is not necessarily considered allied health. However, this often matters when it comes to private health cover, referrals or NDIS coverage.
Does NDIS cover remedial massage?
Yes, in some cases, remedial massage may be covered by NDIS. NDIS stands for the National Disability Insurance Scheme and it's a program funded by the Australian Government that covers disability-related costs.
So, if approved by your NDIS plan that remedial massages will help with the treatment or maintenance of your long-term disability, then yes, NDIS can cover remedial massage.
At Physio Inq, we are a national NDIS Provider. We deliver both In Clinic, In Home & Online Allied Health services to NDIS Participants across Australia. Our NDIS services include;
For any more information about Physio Inq's NDIS Allied Health services please visit our website or get in contact with our national support team on 1300 731 733
Does private health cover remedial massage?
Yes, some private health cover will fund remedial massage appointments. Remedial massage will fall under an "Extras" cover which means that basic private health plans are not likely to cover remedial massage.
However, if your private health covers physiotherapy appointments and you get remedial massages from your physio, this is another way they can be funded through private health.
If you've had a remedial massage before and you think that more regular massages would be beneficial for you, look into taking on some private health extras cover to save money on your remedial massages.
How do I find a remedial massage therapist?
In general, physiotherapists or other allied health professionals do the best remedial massages. However, you can get a remedial massage at many massage studios, yoga studios and in some in-patient hospital settings.
It might take some time to find a remedial massage therapist with whom you feel comfortable. After all, it's always important that you feel some level of trust and connection with your therapist to ensure you're receiving top-quality care.
You'll want to feel at ease enough to speak freely and communicate your concerns. So, try out a few different remedial massage therapists before settling on a routine, especially if you don't click with the first therapist you see.
In most cases, people prefer to get remedial massages from their physios with whom they already have a relationship. So, booking an appointment with a physio is our best advice as to where to start.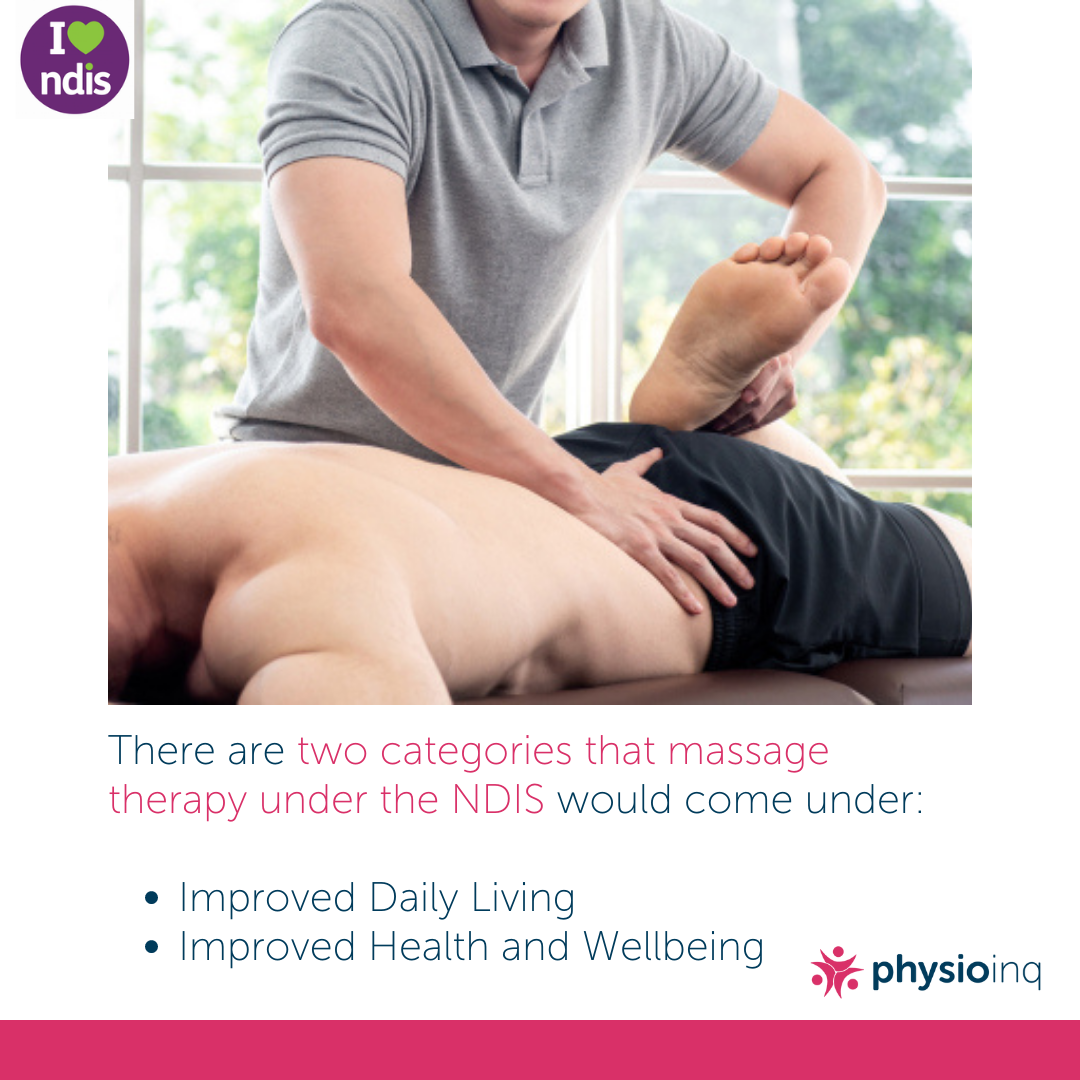 Overall, whether you're an athlete, you're pregnant or you're simply sick of dealing with constant back pain, book an appointment at your local Physio Inq clinic today.

Our team of knowledgeable physiotherapists will work with you to create a personalised treatment plan which may include remedial massage.
Share the article