What Is Community Physiotherapy?
Originally Published Sep 15, 2021
So, what is community physiotherapy? Perhaps you've heard this term used before or can surmise its meaning based on just the context. But, you may not realise the full extent of community physiotherapy and how it truly benefits Australians in their daily lives.
While there is a difference between community physiotherapy that meets you wherever you are in the community and community-based physiotherapy that takes a holistic, community-centric approach to care, both are essential to the health and wellness of Aussies all across the country.
Here, we're going over our community physiotherapy definition, what community physiotherapists actually do and why community physiotherapy is so important. Let's get started.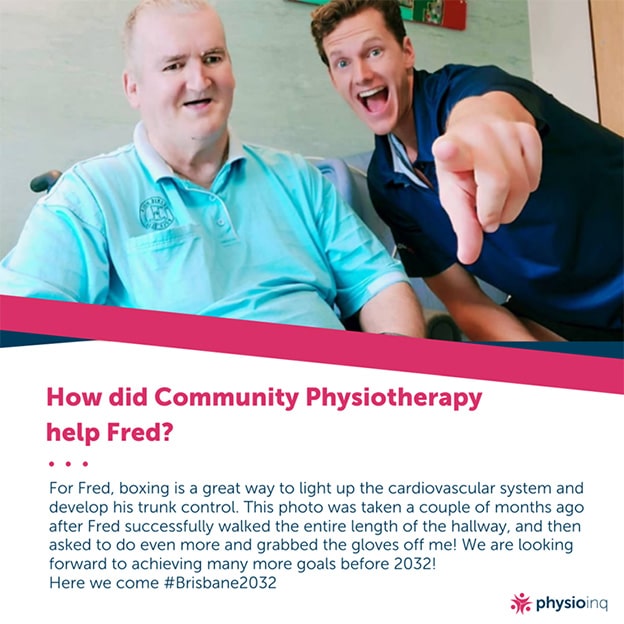 What is community physiotherapy?
Community physiotherapy is physiotherapy treatment offered in the community. As opposed to acute care physiotherapy that's offered in a specific clinic or hospital, community physiotherapy is more heavily focused on the "where" in terms of where treatment is offered.
Keep in mind that there isn't an agreed upon community physiotherapy definition and it's often used interchangeably, meaning something different from person to person.
However, if we simplify community physiotherapy as simply physiotherapy that's offered out in the community, community physiotherapy means physiotherapy that's offered either in a patient's home, aged care facility or workplace.
At Physio Inq, our Mobile Physio is an example of community physiotherapy in action since our physios can come to you, wherever you are in the community.
For example, if you're an outpatient who's gone home after a surgery or an illness and you require physiotherapy, with community physiotherapy, your physio will make home visits to offer your care instead of you coming into a clinic to receive that care.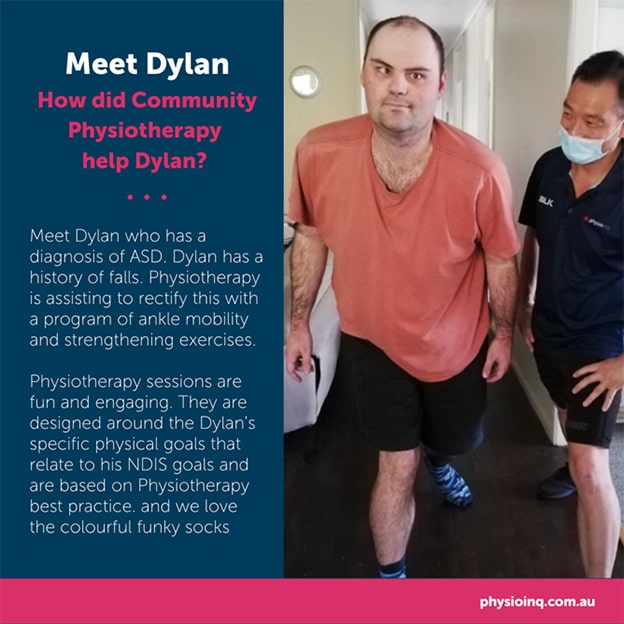 Community Physiotherapy vs. Community-Based Physiotherapy
Again, understanding what is community physiotherapy will vary from person to person. However, there seems to be a difference between community physiotherapy and community-based physiotherapy.
We've already established that the community physiotherapy definition is dependant on the "where". So, community-based physiotherapy, on the other hand, is dependant on the "how' -- in other words, not where the care is offered but how it's offered.
Community-based physiotherapy, therefore, can be considered more of a holistic approach to care using others in the community to offer various aspects of physiotherapy care. In this case, your physio will be part of a larger team of physio health professionals that will work with you both in terms of recovery and prevention.
See the image below to better understand the holistic approaches that may be taken with community-based physiotherapy.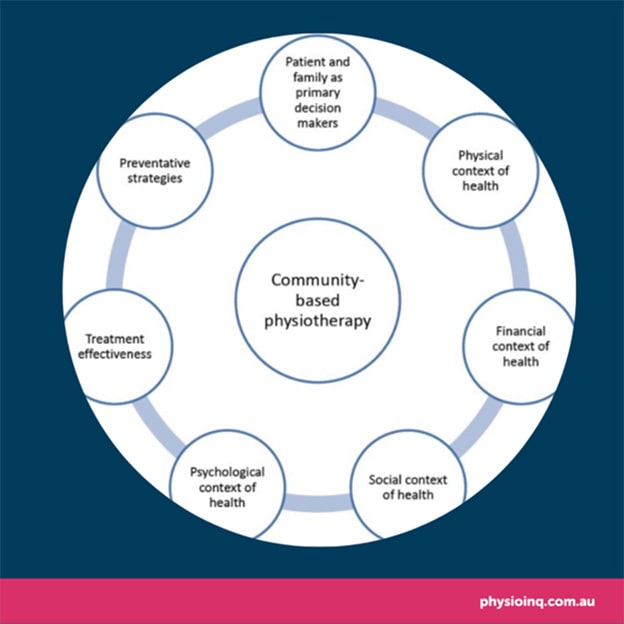 Image Source: US National Library of Medicine National Institutes of Health
In short, the main differences between community physiotherapy and community-based physiotherapy are:
Community physiotherapy is offered to patients in the community (at home, work, aged care facility) instead of strictly in a clinic
Community-based physiotherapy is a holistic approach to physiotherapy that includes physical, social and financial considerations in relation to recovery and prevention
What does a community physiotherapist do?
A community physiotherapist sees patients out in the community, usually either in their home, workplace, aged care facility, community centres or the like. In other words, community physiotherapists provide physio treatment outside of a traditional clinic setting.
In Australia, some of the most common treatments offered as part of community physiotherapy include:
Outpatient treatment
Domiciliary visits
Continence promotion
Rural inpatient treatment
Aged care treatment
Health promotion
Meet one of our Physio Inq Community Physiotherapists
Outpatient Treatment
Outpatient treatment by a community physiotherapist includes recovery and rehabilitation treatment after a hospital stay. Usually, outpatient treatment will take place in community centres, rural hospitals or during home visits for conditions including:
Acute and chronic orthopaedic conditions
Acute and chronic respiratory conditions
Paediatric care
Antenatal and postnatal care
Assessment and management of chronic neurological conditions
Provision of equipment and aids
Sports injury rehabilitation and prevention
Domiciliary Visits
Domiciliary visits are a fancy way of saying home visits where a community physio visits the home of someone in need of care. Home visits by a physiotherapist are generally requested by a GP, specialist, community health nurse or Allied Health professional.
Mobile physio services and domiciliary visits are required for reasons including:
Assessment and treatment of those unable to attend outpatient clinic appointments such as the ageing population, those with acute conditions and those experiencing transportation issues
Respiratory management for conditions that would otherwise require hospitalisation
Assessment and on-going management of surgical or medical conditions after hospital discharge in a comfortable environment
Continence Promotion
While you may not think of incontinence and physiotherapy in the same context, a community physiotherapist can actually be incredibly helpful for:
Assessment and treatment of incontinence and pelvic floor dysfunction in the community
Acting as a consultant for other physiotherapists and carers in relation to incontinence
Providing education for continence promotion in the community
Rural Inpatient Treatment
Community physiotherapy provides high-quality care to those in rural areas who may not have immediate access to hospitals and physio clinics. By going to them, Australians who live in rural areas are able to receive the important physio care they need.
Aged Care Treatment
Community physiotherapy is also common in providing essential care for the ageing population, whether they live at home, with family members or in an aged care facility.
By the time people reach a certain age, it can be difficult and dangerous to find proper transportation to and from physio appointments. Not to mention that most people in the ageing community benefit from physiotherapy more than other populations.
Many elderly individuals see great benefits from physiotherapy including:
Incontinence treatment
Equipment and aid provisions
Stroke rehabilitation
Memory loss prevention and treatment
Occupational therapy
So, not only does community physiotherapy offer the aged population valuable care and resources that are often necessary for age-related conditions, but when a community physio is able to travel to them versus the other way around, this care can be provided in the most efficient and beneficial way.
Health Promotion
Often provided in community centres to bring neighbours together in the name of health and wellness, community physiotherapists are also involved in health promotion including:
Pre- and post-natal exercise classes
Hydrotherapy classes
Senior citizen exercises classes
Manual handling educational and training programs
Community, school and group health promotion
Occupational health and safety project participation
Why is community physiotherapy important?
Community physiotherapy is important because it provides vital health services to communities that may not otherwise have access to such services. Perhaps more important than understanding what is community physiotherapy, some of the main reasons why community physiotherapy is actually essential include:
Global pandemic considerations
Keeps people out of hospitals
Supports rural communities
Supports the ageing population
Provides unmatched comfort
Global Pandemic Considerations
With snap lockdowns and travel disruptions becoming a common occurrence during the response to the global COVID-19 crisis, community physiotherapy becomes even more essential.
Since people are less comfortable traveling to a clinic and spending time in crowds, mobile physio services help people keep their appointments during a health crisis.
And since physiotherapy can be so beneficial for so many people, especially in a time when maintaining pristine health is tantamount, community physiotherapy ensures people aren't cancelling their appointments out of fear.
Keeps People Out of Hospitals
Along those same lines, community physiotherapy keeps people out of hospitals, meaning more beds are available to those who really need them.
Physiotherapy is key in the rehabilitation and recovery of so many conditions as well as for the prevention of injuries and illnesses. So, if a community physio can come to you and offer high-quality care outside of a hospital, this is hugely beneficial for keeping people out of hospital beds.
Supports Rural Communities
Health support for rural communities is always a struggle. With fewer nearby hospitals and specialised clinics, it's difficult to convince those who live in rural areas to seek the medical help they need outside of a dire emergency.
By offering health education in rural community centres and at-home visits for outpatients in rural areas, fewer appointments are cancelled and more people in rural communities are able to get the better healthcare.
Supports the Ageing Population
While certainly anyone at any age can benefit from a physiotherapists, the ageing population seem to get the most out of physio rehabilitation.
Community physios offer everything from stroke therapy suited specifically for those over a certain age and when you top that with the ease of mobile physios coming to you, it's a match made in heaven for elderly populations.
Whether you can't travel due to frailty or you simply need constant care, community physiotherapy is so important in supporting the ageing population.
Provides Unmatched Comfort
Last but not least, community physiotherapy offers unmatched comfort. Since your mobile physio can work with you at home, school, work or anywhere, you're likely to feel much more comfortable than you would at a clinic or hospital.
--
Overall, our community physiotherapy definition is one that aims to offer quality care straight to the heart of our communities. And when asked what is community physiotherapy at Physio Inq, it's our Mobile Services.
Our Mobile Physio offers community physiotherapy that's convenient for Australians nationwide. When you book a mobile physio appointment, you'll get the physiotherapy you need wherever you are and you'll never cancel an appointment again!
Call us today and one of our expertly community physiotherapist will come to you.
This article was originally written by Jonathan Moody from Physio Inq
Disclaimer
The information provided on this blog is intended for educational and informational purposes only. It is not intended to be a substitute for professional advice or treatment. Always seek the advice of a qualified professional with any questions you may have regarding a medical condition. Never disregard professional medical advice or delay in seeking it because of something you have read on this blog.