How to Motivate Yourself to Exercise at Home?
Wednesday, November 18, 2020
It happens to the best of us.
We buy some new workout gear, start a new at-home exercise program, and we're killing it for three or four days. Then, the motivation wears off and we skip a day, then two days. Before we know it, a whole week's gone by and we haven't worked out at all.
We all know the benefits of exercise, but sometimes it feels impossible to stay motivated -- especially when working out at home.
So, if you're like many Australians wondering how to motivate myself to exercise and eat right, this guide is for you.
Exercise with Family and Friends
Chances are, you're not the only one in your social circle trying to find the motivation to work out more. Reaching out to your friends and family about exercising together is the perfect opportunity to make workouts more fun. The plus side is, you'll be more accountable too.
We're much more likely to show up if we know our brother or bestie is counting on us. It's easy to skip out on ourselves but a little more difficult to let down someone we love.
Set up a few sessions each week to meet with a relative or friend. And make it fun! Grab a coffee afterwards to catch up on life or switch up whose house you go to for the workout.
Research shows that the health actions of others rub off on us.
"A study published in the Journal of Social Sciences found that participants gravitate towards the exercise behaviors of those around them. And a 2016 study published in the journal Obesity found that overweight people tend to lose more weight if they spend time with their fit friends — the more time they spend together, the more weight they lose."
Other studies confirm that working out with a partner significantly increases time spent exercising. A study by the Society of Behavioral Medicine showed that working with a partner, especially in a collaborative format, improved performance, doubling the workout time of those who exercised alone.
It seems that opting for a group setting for at least a few workouts each week may help you push yourself past the threshold you tend to hit when working out solo — whether that be in time or intensity.
A true accountability partner and that extra motivation can truly go a long way.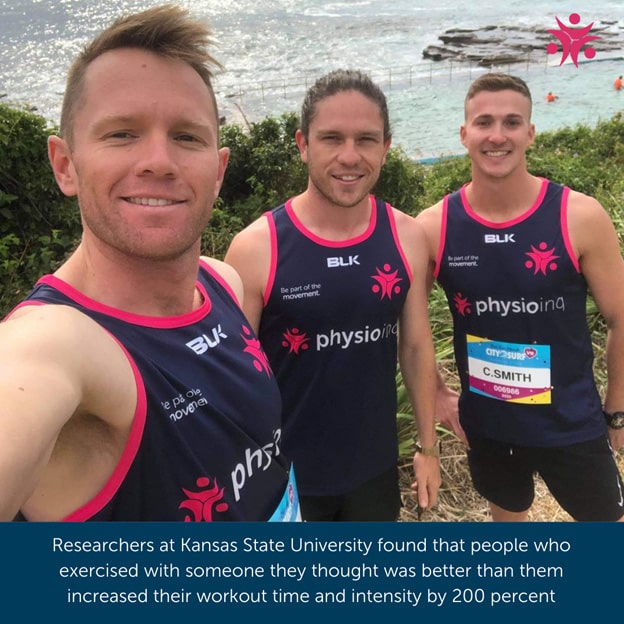 Set Up a Home Gym
Cultivating a home gym can help you get in the zone for your at-home workouts. Whether you use your spare room, empty garage, or just a tiny corner of your lounge room, setting aside a designated area to workout can help you stay motivated.
It's also important to get dressed to workout as if you were going to a regular gym. Put on your gym shorts and runners and head to your home gym.
In the same way that getting out of your pyjamas and physically going to your home office helps you get work done, physically going to your home gym has the same effect.
Keep your home gym set up and ready to go as well. That way there's hardly any friction between you and your workout.
Instead of grabbing weights and resistance bands from another room every time, keep everything readily available in your home workout space. Trust us - it makes a difference.
Creating a home gym doesn't have to take a huge whack to your bank account.
the cost of equipment should no longer be a deterrent from creating your own fitness setup at home because there is now a huge variety of payment options, some of which involve weekly payments that amount to less than a gym membership, which don't involve interest payments and means you get your equipment straight away.
Unlike a public gym or space, you can design your home gym specifically for you. It's all relevant to your goals and the types of exercises you like doing.
Check out the Fit Father Project - Fitness For Busy Fathers below on how to set-up a an affordable gym on a conservative budget.
Crank Up the Beats!
One of the main reasons it's so difficult to stay motivated to workout at home is because it can be so monotonous and boring.
So, switch things up by playing different kinds of music every day. Use your workout as the time to find new music, listen to your favourite artists, and enjoy some incredible tunes.
If you use your workout as your music time, it can be an amazing motivator. After all, who doesn't love a solid dance party by themselves? Music is good for the soul and can help you push yourself a little harder in your workout, too.
Check out some of our favourite playlists on Apple Music & Spotify to get your home workout pumping!
Spotify
Beast Mode
Nike Training Endurance by Nike Training Club
I Love My '90s Hip-Hop by Spotify
Best Workout Playlist 2020
Apple Music
Throwback Workout
Workout mix 2020
Slay The Day
Power Music Workout
Put It on Your Schedule
Work meetings, playdates for the kids, and birthday parties probably all make it into your diary. If we're committed to something, we find a way to make time for it. So, why wouldn't we do the same with our exercise routine?
Scheduling in your workouts helps keep you accountable and reminds you that exercise is an important commitment.
The truth is, we won't always feel motivated. But that's not the point. The point is that when we're committed to something, we do it even (and especially) if we don't particularly feel like it.
Don't rely on how you feel about exercise. Rely on your commitment to exercise. If anything, rely on how you'll feel afterwards -- strong, energised, and proud.
That's all to say that putting your workout on your schedule and committing to that time slot will help you be more motivated to work out, even if you don't really want to.
Do Workouts You Enjoy
There are tonnes of different kinds of exercise out there. There's dance cardio, weightlifting, Pilates, yoga, kickboxing, HIIT, and so much more. Sure, it can be overwhelming at first to decide which workout to do, but that can also be part of the fun.
If you're new to exercise, you'll want to trial a few different kinds of workout styles. There will be some you love and some you absolutely can't stand. And that's ok!
For some reason, our society has clung to the trope "no pain, no gain" -- which couldn't be further from the truth. So, if you hate weightlifting or despise running, there's no reason to do it. Especially if there's another form of exercise you love.
Instead of pushing through a workout that you hate because of "no pain, no gain," instead you can tell yourself that "a little goes a long way." Because it does.
Consistency is key when it comes to staying motivated to do your at-home workouts. Doing things you enjoy helps maintain that consistency.
Find a Program You Can Stick To
Once you find an exercise style you love, find a program in that style that'll help keep you on track.
Whether you decide to work with a virtual personal trainer, you buy an ebook, you follow a YouTube playlist, or you book regular telehealth sessions with your exercise physiologist, finding a workout program is easier than you might think.
Workout programs are effective because they're based on specific goals. When we have goals in mind, it becomes easier to stay motivated.
Say your goal is to do ten pull-ups in a row. Maybe it's to run a 5K without stopping. Perhaps you're hoping to sign up for a local triathlon or lose five kilos. With the help of a professional, working toward a goal can be the ultimate motivator, especially when working out at home.
At the end of the day, it's all up to you. And perhaps that's the hardest part of staying motivated. You have to be the one to change your life, no one can do it for you.
But that doesn't mean people aren't there to help you along the way. These steps will make staying motivated to do your at-home workouts so much easier and exercise professionals can give you the extra push you need.
Looking for that extra bit of motivation to work out? Not sure the best workout style for you? Struggling to exercise due to an injury or a disability?
Contact Physio Inq today and we'll connect you with a qualified exercise physiologist to help you with all your workout needs.
Other Useful Resources
Stretching, should I stretch before a workout?
How does physical activity affect academic performance?
Exercise with osteoporosis – 5 key exercise recommendations
10 simple exercises you can do to kick-start your fitness journey
Free weights or machine weights? What works best?
Is exercise good for joint pain?
This article was originally written by Daniel Cann from Physio Inq
Share the article