What Support Does the NDIS Provide? Your Ultimate Guide
Tuesday, May 18, 2021
In Australia, there are over 4.3 million individuals who deal with a disability that affects their everyday lives. The NDIS offers funding to help those with disabilities enjoy a higher quality of life through supports and services based on their specific goals and aspirations.
But, what exactly is the NDIS? What does the NDIS do? What does NDIS cover? Here, we're going over some of the finer details to answer your common questions about the NDIS. So, let's get started.
What is the NDIS?
The NDIS stands for National Disability Insurance Scheme and the NDIS provides Australians with disabilities information about and connection to services to improve their quality of life.
By taking a goals-based approach to supporting individuals with disabilities and their carers, the NDIS provides funding to pay for support and services.
Funded jointly by the Australian Government, state and territory governments and by money from the Medicare levy, the NDIS provides around $22 billion in funding every year to over 500,000 individuals with disabilities. The supports provided can be truly life-changing.
But, before we go too much further, let's define some important terms that will help us better understand what the NDIS provides.
Let's begin with the acronym itself. According to the NDIS website, this is how the program got its name.
National: The NDIS program is being introduced progressively throughout every state and territory in Australia.
Disability: The NDIS is eligible for Australians with disabilities ranging from those that are intellectual, physical, sensory, cognitive, psychological and developmental.
Insurance: The NDIS offers those with disabilities and their carers peace of mind that they'll be offered the support they require.
Scheme: The NDIS is goals-based, not a welfare system, and is designed to help those with disabilities access support to improve their skills and independence.
Next, we'll go over a few definitions to help you understand what the NDIS covers, who's eligible and more.
Who is eligible for the NDIS?
The eligibility requirements for receiving support from the NDIS are as follows.
You must be an Australian citizen, permanent resident or special-category visa holder living in Australia
You must be between the ages of seven and 65 years old
Early Childhood Early Intervention (ECEI) is also available under the NDIS. is available to all children aged under 7 with a developmental delay or disability. For more information visit HOW ECEI works
You must have a permanent and significant disability requiring support from a carer, the use of special equipment or supports to reduce your future needs
On the NDIS website, you can check your eligibility status before you apply
What support does the NDIS provide?
So, what does NDIS pay for? This is a common question and the truth is, the answer varies based on your unique circumstances. The NDIS may fund the following types of supports for participants with disabilities.
The NDIS may fund the following types of supports for participants with disabilities.
Daily personal activities
Transport that enables community, social, economic and daily life participation
Help in the workplace that allows the participant to successfully obtain or keep employment in the open or supported labour market
Therapeutic supports
Assistance with household activities to help participants maintain their living environment and improve their sense of independence
Supporting the participant with skilled personnel, aids, equipment assessments, set-up and training
Home modification designs and construction requirements
Mobility equipment
Vehicle modifications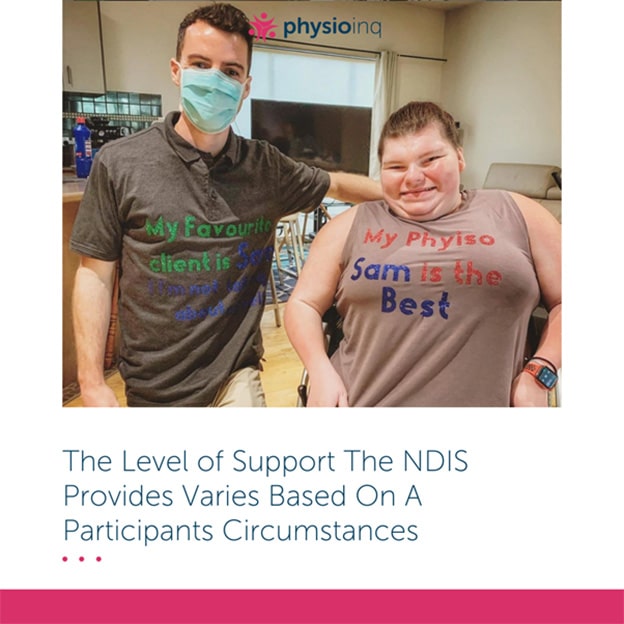 In addition to understanding what the NDIS does pay for, it's also helpful to explore what is not covered. The NDIS does not fund support that includes:
Anything unrelated to the participant's disability
Anything covered under different funding through the NDIS
Anything unrelated to the participant's support needs
Anything likely to harm the participant or create a risk to others
Anything that can be more appropriately or effectively delivered through another system like the healthcare system or education system
What services do NDIS provide?
In short, the NDIS provides funding to support Australians with disabilities. Right from the start, let's answer the question, what can NDIS funds be used for?
Those who receive funding from an NDIS plan has access to "reasonable and necessary" services and supports to help them achieve their goals.
More specifically, these types of supports fall into 15 categories including:
Assistance with Daily Life
Transport
Consumables
Assistance with Social & Community Participation
Assistive Technology
Home Modifications
Coordination of Supports
Improved Living Arrangements
Increased Social and Community Participation
Finding and Keeping a Job
Improved Relationships
Improved Health and Wellbeing
Improved Learning
Improved Life Choices
Improved Daily Living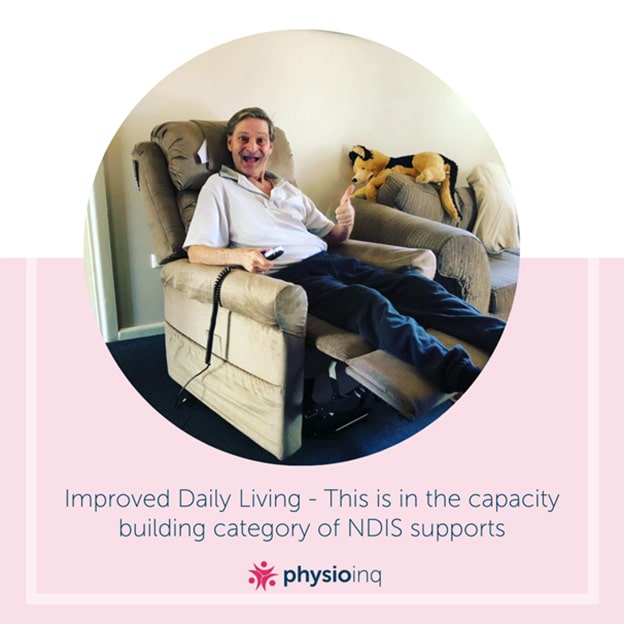 What does the NDIS help to support?
The NDIS helps to support Australian citizens, permanent residents and visa holders with a permanent and significant disability. This support is a goals-based approach to improving the overall quality of life for individuals with disabilities.
When you apply for the NDIS, you'll receive an individually allocated budget based on your unique goals and the participant will choose and pay for the supports and services they need out of that budget.
What does an NDIS plan look like?
Each NDIS plan is personalised to help individuals with disabilities get the supports they need. You or your trusted carer will be in control of the service providers you choose, when you'll receive the support and how the support is delivered.
Depending on whether or not your plan is self-managed, you can choose any provider you'd like or only NDIS-registered providers.
Once you receive your goals-based NDIS plan. You'll be able to log in to the NDIS portal called "myplace" where you can locate payment requests, manage service bookings, update your plan details and more.
What does the NDIS pay for?
We've already talked about the categories of support that may be funded under the NDIS, but what does NDIS pay for specifically? Let's dive a little bit deeper.
Information and Referral: For many people with disabilities, having easier access to information is key and through the NDIS, participants have access to information about the most effective supports, referrals to relevant services, diagnosis advice and links to local clubs, associations and programs to get involved with
Individualised Plans and Supports: As a goals-based program, the NDIS helps participants achieve these goals on a unique basis through individualised plans and supports to access programs and services, manage their individual plan and provide support to families and carers.
Early Intervention: The NDIS supports both children and adults with their disability as early as possible for better chances of success.
Funded Supports: Based on a participant's goals, you may be able to choose support providers and programs as well as one-off costs like a new wheelchair.
Housing: To help individuals with disabilities achieve their goals in life, the NDIS offers affordable, stable housing handled by State Governments as well as ongoing support for daily living such as taking care of housing costs or in-home support.
Assistive Technology: The NDIS provides funding for assistive technology which includes any device or system allowing an individual to perform tasks they'd otherwise be unable to perform or which increases the safety and ease of performing the task. Assistive technology includes mobility canes, wheelchairs, hearing aids and shower rails.
Auslan Translation Services: For those with hearing impairments requiring an Auslan translator, these services may also be covered by the NDIS.
Community Services and Activities: The NDIS may cover the cost of specialised transport or holiday camps to help those with a disability connect with the community.
How much money does NDIS give you?
Since NDIS plans are individualised and goals-based, there is no set amount of money that the NDIS gives people with disabilities. Once you become a participant, individuals can request funding for "reasonable and necessary" supports and services which are then reviewed and either approved or rejected by an NDIS professional.
You can choose to self-manage your NDIS plan or receive assistance through a plan manager or through agency management at no additional cost. For children with disabilities, a parent, guardian or another responsible adult can manage the NDIS plan on behalf of a child who is under 18 years old.
From there, you'll have options to buy the supports you need, make appointments, manage your funding options and keep track of invoices and receipts.
By providing evidence as to how you use your NDIS funding, your plan is typically reviewed every 12 months and any changes to your circumstances will be accounted for.
How do I get NDIS funding?
If you think you are eligible for NDIS funding, first you'll need to phone the NDIA on 1800 800 110 to make an Access Request. Alternatively, you can complete the Access Request form and email it to NAT@ndis.gov.au.
From there, you'll need to confirm your identity and verify your residency and eligibility. To do so, you may be required to include documents about your disability, how it impacts your life, past treatments and outcomes, future treatment and expected outcomes, date of diagnosis, details about how long the disability will last and available treatments, etc.
A health professional like your GP, paediatrician, psychologist or allied health practitioner such as your physiotherapist can help you document the evidence required to apply for the NDIS.
How long does NDIS take to approve?
Once you submit your Access Request as outlined above, the NDIA has 21 days to respond.
If your application is approved, you'll be required to attend a planning meeting to assess your needs and goals. You should bring any documentation relevant to your disability to the meeting to make sure your NDIS plan is set up to meet your unique requirements.
After the meeting, the NDIA will process your plan and approve the details. Your Early Childhood Early Intervention Coordinator (ECEI) or Local Area Coordinator/ National Disability Insurance Agency will inform you when this process is complete.
Here at Physio Inq, we are an approved NDIS allied health service provider. Our allied health services include Physiotherapy, Occupational Therapy, Exercise Physiology & Speech Pathology for Children & Adults can be life-changing for many who are living with a disability and we're here to help.
Please note that the NDIS.gov website should be referred to for the most up-to-date and accurate information.
If you need to make a Physio Inq NDIS referral, you can do so here. Learn more about NDIS at Physio Inq here and if you are a registered NDIS participant in need of physiotherapy to support your disability, please get in touch and book online today.
Additional Resources
NDIS transport funding. Will the NDIS funds cover my childs transport?
Occupational Therapy role in physical disabilities & the NDIS
Inclusivity in the workplace for NDIS participants & others with a disability
Balance and sensibilities is needed in the execution of a NDIS service agreement
This article was originally written by Jonathan Moody from Physio Inq
Share the article