Concussion in AFL: Subsequent Injury and Rehabilitation
Monday, November 11, 2019
Concussions are a hot topic at the moment. We know that the incidence of concussion has been increasing, but this may be because we are better equipped to detect and diagnose concussions versus an actual increase in incidence.
However, AFL players are notoriously susceptible to concussions. It makes sense with the little protection they're given and the fact that they're getting battered on the field, often suffering the consequences later in life.
Here, I'm going over how the AFL and concussions are connected, what a concussion is, and how current and ex-players can manage these effects.
AFL and Concussions
In Australia, we take pride in how rough and tough our football players are. With little protection, aside from a mouthguard and sometimes padded headgear, our players are being tackled and bruised, getting concussions left and right.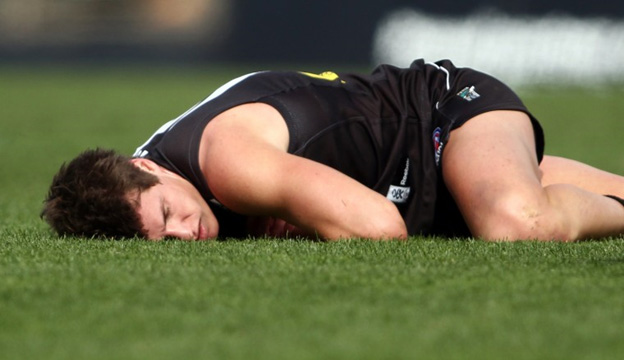 Image reference: http://www.aflplayers.com.au/article/past-players-embrace-afl-concussion-study/
In recent years, many players have been coming out after retirement, struggling with memory loss, attention issues, and anger management. And these problems aren't due to just "getting older" because these players were only in their 30s and 40s. Many experts agree it's caused by concussions.
According to the New York Times, AFL concussion statistics show that over 100 retired AFL players are accusing the league of failing to protect them from the known dangers of concussions as part of the game.
Even in American football, which offers a lot more protective gear for players, the NFL has been called out for not doing enough. But ex-players in Australia have felt continual denial from the AFL.
In the last ten years, the AFL concussion protocol has increased penalties for dangerous tackles and for going after grounded players while discouraging the players from using their heads as tools.
So, the AFL concussion policy does seem to be putting more focus on active players in reducing concussions and head injuries, although their approach remains conservative.
But for former players, they're convinced that not much is being done to help them by the league.
What is a concussion?
A concussion is defined as a disturbance in brain function caused by direct and indirect forces to the head. We know that concussions can affect how we think and have an impact on the movement of our muscles.
We also know that these problems can linger. This is the theory behind why concussion increases a players' risk of sustaining a subsequent injury.
In a recent AFL concussion study I was involved in with Daniel Lee, Phillip White, and Dr. Joel Fuller at Macquarie University, Sydney, we looked closer at the effect of concussion in professional AFL players. By asking the following questions, we aimed to dive deeper into the problem.
What kinds of injuries specifically occur following a concussion?
Which period following a concussion is players most likely to sustain subsequent injuries?
How concussion affects player performance in AFL, such as the number of tackles, marks or errors?
How many games are missed after a player sustains a concussion?
Then, we looked at the results to find answers to these questions. During the 2017-2018 AFL seasons, 149 concussions were identified in male players. We found that:
Players who sustained a concussion had a 1.55 to 2.05 higher risk of sustaining a subsequent injury. The lower limb was most commonly involved in subsequent injuries.
The highest percentage of subsequent injuries occurred after a 9-week return to play.
Performance was not significantly different after concussion injury for disposals, contested disposals, disposal efficiency, errors, total marks, contested marks, tackles, and AFL fantasy points.
The most common period rested following a concussion was 1 game. There were no consistent trends to suggest the number of games missed influences subsequent injury rates.
We also looked at concussions and head injuries in Rugby League earlier this year. Click HERE to access the article.
Why does it matter?
There are interesting practical implications of this research.
First of all, concussions do not lead to a decrease in a players' performance and therefore it would be plausible to suggest that the management protocols used by the AFL are sufficient in maintaining players' performance. In short, the AFL doesn't see the symptoms of concussions affect the ability to play, so why stop them?
But, if concussions go untreated while the player continues playing this can mean subsequent injuries and potentially bad news for them cognitively after they retire.
Next, concussed players are at an increased risk of subsequent injury.
The lower limb region of the body was the most commonly affected region associated with subsequent injury following both a concussion and non-concussion injury.
A return to play rehabilitation program needs to have a heightened focus on weeks 5 to 12 after returning to play from a concussion and be tailored to the lower body.
At Physio Inq, we're on the cutting edge of research and are here to help our neighbours in the AFL, state leagues, as well as those who play Australian football and even rugby on the community level.
By understanding the physical risks of concussions, we know how to prepare your body for a potential injury and rehabilitate your muscles if an injury happens to occur after a concussion.
Our team of clinic and home physiotherapists can help get you back on track to move better and live a life with less limits.
If you are after a sports specific physiotherapist we have some physios who specialise in sports physiotherapy for that might be able to assist. Some of our clinic locations include;
Physio Sutherland
Physio Penrith
Physio Cranbourne
Physio Alexandria
Find More Clinic Locations
This article was originally written by Ryan Pascoe of Physio Inq Engadine & Physio Inq Sutherland
Share the article