Grow a Small Business Podcast Interview
Originally Published Feb 4, 2021
Episode 074: Aged 25 in 2006, started a physio business in a 4x4 meter room. Now has 14 practices, 12 franchisees and 270 team members. Almost went bankrupt with only $2 at the bank and have active 200% growth per annum for the last 3 years – Jonathan Moody
Presented by Troy Trewin
Episode 074: Aged 25 in 2006, started a physio business in a 4x4 meter room. Now has 14 practices, 12 franchisees and 270 team members. Almost went bankrupt with only $2 at the bank and have active 200% growth per annum for the last 3 years – Jonathan Moody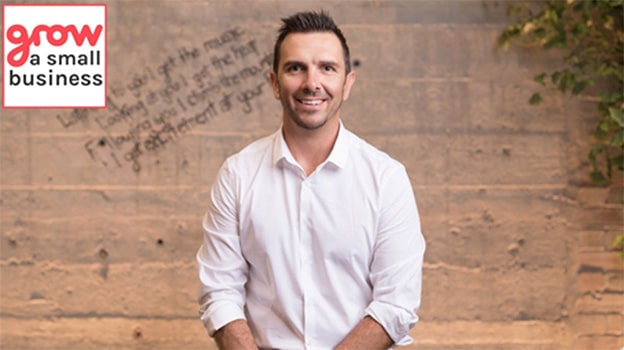 Click to Listen to the Podcast
In this episode, I interview Jonathan Moody, the Founder, CEO at Physio Inq, a physiotherapy and allied healthcare company. Physio Inq provides a range of physiotherapy, occupational therapy, speech pathology, and exercise physiology services both in-clinic and via mobile practitioners, the latter specializing in disability and aged care. Trained as a physiotherapist, Jonathan is an allied health advocate, with a passion for empowerment through education and training, and committed to improving access to quality allied health for all people.
Aged 25 in 2006 with his then-wife, he started a physio business in a four by four-meter room. Fast forward 14 years and they now have 14 practices, 12 franchisees, and 270 team members, only losing one during Covid. The practices took a hit during the pandemic but the team prepared for the customers' return and business exceeded their expectations, setting new records. They launched a mobile home care arm a few years ago and in Covid times, it grew 30% off a large base. After separating 7 years ago, he and his wife are still 50/50 business partners. They almost went bankrupt in 2016 when they were down to their last $2 in the bank account.
They funded the business through a mix of bank debt and profits, and he felt they had succeeded when they got through almost bankruptcy. Jonathan says the hardest thing about growing a small business is overcoming the middle growing pains (Around $2 Million per annum) The one thing he says he would tell himself on day one of starting out is, "Keep your head out of the clouds and stay grounded" Stay tuned for more of Jonathan's inspiring small business story.
This Podcast Covers:
From everyday mum and dad physio clinic to a massive network of clinics, mobile in-home care, corporately owned physiotherapy practices, and franchises.
The growth-stimulating financial benefits that came with the Covid-19 pandemic.
How the flight of clients out the door during the pandemic caused a huge downturn in their clinics.
Their 170 strong employment base within their entire business.
Aiming to have a clinic in each capital city so they can have a national network that will be able to achieve their long-term goals.
Having a great experience with their franchisees because internal people are the ones who take on the franchise clinics.
Being passionate about helping business owners succeed.
The critically important soft skills training that they conduct with their team members.
How difficult it is to grow a physio practice and how Jonathan has managed to grow his into multiple clinics.
The power of focusing on satisfying customers' needs.
From one full-time employee in a four by four room in a medical center to the current 270 full-time employees and a 200% growth year on year for the last three years.
The great 50/50 shareholding in the business between himself and his former wife.
Almost falling into bankruptcy because of focusing too much on accrual-based accounting.
Enjoying the benefits of having an advisory board in place.
Why they funded through debt rather than smart money.
Using process automation to ensure that the outcome of operations is repeatable and low on friction.
Strategizing the human capital that will deal with the growth of the business in the long term.
Achieving success by focusing more on output in terms of productivity instead of output in terms of hours spent working.
Building a great culture by genuinely caring for your employees.
Overcoming the middle growing pains and how he did it.
Click to Listen to the Podcast
If you liked Jonathan's interview, check out his other interviews here:
Disclaimer
The information provided on this blog is intended for educational and informational purposes only. It is not intended to be a substitute for professional advice or treatment. Always seek the advice of a qualified professional with any questions you may have regarding a medical condition. Never disregard professional medical advice or delay in seeking it because of something you have read on this blog.