Best Digital Collaboration Platforms
Originally Published Nov 7, 2020
Collaboration is nothing new to the workplace. However, the way we collaborate in the 21st century is ever-changing. Digital collaboration is the way of the future and can improve your workflow, especially when managing remote teams. Whether you need better project management or real-time document collaboration, here are the best digital collaboration platforms available.
But first, what is a digital collaboration platform?
A digital collaboration platform is an online service that helps workplace teams collaborate remotely. With so much of the modern workplace navigating remote work for the first time, digital collaboration platforms are now a major part of the workflow of many businesses.
Instead of brainstorm meetings in the conference room or water cooler chats that lead to your next big idea, digital collaboration platforms are a way for colleagues to get work done together, no matter how far apart they may be.
Let's get started.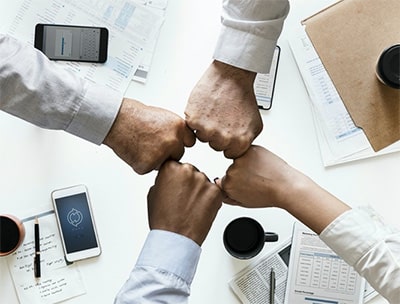 Office 365
Office 365 is a digital collaboration tool by Microsoft. It includes the Microsoft Office suite of programs like Word and Excel, which still the leaders in their field. So, Office 365 brings the functionality of these popular platforms in a collaborative way.
Coworkers can share documents and spreadsheets with ease, working together remotely. Now, Microsoft Teams has been added to Office 365 program as well – a video conferencing option that offers even more collaborative simplicity.
Features:
Familiar programs
Collaborative editing
Video chat capabilities
Asana
Asana is all about organisation and project management. Used by major companies like Uber and Pinterest, Asana can help you track workflow and meet deadlines.
Especially helpful for teams with freelancers that you might never meet face to face, create on-going to-do lists, stay on top of your calendar, comment on progress, set reminders for due dates, and make task requests.
You can communicate through Asana although these capabilities aren't as advanced in either instant messaging or video chat. However, the organsational functions can't be beat.
Features:
Powerful project management
Helpful organisation
App integrations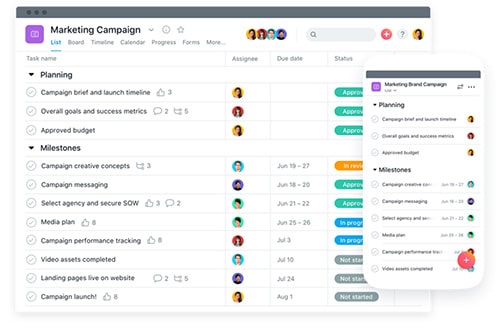 Source: Asana.com
Monday.com
Monday.com is another project management tool for remote teams. It includes drag-and-drop functionality for flexible workflow and a simple visual interface for ease-of-use.
However, what makes Monday.com stand out is that it allows for extreme integration with other digital collaboration platforms. You can think of Monday.com as a framework for a kind of "build your own" remote working tool.
For example, you can blend Monday.com's functions with Slack, Trello, Google Drive, Dropbox, and more. Therefore, you can take what works and leave out what doesn't. So, if DIY is your style, Monday.com could be the best digital collaboration platform for you.
Features:
Drag and drop
Amazing app integrations

Slack
Slack is probably the most popular digital collaboration tool worldwide. With millions of users, Slack is available both in mobile and desktop versions.
On Slack, you can send instant messages to individual team members or create custom groups within your team. And not only that, but Slack's powerful search tool can help you find that one message about that one thing you sent that one time but can't fully remember.
Complete with video chat options and integration with other amazing tools like Google Docs and Dropbox, there's not much Slack can't do.
Features:
Searchable instant messaging
Video chat capabilities
Integration with other helpful tools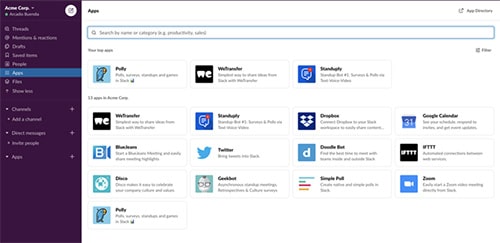 Source: Slack.com
Google Drive
Google Drive's range of collaboration tools are more simplistic than the others on our list. Still, it's not to be ignored.
Using Google Drive's content tools like Google Docs, Google Sheets, and Google Slides, along with their cloud storage services, you can share and collaborate on projects in real-time. When both you and your coworker on logged onto the same document or spreadsheet, you can see what the other is typing as if you were sharing a screen.
You can also leave comments and track changes so that colleagues can collaborate. Not to mention, Google Docs, Sheets, and Slides saves changes automatically and stores files in Google Drive itself. Never lose your work again!
Integrated with the rest of Google's incredible digital tools like Google Calendar and Gmail, it's an easy (and free!) way to work remotely on a team.
Features:
Free to use
Google integrations
Real-time collaboration
Podio
Another digital collaboration platform that focuses on project management and team organization, Podio includes both a desktop and mobile version that can be used anywhere, anytime.
Track progress, share files, and comment with pressing feedback on an easy-to-use interface. Another perk is that Podio integrates smoothly with tools like Google Drive, Dropbox, Evernote, and Zendesk.
Features:
Simple interface
Seamless integrations
Mobile version available
Ryver
Similar to Slack, Ryver is another valuable option that helps teams communicate effectively and get things done. Set up group and individual chats in every iteration you need and use filters to organise your communication in a social media-esque newsfeed style.
The main downside is that there isn't a free version to start off with. However, under the right circumstances, Ryver could be the best digital collaboration platform for you and your team.
Features:
Filters for organsation
Newsfeed interface
Trello
Another digital project management tool, Trello is collaboration mixed with extreme organisation. Use project boards and to-do lists to track progress. Delegate tasks with ease and update your colleagues with feedback in real-time.
Trello also has easy integration with other powerful collaboration tools like Evernote, Google Drive, and Slack. It also has a free version (always a plus) and is cost-effective as you move up the ranks.
Features:
Clean interface
Streamlined app integrations
Free version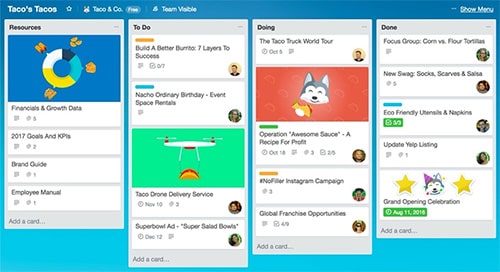 Source: Trello
Honourable Mentions
Here are a few other digital collaboration platforms to check out.
If you haven't gone remote at some point this year, chances are the time is coming soon. With these powerful digital collaboration platforms, teams can work together no matter where in the world they are.
Whether you decide to blend in-person and digital collaboration in your business or go totally online with the help of these incredible tools, teamwork is always possible.
Additional Resources
Interested in reading more about business tools? Check out our other blogs:
Are you interested in owning a health care business, or do you require help running yours?
Disclaimer
The information provided on this blog is intended for educational and informational purposes only. It is not intended to be a substitute for professional advice or treatment. Always seek the advice of a qualified professional with any questions you may have regarding a medical condition. Never disregard professional medical advice or delay in seeking it because of something you have read on this blog.