As a kid he hated running. Now this CEO's hooked on ultra-marathons
Originally Published Aug 7, 2020
'I'm obsessed with going to very dark places to learn something I never knew about myself,' says Physio Inq founder Jonathan Moody. He answers our Time Out Q&A.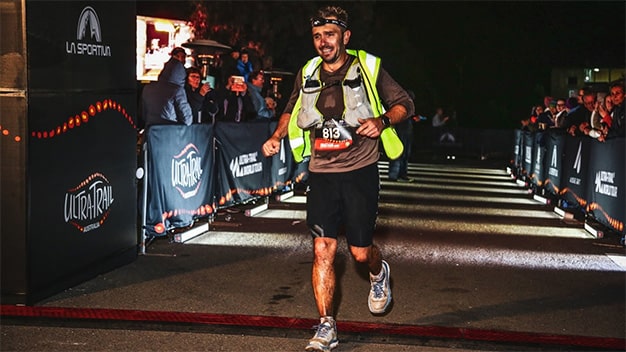 Jonathan Moody finishing the Ultra-Trail in the Blue Mountains in 2019.
Jonathan Moody is founder and chief executive of Physio Inq, a physiotherapy and allied healthcare company.
Why running?
I played rugby union when I was a boy and hated running. I was more into weights and sport-specific training. My dad was a running enthusiast and I never understood why he loved it so much. He used to take me and a friend for runs when we went camping and I always hated it.
As happens in life, the things you get the most satisfaction from are usually the things you find hardest. I decided that I would try to run a marathon as I thought it would be impossible for someone of my size and shape. I completed my first marathon in 2012 and never looked back.
As far as the process of running goes, it forces me to quieten my mind, reflect on life and enjoy the moment.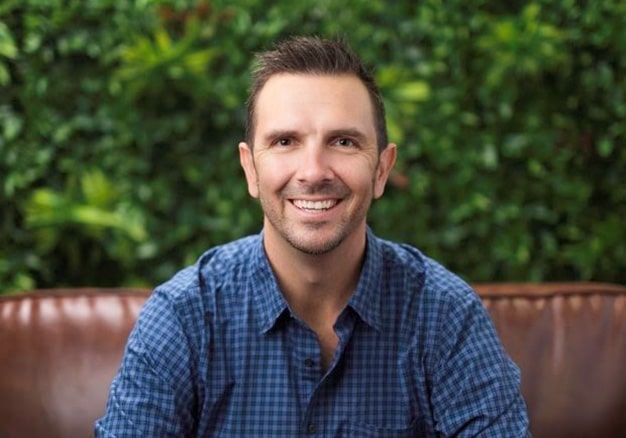 Jonathan Moody completed his first marathon in 2012 and never looked back.
Road or track?
A bit of both. I love road running and trying to beat the clock, but my heart is in the trails. Being out in nature surrounded by incredible scenery with nothing but you and the pain in your legs is something else.
Do you race?
I love competing in runs, but I am a middle-of-the-pack competitor and certainly not breaking any land speed records.
Favourite distance?
I have fallen in love with the ultra-distance of 100 kilometres-plus. I did a 100-mile (160 kilometre) run in New Zealand this year (pre-COVID) that changed me. I have consistently wanted to see where my boundaries lay and haven't quite found them yet, which is exciting.
I have done 10 marathons and three ultra-marathons. I have done two marathons at 3:33 hours finishing time, so 3:30 hours is becoming a bit of a monkey on my back.
How often do you train?
I train as much as life will let me. I honestly don't let my training get in the way of work or family life, which can be hard at times. I use my commute time from the office to home as training most days or find times when it fits in with my partner, Emily, and two young boys. While I love running, I love being around my family more.
Morning or night runner?
I love running in the afternoon. In the morning, I feel like an old truck engine that needs a lot of time to warm up, so I'm biased towards the later afternoon and sunset.
Social or solo runner?
I love long solo runs, but on the flip side, it is fun going out with friends who run at a similar speed – so a bit of both.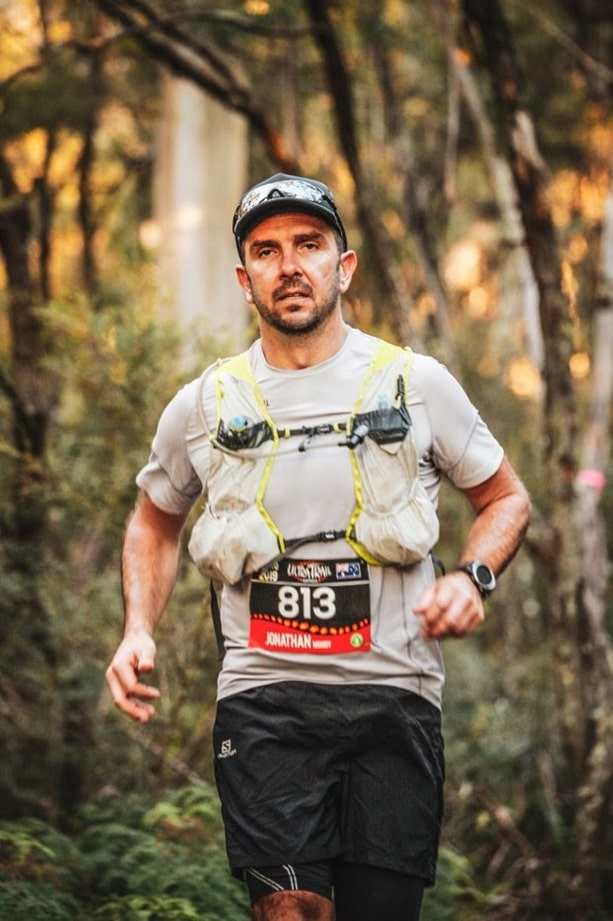 Jonathan Moody Running the 100km Ultra-Trail Marathon in 2019.
Post-run fuel?
Coca-Cola. Period.
Ever been lost?
I once got lost running the Middle Harbour Creek Track, in Sydney's Garigal National Park. I zigged when I should have zagged, and it was pouring with rain and dark. I turned a 10-kilometre run into a 27-kilometre run. Emily wasn't impressed.
What motivates you to run?
Eating. Pain also motivates me; I have a sick obsession with going to very dark places to learn something I never knew about myself.
How do you mitigate the risk of injury as you get older?
Train slower and try not to beat my time every run. I listen to my body and when I am not feeling it, I don't push it.
Do you travel to run and if so, where?
"Runcations" are my all-time favourite thing to do. My favourite overseas run was the Big Sur International Marathon in northern California. It's an incredible race and a wonderful place to visit.
Favourite piece of kit?
My new anti-chafing undies!
Dream running buddy?
David Goggins [American ultra-marathon runner]. He would take me to some strange mental places and probably never stop motivating me.
This article was originally written for The Australian Financial Review
Disclaimer
The information provided on this blog is intended for educational and informational purposes only. It is not intended to be a substitute for professional advice or treatment. Always seek the advice of a qualified professional with any questions you may have regarding a medical condition. Never disregard professional medical advice or delay in seeking it because of something you have read on this blog.