Founders Reflect on Things Their Mother Taught Them
Friday, May 14, 2021
Mothers play a pivotal role in shaping who we are. We asked successful small business founders to reflect on the advice their mother gave them that has helped them succeed in their entrepreneurial dreams.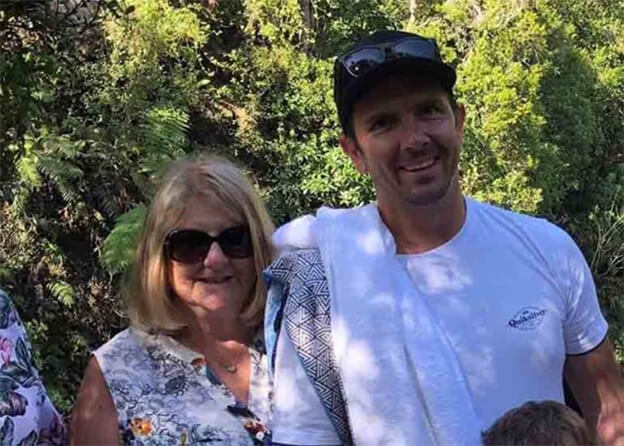 Jonathan Moody and his mum, Anne
Mothers play a pivotal role in shaping who we are. We asked successful small business founders to reflect on the advice their mother gave them that has helped them succeed in their entrepreneurial dreams.
Jonathan Moody, Founder and CEO of Physio Inq
"Watching my mum run her own haberdashery shop for close to a decade was both an encouragement and deterrent to becoming a business owner myself. I saw first hand how much it can take over your life, but it also to this day fuels my desire for implementing processes in place for my network of business partners to have more down time.
"One of the things she never relented on was customer service. I remember she would stay behind to talk to interested customers about their hobby, she would run weekend and night classes in various crafts, she lived and breathed keeping her customers happy. I also learned that owning a business is always a team effort. Dad would help out with accounts, the family would get involved with stocktake, it takes many people behind the scenes to assist to get the job done. So when you get into business, knowing this is really important. Things can get stressful at times, but it is important to be able to separate work from play, and never lose sight of who your family and friends are. Decoupling is vital.
"My mum's business was a testament to her hard work and customer service, she's a huge influence on how I operate Physio Inq and I am very fortunate to have grown up witnessing her success."
Robert Tadros, Founder and CEO of Impress!ve Digital about his mum Teresa
"My mum is definitely the strongest person in the entire family, there's no doubt about it. I always joke that she has all the right attributes of a business woman, but she just never got into it. She is persistent and never stops until she gets success, this is something that I can see has shaped my own way in business and building my own resilience.
"One thing that I both love and hate is how many ideas she will come up with and throw at me. She is amazing at seeing gaps in the market and coming up with a million and one ideas, which is something I have inherited. It's become the office joke that I come to the team telling them I've got all these ideas and plans. And to be fair usually 2 out 5 have some legs to them."
Taryn Williams, Founder and CEO of The Right Fit
"My mum is an incredible support and has always shown my sister and I so much love, and understanding and has been the rock of our family.
"From driving me around as a teenager to all of my extra-curricular activities, to always being on the end of the phone when I've needed someone to workshop a problem with or just have a vent, she has always, selflessly, put her children first.
"The most important thing she did for me was give me the support to know it was OK for me to try things and fail. That if, whatever wild pursuit in business or life I was undertaking didn't work out, that she would always be there for me. It meant that I could go and take risks, like starting my own businesses, knowing that I had the sanctity of their safe harbor to come back to if it didn't work."
Nathaniel Anthony, Co-Founder and CEO of Muscle Nation
"My mother has had a huge impact on my career path and success in life as a whole. She was always a breadwinner for the family and worked extremely hard at a high level in banking and also running her own business for the past 6 years (3 coffee shops). She has always taught me and my brothers to work hard and do what we love.
"I was never an academic at school or even in university; however, I was always taught by my mum how to manage my money, how to invest and also how to manage all the other real world financial situations which school doesn't teach you. I feel this guidance has had a crucial influence in my life and any success I have had.
"My parents and in particular my Mum, have always supported my dreams. Helping me from day one with whatever I needed, whether it be packing orders, helping at expos or just general life advice."
Elaine Yang, Founder, askbella
"The fundamental principles my mum taught me early in life had a great impact on me as an entrepreneur. My mum would always encourage me to have new and different experiences, even if some of them were a bit crazy for a little girl. She encouraged me to study overseas and see a wider world at the age of 16. Exploring a new country and starting an independent life when I was young forced me out of my comfort zone, transforming me in ways I would never imagine. As an entrepreneur, the mindset of embracing uncertainty pushed me to create an innovative business. We learn the most when we are doing things that we're scared of – that's where we discover our potential. Thanks, mum, for all your wisdom and support."
"Don't listen to them," Mum used to say when I was a kid. I guess that's a mother's way of saying "haters gonna hate". I didn't know it at the time, but it was great advice for my future entrepreneurial self.
Growing up I was sensitive to what others said about me. I cared about what others thought. This would prove valuable in my relationships with my friends but would hold me back in my entrepreneurial pursuits, in turn challenging my mental health.
My fear of failure and of being unliked must have been obvious to my mum, who would tell me whenever the opportunity arose, not to put too much weight into what others thought. "You can't please everyone" she would say, "so don't listen to them. Keeping everyone else happy is, if not only very difficult, distracts you from yourself, and from your own mental health. What do you need to succeed? What makes you happy?"
I'm lucky to have had mum as my friend and mentor for so many years, and whenever I face potential disappointment from the crowd, I take on her words and try to focus on myself.
This article was originally written for Kochie's Business Builders
Want to read more about Physio Inq? Check out our other pieces:
Share the article