Western Melbourne Speech Pathology Telehealth
Welcome to Physio Inq's Online Speech Therapy (Telehealth) - Your Immediate Connection to Expert Care in Telehealth Speech Pathology

Need help with speech? Our speech pathologists are here for you, no matter the situation. Whether you prefer online speech therapy appointments, live in remote areas, or are in lockdown, our team of speech therapists is available around the clock and are based in all parts of Australia.

A Wide Range of Speech Pathology Options Online

Our online speech therapy sessions offer the same great care online as we do face-to-face. With video call assessments and service delivery, our speech pathology services are delivered seamlessly. Through provisional diagnosis, comprehensive advice, therapy supervision, treatment techniques, and in-home self-management, we bridge the gap between virtual and physical therapy. At Physio Inq we can see clients without a referral for Speech Pathology.

Start Early with Telehealth Speech Pathology
Starting speech therapy early is vital. Many families face long waits for speech pathology intervention. With our telehealth services, we ensure important developmental stages aren't missed. Use our simple online platform to navigate technical support issues and communicate with our speech pathologists. We evaluate individual procedures and support technology to provide the right plan for you.

Online Speech Therapy Experts

Our dedicated team of telehealth speech pathology specialists focuses solely on this vital service. Positioned across all time zones in Australia, we accommodate specific situations for clients wherever they are located. From paediatrics to adults, we offer telepractice services, manage materials, and ensure speech intelligibility. With video call assessments and service delivery, our speech pathology services are delivered seamlessly from anywhere in Australia.

Get In-Person Quality Care Online

Your therapist will hear your concerns and help you reach your therapy goals. You'll get the same quality care from the comfort of your own home from the same speech pathologist. Our service provider ensures a clear connection, end-to-end encryption, auditory comprehension, and much more.

Join Us for a Smooth Online Therapy Experience

Our platform functionality prior to the clinician site supports your needs. We assess individual clients, support workers, provide remote therapy, and manage training in telepractice services. Our video conference platforms, document cameras, and drawing tools permit flexibility in therapy.

During a Telehealth appointment, your therapist will:
Listen, assess, and treat your concerns
Demonstrate and explain treatment techniques in easy-to-understand language
Provide education and self management techniques
Create and develop a unique speech program and plan
Work with you to set a plan on how best to manage you concerns
Advise in appropriate follow-up and book in ongoing sessions when works for you
Propose any relevant equipment or treatment aids that may be required
Directly refer on to other allied health services if appropriate
Did you know Physio Inq is a NDIS provider?
Speech Pathology services to participants in the NDIS is an area very dear to Physio Inq's hearts. Assisting those in need is what makes that our dedicated team of Speech Pathologists get out of bed every day with a spring in their step. We were one of the first NDIS Speech Pathology providers in Australia, being involved with the first rollout in NSW.
Our Physio Inq Speech Pathologists can help with a wide range of speech disabilities including:
Mispronunciation
Vocabulary comprehension
Ability to follow directions
Stuttering
Autism or Asperger's affecting social skills
Social skills to interact with family and peers
Clients who use symbols or sign language to communicate
Difficulty swallowing food or drinks
Slurred or imprecise speech
Difficulty understanding what others are saying or writing
Coughing or choking episodes during meals
And much more
We provide care in the areas of acquired communication and swallowing disorders including those associated with brain injury, progressive neurological conditions like Parkinson's disease, dementia, head and neck cancer, and a multitude of voice disorders among others.
Physio Inq speech pathologists create a custom treatment plan to improve your specific communication challenges - whatever those challenges may be.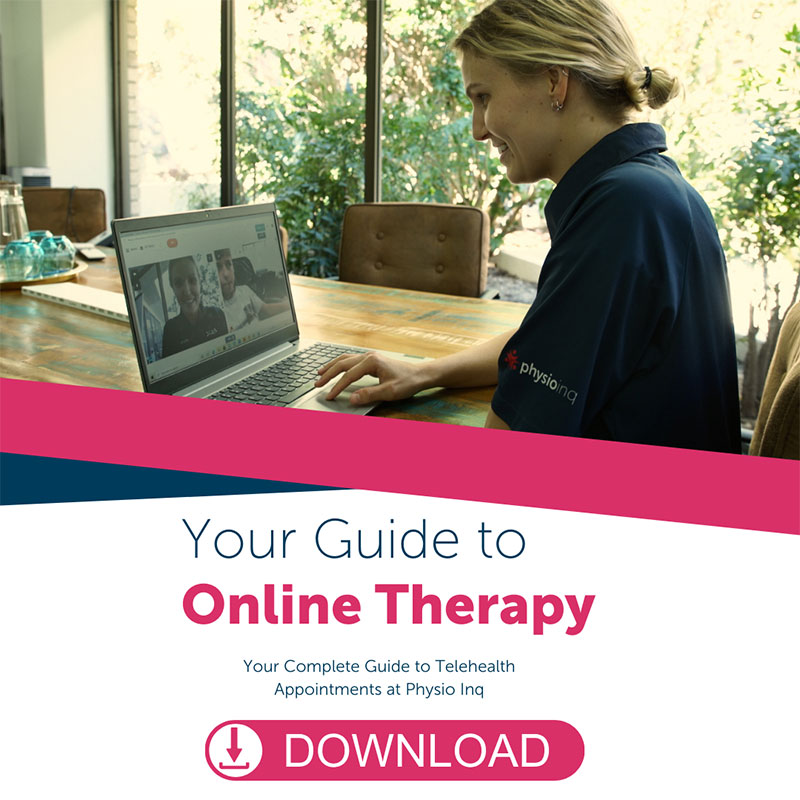 About Physio Inq's Care
Strong history in telehealth
Over 20 clinical experts in services for telehealth & online therapy across Australia
A commitment to expediting referrals based on clinical needs
Dedicated contact person for your business
Access to multiple disciplines and services under one roof
Large geographical coverage
High quality reporting
Experienced clinical staff
Today Physio Inq is pushing allied health in a new exciting and accessible direction for all Australians through it's telehealth services.
Suburbs that our therapists currently service in Western Melbourne, Victoria: