What is Telehealth?
Tuesday, May 24, 2022
What is Telehealth?
Telehealth is a new way to experience healthcare through a telecommunications device, either online or over the phone that reduces the need for in-person, face-to-face healthcare appointments.
At Physio Inq, we offer various forms of telehealth appointments such as telehealth physiotherapy and telehealth speech pathology. So, let's explore everything there is to know about telehealth at Physio Inq.


What is a telehealth appointment?
Telehealth refers to healthcare that is delivered through your phone, tablet, or computer. Using telecommunications tools, healthcare providers can offer accessible healthcare solutions, especially for people who want convenient healthcare or are in remote regions.
At Physio Inq, we refer to telehealth appointments as online therapy consultations and we deliver the same exceptional level of care online as we do in our in-clinic and in-home physiotherapy offerings.
With countless time-saving benefits and the same amazing results, telehealth appointments are expected to continue of healthcare.


Benefits of Telehealth
The benefits of telehealth consultations at Physio Inq include:
Access to a variety of healthcare services
No more time spent in a waiting room
Caring for your health in the comfort of your home
Consistent outcomes with that of in-person sessions
No need to pay for petrol, public transport, or other travel fees
Same high-quality reporting as in-person visits
Why might someone opt for a telehealth appointment over an in-person consultation?
Telehealth has many of the same benefits as a face-to-face therapy session and more. You'll work directly with your therapist to discuss, assess, and diagnose problems just as if you were with them in a face-to-face setting.
Especially since we operate from an easy-to-use online platform, it doesn't get much more convenient than a telehealth appointment.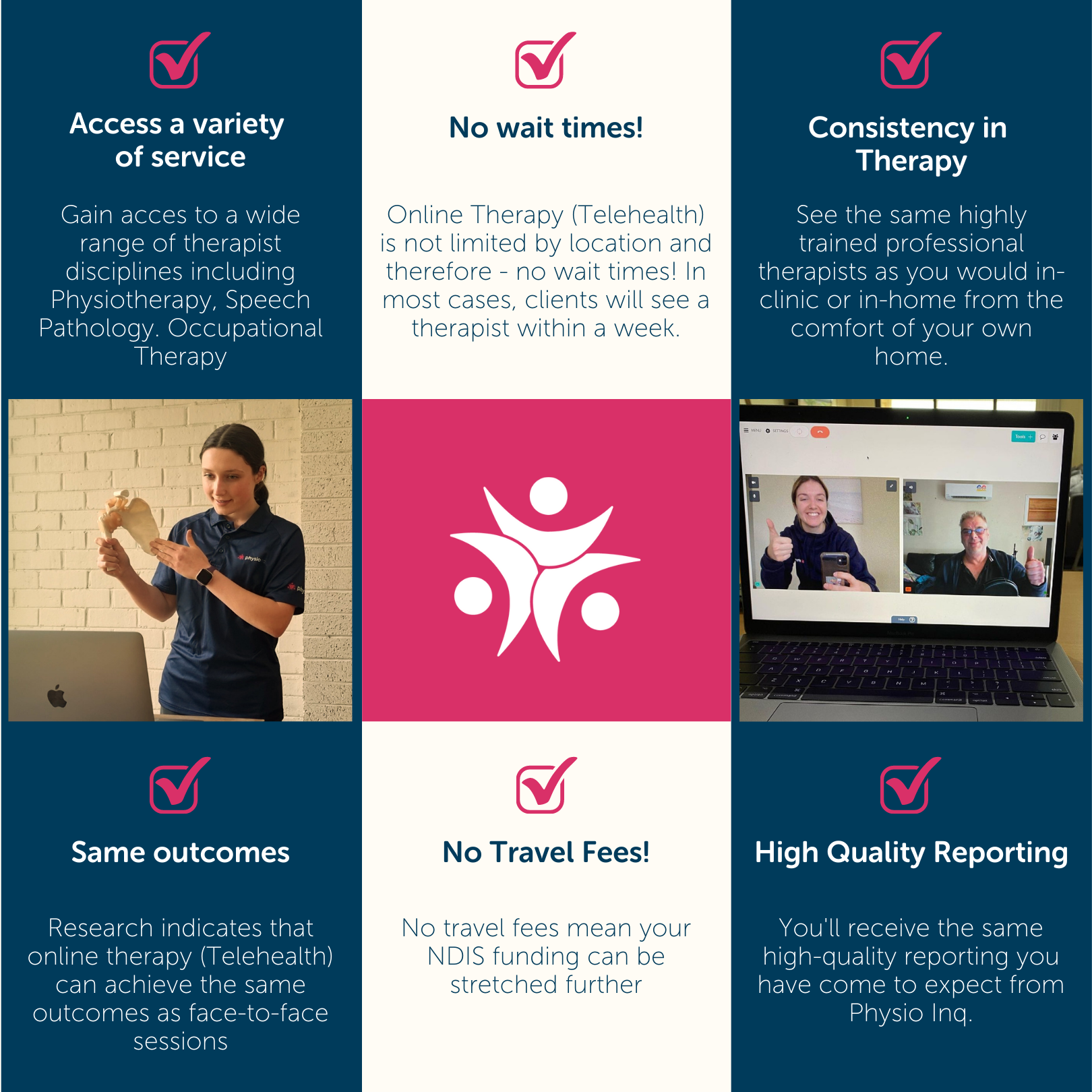 What happens during a Physio Inq telehealth appointment?
Our qualified therapists work with you, listen to your concerns, and establish your needs to help achieve your goals. They'll provide video assessments using observation, provisional diagnosis, giving comprehensive advice, supervising therapy, showing treatment techniques, and teaching in-home self-management.
During a Physio Inq telehealth appointment, your therapist will:
Listen, assess, and treat your concerns
Demonstrate and explain treatment techniques in easy-to-understand language
Provide education and self-management techniques
Create and develop a unique exercise program and plan
Work with you to set up a plan for how best to manage your healthcare
Advise on appropriate follow-up and book convenient, ongoing sessions
Propose any relevant equipment or treatment aids that may be required
Directly refer you to other allied health services, if appropriate
While these steps can help you navigate your first time doing a telehealth consultation, let's break down the specifics of what happens during our wide range of available telehealth appointments.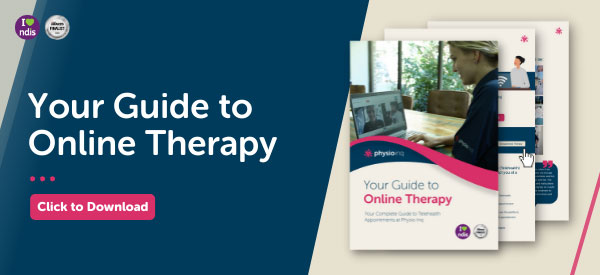 Telehealth Physiotherapy
Physiotherapy is a sector of allied health that works with the structure of the human body and its movement.
At Physio Inq, physiotherapy is at the core of everything we do, and our physiotherapists have heaps of experience in home-based care to offer quality physiotherapy in any setting.
Although some may be sceptical of telehealth physiotherapy, the truth is that patients with issues like chronic pain, athletic injuries, osteoarthritis and diabetes can still get high-quality care during a remote, telehealth appointment.
In fact, many patients come to prefer telehealth as they're able to perform and later practice physiotherapy exercises in the comfort of their own home and setting. It's incredible how important comfort is to overall health and well-being
However, while some physiotherapy consultations can be done over the phone, the best way to work with a telehealth physiotherapist is with a device that offers video capabilities such as a tablet, computer, or smartphone.
So, if you're interested in trying a telehealth physiotherapy appointment, contact Physio Inq today.
Telehealth Occupational Therapy
Occupational therapy is a style of therapy that's customised to reflect the individual's everyday activities like participating at school or work and doing daily chores around the home.
Since occupational therapy is highly specialised and caters to the home or workplace, it transitions easily to telehealth appointments.
An occupational therapist can help patients with everything from physical activities like climbing stairs, tying shoes, or brushing teeth to social activities like building confidence in the workplace or public speaking at university.
One of the main goals of occupational therapy is to help patients gain or re-gain their independence after an injury or due to a disability. And many of these techniques and programs can be address remotely with a telehealth appointment.
Like telehealth physiotherapy appointments, video calls are usually the best option. But phone calls can also be beneficial when working with an occupational therapist.
Whether you've worked with an occupational therapist in the past or you're interested in seeing an expert for the first time, consider a telehealth occupational therapy appointment with Physio Inq today.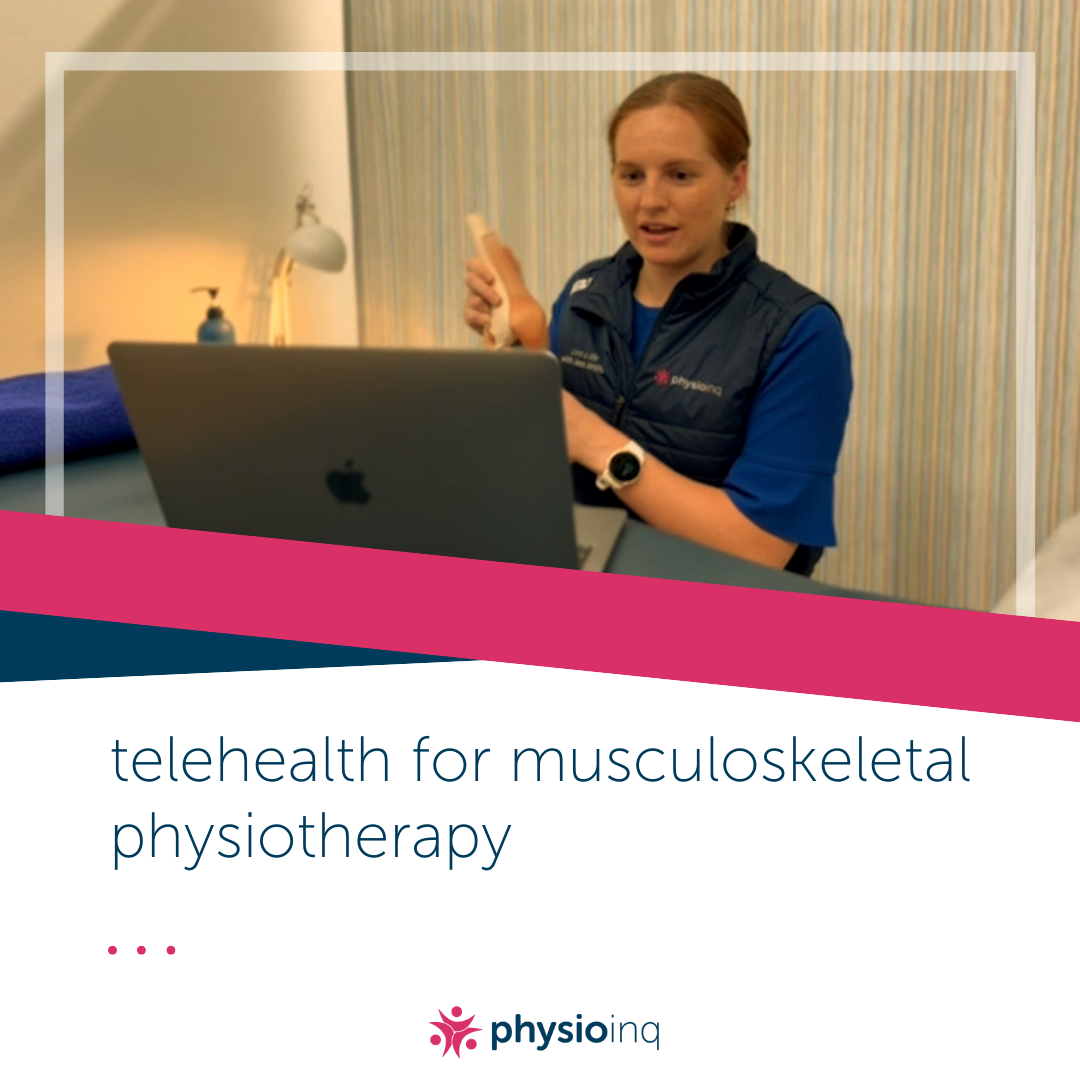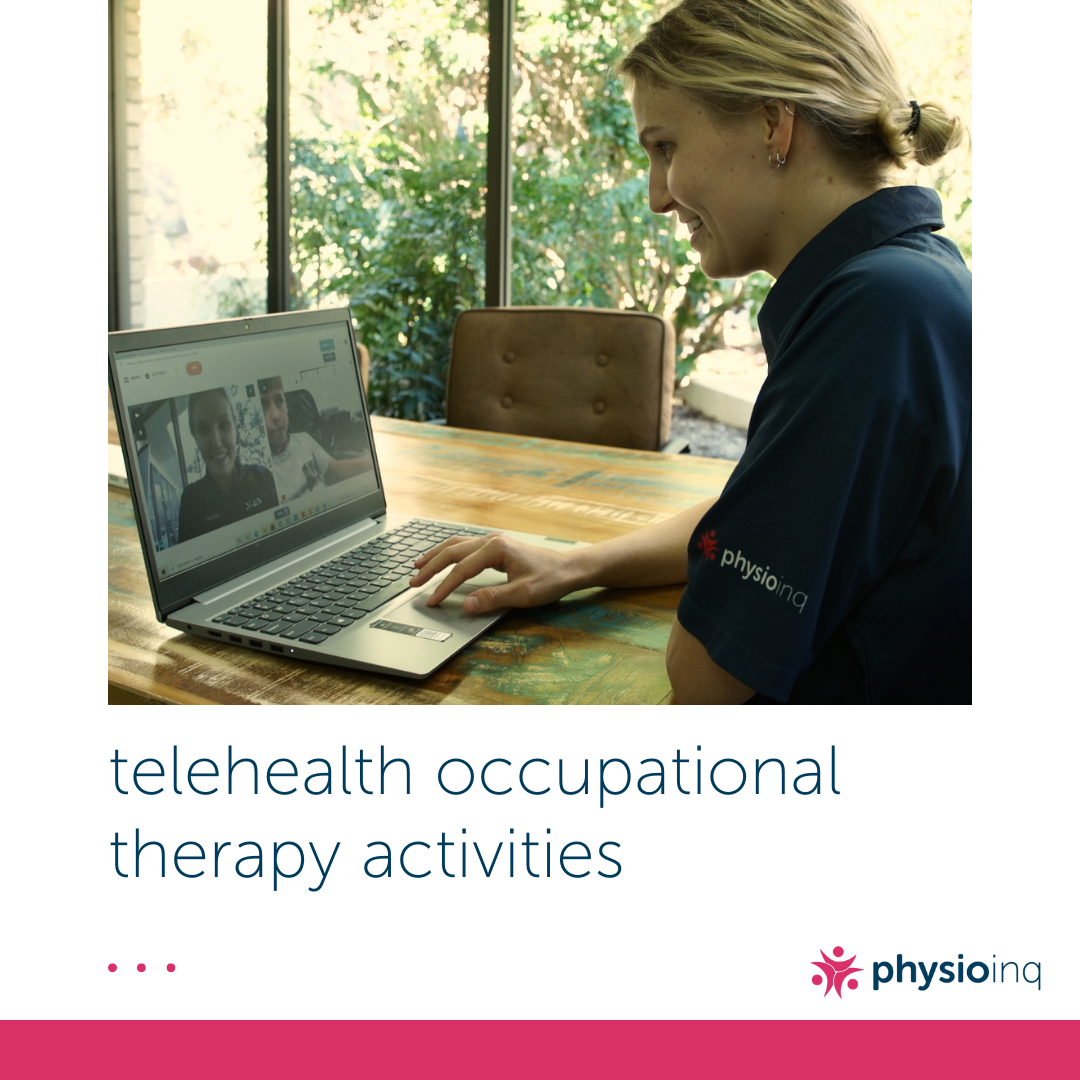 Telehealth Speech Pathology
Speech pathology is a unique form of therapy that helps patients with all types of speech disorders. Whether speech impairments are motor-related, neurological, or psychological in nature, speech pathologists are experts who can help.
From assisting with pronunciation to practicing public speaking techniques, speech pathologists can assist those with stutters, developmental disabilities, social challenges and more with Physio Inq telehealth speech pathology appointments.
Especially since an unfamiliar environment like a clinic can cause undue stress for anyone who may have a disability or social challenges, practising speech pathology with a qualified therapist from home or another comfortable space can make a huge difference in the success of a session.
Of course, in-person speech pathology appointments are incredibly effective as well, but telehealth appointments can often be just as impressive.
For any speech-related issues you or your child might be facing, be sure to try a Physio Inq telehealth speech pathology appointment today.
Telehealth Exercise Physiology
Exercise physiology is a structured form of exercise-based therapy for those with acute, sub-acute and chronic medical conditions, illnesses, or injuries. In other words, exercise physiotherapists use exercise as a mode of healing.
Commonly sought by athletes looking to rehabilitate an injury or to prevent future injuries from occurring, exercise physiology can also help with metabolic, musculoskeletal, respiratory, and cardiovascular conditions and treats a wide range of ailments.
Exercise physiology can be delivered via telehealth appointments in many forms. However, again, a video telehealth appointment is usually best for most telehealth exercise physiology sessions.
Looking for a new way to work with an exercise physiologist? Try our telehealth exercise physiology appointments, available at Physio Inq.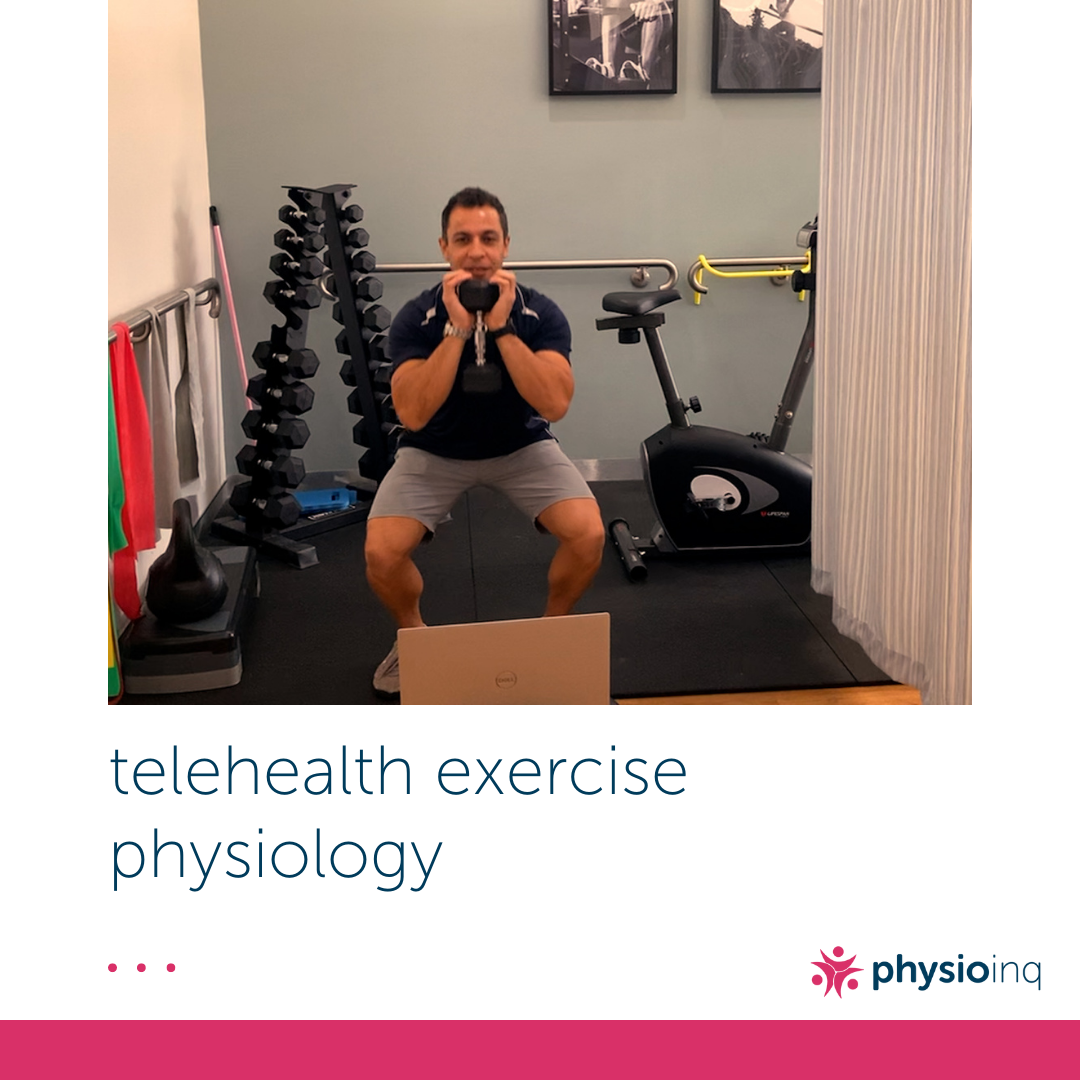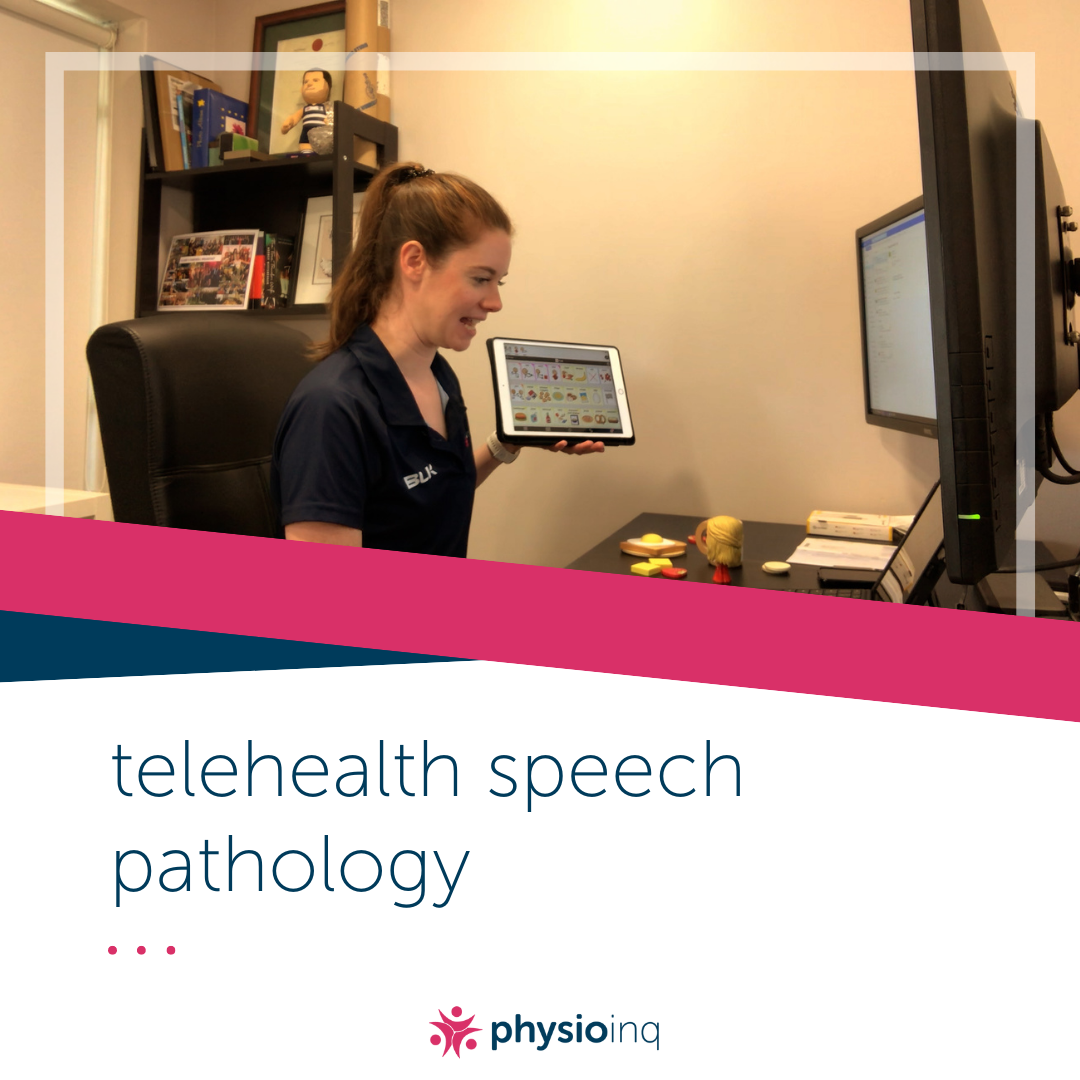 How to Prepare for a Telehealth Appointment
Let's go step-by-step on how to prepare for your upcoming telehealth appointment at Physio Inq.
Book a Physio Inq telehealth appointment by calling our team or booking online.
Choose the type of appointment you require.
Choose your electronic device. Make sure the device has a working camera, microphone and speakers and ensure your internet connection is strong.
Prepare to spend a few minutes before your appointment logging into and going through our telehealth appointment platform, Coviu.
Gather any equipment you may need for your appointment, prepare the questions you have for your therapist and, if you'd like, bring a notebook to take notes about your session.
Get ready to start your telehealth appointment in a quiet, private place with a bit of space to move around.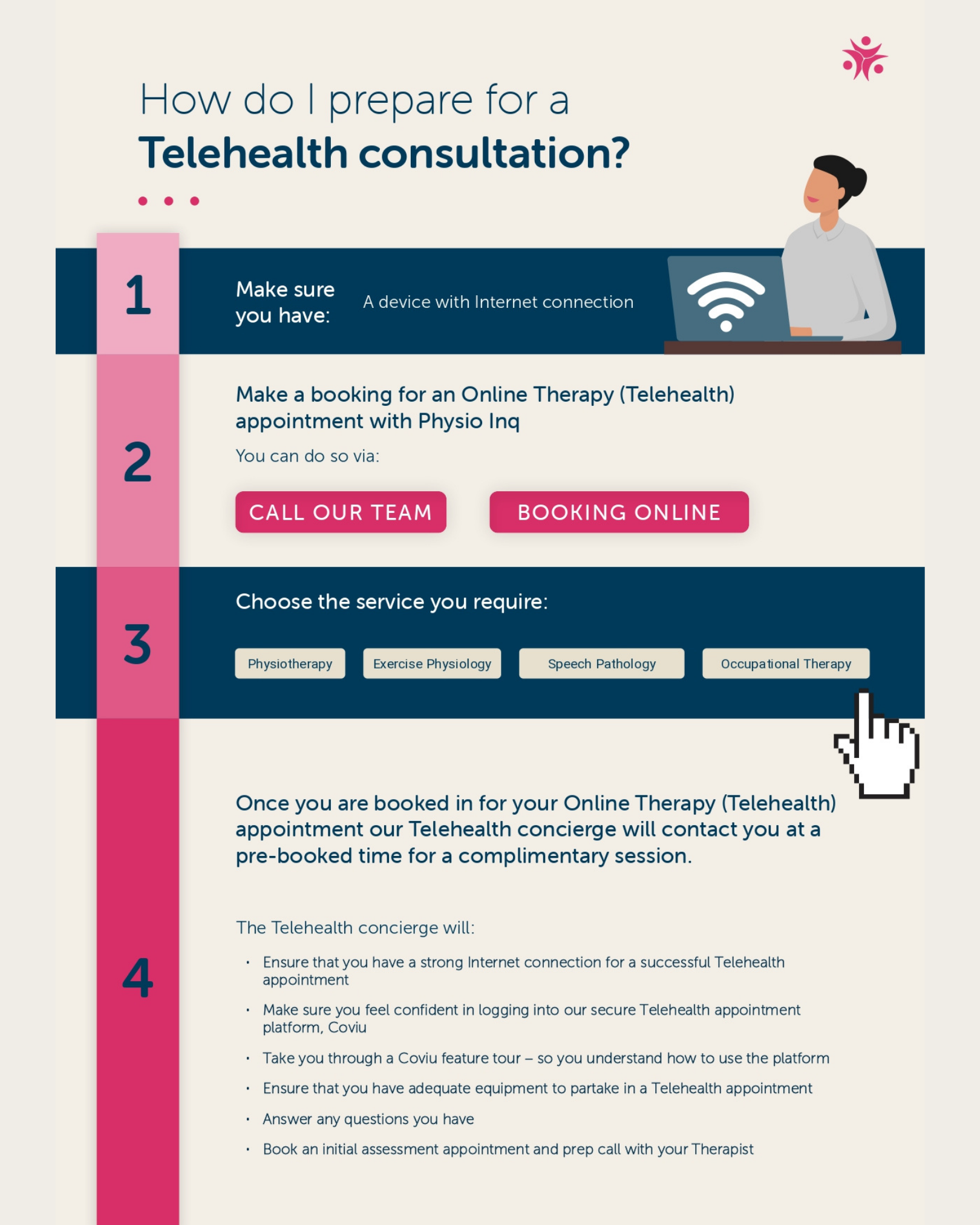 Share the article